If ordering pizza from a restaurant /cafe  is not your thing, but you are often interested in making your own, believe us- you are an awesome cook! So, as a reward for your effort, we hope to share an epic homemade pizza sauce recipe that will come together in under 45 minutes!
This rich and thick pizza sauce is all you are going to need on your homemade pizzas. And we are pretty sure you will never go back to the preservative and additive-loaded store-bought ones. 
This is essentially healthy and super customizable and only requires a few ingredients that are readily available in your kitchen!
How To Make Pizza Sauce From Scratch- Step-By-Step Guide
Using tomato paste along with crushed tomatoes is going to be the secret weapon that makes this sauce more decadent and thicker. Its rich texture not only complements pizza, but you can also use it as an all-purpose red sauce.
So, let's get into simmering!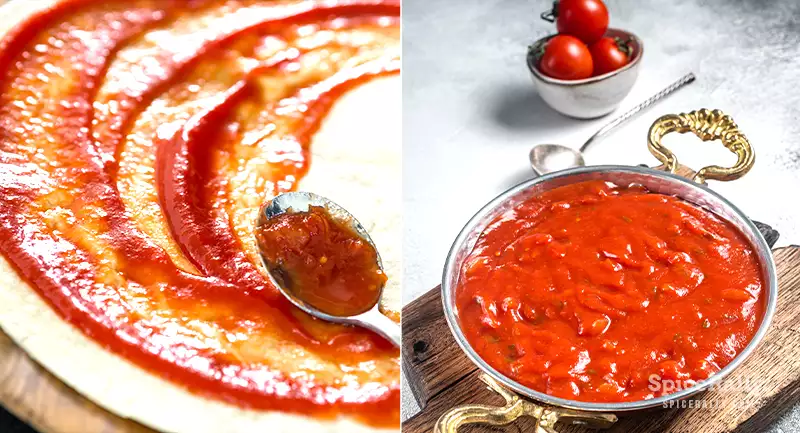 Preparation time- 05 minutes | Cooking time- 20 minutes | Additional time- 05 minutes
Step 01
Grab the ingredients and get the equipment ready as needed.
Required spices and herbs:
One clove of minced garlic
10-15 cranks of freshly ground black pepper (from the pepper mill)
A pinch of red chili flakes (optional)
One teaspoon of dried basil
Half a teaspoon of dried oregano
Other Ingredients:
128-ounce can of crushed tomatoes
16-ounce can of tomato paste
Two tablespoons of olive oil
3/4 teaspoon of salt
Half a tablespoon of sugar
The flavorful ingredients in the pizza sauce are the key to its amazing taste. So, if you need more insights into the content of this sauce, click on this link and read our post here.
Required equipment:
A sauce pot with a lid
A spoon
Step 02
Heat the sauce pot on medium heat and add olive oil into it.
Step 03
Add garlic to the heated oil and saute for about 1-2 minutes or until the garlic turns mellow and fragrant.
Step 04
Now, add the can of crushed tomatoes and tomato paste along with the rest of the ingredients.
Step 05
Cover the sauce pot and allow the sauce to come to a simmer. 
Homemade Thai red chili paste is as vibrant and delightful as this homemade pizza sauce recipe. So, if you are interested in trying it, click on this link and get the step-by-step guide from here.
Step 06
Then, turn down the flame to low and simmer for another 15 minutes minimum. You can also let your sauce cook for up to 30 minutes if you have time.
Step 07
Switch off the flame, and you are done!
Tasty Notes…
If you need your pizza sauce to be a bit hotter, you can increase the amount of red chili flakes that go in.
You can also add a handful of freshly chopped basil and oregano in half and half for added flavor.
Make sure to choose high-quality tomatoes to get the best from your sauce.
Freezing Option
You need to allow your pizza sauce to cool down completely before freezing.
Once the sauce is at room temperature, transfer them to resealable freezer bags and freeze until solid.
You will have to reheat the sauce when you need to use it again. 
Simply put it in a sauce pot, close the lid, and heat on low flame. Make sure to stir occasionally so the sauce won't get overheated or burned.
Related Topics