The Asian community uses a heavenly combination in their dishes by blending ginger and garlic together. So, let's show you how to make their famous ginger garlic paste easily at home.
The ultimate mixture of these two key pungent ingredients complements a wide variety of savory dishes, regardless of the fact they are Asian or not. And we have used some additional components in our recipe to make it even better and last longer. So, let's get going!
How To Make Ginger Garlic Paste- Step-By-Step Guide
Our homemade ginger garlic paste recipe is fresher and more flavorful, with a vibrant aroma that will complement marinades and many Asian curries, rice dishes, sabzis, etc. We have used natural preservatives here, which will help you to keep this paste well for a longer time.
Preparation time- 15 minutes | Cooking time- 00 minutes | Additional time- 05 minutes | Servings- 14 tablespoons
Step 01
Gather the required ingredients and get ready with the necessary equipment.
Spices needed:
01 cup of fresh garlic (peeled and roughly chopped)
½ a cup of fresh ginger (peeled and roughly chopped)
¼ teaspoon of turmeric powder
Other ingredients:
¼ cup of oil (you can use coconut oil, olive oil, canola oil, sunflower oil, etc.)
01 teaspoon of salt
Required equipment:
A grinder/ food processor
A wooden spoon
Air-tight container/jar
Click on this link and refer to our comprehensive article on ginger to learn why you should make this spice a part of your daily diet.
Step 02
Before getting started with anything, you should peel your ginger and garlic, wash them and dry them thoroughly using paper towels. Removing the peel and the spices being dry is very important for the longer shelf life of your paste.
Step 03
Now, add cleaned, peeled, and roughly chopped ginger and garlic to the jar of your grinder or the food processor. You can work in small batches if you have a small device. But feel free to go with the entire bunch if your grinder jar or the food processor jar is big enough.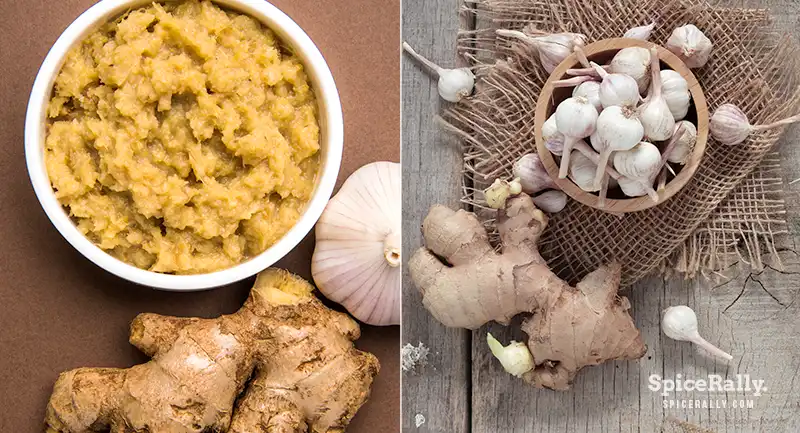 Step 04
Follow up with oil, salt, and turmeric. Close the lid of the jar and blend for about 1-2 minutes. Then pause for a while and mix the ginger and garlic inside the jar, scraping down the sides using the wooden spoon to make sure everything is combining well.
Did you know that biryani masala paste is yet another wonderful blend that could be made at home to make flavorful biryani recipes? Click here to get a simple formula you can easily make at home.
Step 05
Blend everything until you get a smooth paste without any clumps. This may take up to five minutes, depending on the strength of your device. Once the paste is smooth enough, you can use it immediately with your dishes and store the leftover paste in a well-fitting jar.
Tasty Notes By SpiceRally…
The proportion of ginger and garlic is essential when you make this paste. That is, ginger should always be half the amount of garlic.
Oil, salt, and turmeric act as natural preservatives in this mixture. DO NOT add water to facilitate the blending process, as it could hinder the shelf life.
You can keep this paste in the refrigerator for up to one week. But if you need to keep it longer, you can try the freezing option, which will stay fresh in the freezer for up to two months.
Make sure to use a dry spoon each time you scoop the paste out from the jar.
Related Topics