Our hearts are filled with pleasure and exhilaration; Christmas is the season that most of us are waiting for all year round. The kitchen is one place at home that gets the most excitement and gets occupied by the beginning of the month of December. Many home cooks or Moms generally begin by baking the most basic Christmas cookies, making Eggnog, and then proceeding to the most complex dishes. It is the season of generosity that we share love, compassion, and most importantly, food with family, friends, and those who are in need.
Spices are staples in a majority of Christmas treats. And people around the world use different types of spices in their traditional Christmas goodies. However, these are the most employed holiday spices that go in with most seasonal foods:
In fact, these Christmas spices and other Christmas herbs are the well-kept secret flavor enhancers of the treats that are prepared to enjoy by the Christmas celebrating families during the holiday season. 
Hence, the rest of this article will be such a lovely adventure for all of you who are willing to cook great meals for your families and loved ones. So, read further to learn everything about the holiday spices that will emphasize the flavor profile of each food made through the festive time.
What Are Christmas Spices?
Finally, it's Christmas! Isn't it great how we feel during the season? Splendid times spent together with family, candy-filled stockings, presents, snowy postcards, carols, sharing and caring, and most prominently comes- FOOD!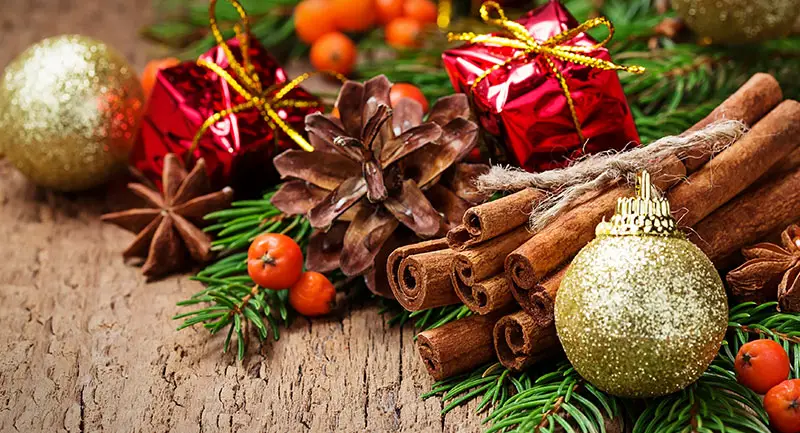 This is the ultimate period of the month that most home cooks, chefs, and bakers get so buzzing. Plus, it is the time that we get our hands on many versatile Christmas herbs, holiday spices, and Christmas seasoning that unquestionably enhance the quality of the food we make. 
Most dishes that are made in every nook and corner of Christmas celebrating countries to enjoy the traditional Christmas dinner and relishes made for sharing do contain many spices, herbs, and seasonings.
While they use spices individually, the Christmas Spice Mix, also known as the Festive Spice Blend, is another aromatic and flavorful Christmas seasoning of a few spices that are used to bring festive cheer to many recipes. It typically contains flavors like:
Green cardamom
Cloves
Nutmeg
Cinnamon
Coriander
Ginger
Anise Seeds
Star Anise
Allspice
In a nutshell, all these pungencies get together and pour the true spirit into Christmas foods! So let us embellish on each spice to give you a proper understanding.
Valentine's is the lovers' season that is cherished for delicious food as much as Christmas. We have a list of 5 special Valentine's day dinner recipes arranged for you right here.
01 – Cardamom
Sweet or savory, cardamom brings the perfect kick to any dish that it is used to. Green cardamoms also acknowledged as the "Queen of Spices", are among the most expensive spices in the world. 
They have an exquisite and complex smell and possess a menthol-like fruity, piney taste. During the season, cardamoms are a widely sold and bought spice around the world as many Christmas goodies contain this spice in them. Usually, cardamom is used in foods in its grounded form. Besides, this spice is rich in antioxidants and has the potential to reduce bad breath and reduce oral cavities. 
Here are some cardamom-infused seasonal treats:
Lemon and Cardamom Gingerbread Cookies
Cardamom Shortbread
Cardamom Maple Salmon
Brown Butter- Cardamom Spitzbuben
Pistachio and Cardamom Kourambiedes
02 – Cinnamon
Have you really encountered the feeling that you smell Christmas when you get a hint of cinnamon taste? Well, in real terms, Christmas foods, especially sweet treats, are kind of empty without cinnamon! It is indeed a powerful holiday spice with a great flavor profile and a spicy-sweet aroma. Interestingly, one study, which was conducted in 2019, found that the odor of cinnamon is intimately associated with Christmas. This apparently proves the relationship of cinnamon with this time of the year.
However, out of the two types of cinnamon, Cassia and Ceylon Cinnamon, Cassia is the most used variety in baked goods. It is mainly employed in recipes as grounded or otherwise used by breaking the pieces from quills.
In addition to its great flavor and aroma, cinnamon has some essential health benefits. This spice may aid in promoting weight loss and reducing blood sugar and blood pressure as well. 
Check out this list of Christmas recipes made by using cinnamon:
Cinnamon Roll Christmas Tree
Zimtsterne Cooking ( Cinnamon Star Cookies)
Cinnamon Streusel Topping
Hot Cinnamon Chocolate
Christmas Eve Shortcut Cinnamon Buns
Cinnamon is an essential spice in many cuisines. Click here if you are curious about excavating into more details about types of cinnamon.
03- Cloves
Cloves are another staple added in most festive foods. During the days of antiquity, this spice was a symbol of extravagance and an exposition of prosperity. Plus, it was an occasional award dedicated to exceptional events like Christmas.
In fact, cloves deliver a taste boost to decadent, pungent winter foods. Moreover, they have a spicy, proactive fragrance and an intense, virtually sizzling flavor which is fortified by cooking.
Generally, cloves are included in Christmas goodies in their grounded form. And, they can be bought as whole buds or powdered to flavor cookies, cakes, and bread.
In addition to its strong flavor and smell, cloves are a known folk medicine for relieving toothache and other dental-related health issues.
Here is a list of famous winter treats that are prepared by using cloves in them:
Mulled Wine
Lemon Clove Cookies
Apple Pie With Cloves
Christmas Potpourri
Bread Sauce
04-Ginger
Remember the giant gingerbread man from the movie Shrek? Did you ever think about how much ginger that baker on the street used to make him!
Well, well, all jokes apart, ginger is unquestionably a must-have spice in every kitchen that is preparing for Christmas. Not only for making gingerbread cookies, but this rhizome makes a beautiful Christmas spice and taste-enhancer for many specialties.
Ginger is used in both ways- fresh rhizomes thinly sliced or chopped or in its dried powdered version. The exotic taste of raw fresh ginger is somewhat peppery and sweet, with an intense and zingy aroma. However, the powdered form is not as powerfully flavored but has a spicy note and a slight sweetness.
Apart from its culinary use, ginger contains gingerol, which possesses excellent medicinal properties. It may help to treat morning sickness, nausea and has potential benefits in promoting weight loss. 
Let us have a look at some mouth-watering Christmas treats made with ginger:
Christmas Pudding
Gingerbread Cookies
Caribbean Christmas Trifle With Ginger Cake
White Chocolate and Ginger Rocky Road
Gingersnaps
05- Nutmeg
Nutmeg comes in handy by being another perfect seasonal spice. This spice plays a significant role in flavoring the most popular and traditional beverages like Eggnog and classic gingerbread.
However, this flavorful holiday spice should be used sparingly as it has a pungent flavor. It combines really well with other spices like ginger, cinnamon, and cardamom to give a dish the ideal touch of intenseness.
Nutmeg can be purchased as whole or in powdered form. While some go for ready-made grounded nutmeg, most people prefer Microplaning the whole nutmeg into their foods.
In addition to its strong flavor and hearty aroma, nutmeg contains some potential health benefits. It can alleviate digestion, intensify cognitive function and detoxify the body. 
Let us share a few nutmeg-infused dishes that are made during Christmas:
Alsace Creme Brulee
Nutmeg Log Cookies
White Chocolate Nutmeg Truffles
Armenian Nutmeg Cake
Christmas Morning Scones
06 – Allspice
To someone who is not familiar, Allspice may seem like it is a combination of all the spices, which is not really the thing. It is actually the dried fruit of the Pimenta dioica plant native to Mexico and Central America. When the unripe berries are dried in the sun, they are brown and look like big and fluffy peppercorns.
Usually, Allspice is added in with the Classic Christmas Spice Mix. And it binds in really well with other Christmas spices like cloves, cinnamon, and cardamom. The flavor profile of this seasoning is a bit of a challenge to explain since it mimics the flavors of several other spices like cloves, nutmeg, pepper, and cinnamon.
However, aside from its complex flavor and beautiful aroma, Allspice has some health benefits like reducing inflammation, treating nausea, and preventing infections.
These are a few of many festive recipes that are made, including Allspice:
Holiday Cranberry Sauce
Christmas Cake
Spiced Apple Cider
Spiced Christmas Fruit Salad
Allspice Gravy
Garlic is equally pungent as Allspice. We have a fully detailed piece here about the difference between garlic powder and garlic salt if you think it is worth spending a few more minutes.
07 – Star Anise
Here we present to you another winning Christmas seasoning agent – Star anise! Known for its renowned digestive properties, this spice is considered an all-rounder with an intense, licorice-like flavor and a spicy-sweet aroma.
This spice provides a great flavor and aroma to foods, particularly with Turkey gravy, when talking in terms of Christmas. Moreover, beautiful star anise pods can even be an excellent garnish on your Christmas Eve dinner table!
However, this is generally used by grinding in with other spices, and here are some seasonal recipes that use star anise:
Star Anise Snickerdoodles
Honey Cinnamon Star Anise Tea
Chocolate Tart with Star Anise and Cinnamon
Spiced Pork with stick Star Anise Sauce
Glazed Tofu With Chili and Star Anise
08 – Vanilla
Vanilla cupcakes or vanilla ice cream- isn't that what strikes your head at once when reminded of vanilla? But, did you know that a majority of Christmas sweet treats that you enjoy contain hints of vanilla in them? Of course, they do! 
Amazingly flavorful vanilla is a million-dollar spice that comes with an unparalleled subtle flavor profile. It is expensive, but the cost is, anyway, worth the punch and aroma it adds to a dish. Not being inferior to cinnamon, when you smell vanilla, there you get to smell Christmas too. 
This spice is a staple sweet culinary spice that people use throughout the year when making various cookies, cakes, drinks, ice cream, etc. But, there is something iconic about it by being a holiday spice that contributes to many festive treats.
Furthermore, regarded as an anonymous fact by many of us, vanillin, the natural chemical compound contained in vanilla, has some potential health benefits. It has antiviral, anti-inflammatory, and wound-healing properties, and the smell of vanilla is closely associated with sleep and treating sleep apnea.
Here are some vanilla-infused holiday treats:
Vanilla Pudding
Vanillekipferl (German Vanilla Crescent Cookies)
Christmas Cookies (Sugar Cookies)
Vanilla Wafer Christmas bark
Vanilla- Pear Holiday Punch
While these spices can make your Christmas treats taste great, paprika is another kitchen staple that could bring the best out of many seasonal foods. You are just one click away from here to discover some important facts about smoked paprika.
What Are Christmas Herbs?
Just like the way spices perk up the Christmas table, herbs are another staple that holiday treats never miss out on. 
Our guess to be accurate, starting from the 1950s, extremely aromatic and healthful herbs have been served remarkably in most festive foods. Experiments are still ongoing with different herbs in order to obtain the best flavors out of the dishes made. And, thankfully, most of them had been successful. 
Moreover, each herb possesses different flavors, aromas, and health properties, which can be an added advantage when included in the food. In fact, they provide excellent support when you need to cut through a heavy Christmas meal. 
So, let us bring you a few of the many common herbs that are used in a lot of Christmas dishes shared and served throughout the season.
01- Peppermint
Conquering peppermint is a refreshing and aromatic essential for the festive season. Among all the Christmas herbs, this is popular among many kids, especially when it comes to the Candy Cane.
It has a robust, minty, and herbaceous aroma and is used in Christmas recipes like mint sauce, festive mojito, and various Christmas candies.
Cinnamon double chocolate chip cookies are an absolute treat for Christmas! So, if you need to try an easy, delicious homemade recipe, click here for more details.
02- Sage
Sage is famous in both British and Italian cuisines as a staple herb. When it comes to Christmas cooking, sage is primarily used for stuffing turkey or goose.
It is sweet and fairly bitter, with a pine-like taste and fragrance. This herb is generally used fresh or dried. Orange Sage Christmas Chicken, Sage and Onion Stuffing Balls, and Christmas Turkey are some popular dishes accompanying this herb.
03- Rosemary
This herb has been known to have a close connection with Christmas since the Middle Ages. Rosemary is a typical culinary herb with a pine-like aroma.
It is generally used as a flavor enhancer to the lamb, pork, ham, or turkey on your festival table. Moreover, rosemary has the potential to saturate your atmosphere with an unbelievable scent.
04- Thyme
Thyme is another versatile herb that compliments Christmas cooking. Generally, it has an intense, basically minty zest. It is robust with floral traces and is a little bit sweet and somewhat peppery. Thyme has a nuanced-enough taste, so it integrates very well with other herbs.
Above all, this herb goes really great with turkey most of the time. It can also be employed to add flavor to potatoes and marinades and can be vibrantly incorporated in Christmas baking.
05- Oregano
This pungent perennial Christmas seasoning is closely affiliated to marjoram. In fact, Oregano is effortless to grow and is an excellent protean spare in the kitchen.
Oregano is a spicy herb that is intense and strong with a negligibly bitter zest. It is included chiefly with roast chicken, potatoes, salads, and in stuffing turkey during the season.
06- Basil
Considered the "King Of Culinary Herbs", basil is another must-have herb in Christmas cooking. The taste of basil is consonance between spicy and sweet, with pepper, anise, and mint traces. However, this fragrant herb ultimately adds a note of sweetness to your seasonal recipes.
Christmas Eve Lasagna, Caprese Christmas Wreath, and simply Basil pesto will provide a spotlight to many festive tables. 
In addition to these herbs that we discussed on top, here are some others that add flavor and aroma to many Christmas dishes:
Myrtle
Chervil
Tarragon
Lavender
Bay leaves
Waving The Savory Goodbye…
Christmas is the season that could make any wish come true. And it brings you happiness, moments to cherish, and flavors and smells that will linger in your heart forever. 
Joyously, food is an integral part of the Christmas season that will bring families, friends, loved ones, and even strangers together. Accordingly, the holiday spices and Christmas herbs that we have shared with you throughout this article play a substantial role in flavoring and aromatizing your Christmas table.
Thus, we hope that you learned enough about all the essential Christmas spices and herbs that you have been employing in cooking so far. And, if you ever wondered what made your festive goodies so delectable, we believe that you got the precise answer.
So, Have a Merry Christmas filled with peace, joy, and kindness!