Fudgy, chewy, and ultra chocolaty cookies will be the perfect bash for this season. So, let us guide you on how to make the best cinnamon double chocolate chip cookies you have ever had!
Seasonal baking is obviously one of the best things in life. Hence, this easy yet decadent chocolate chip cookie recipe will be a whole new experience for you, and your entire family will drool over these little brown guys! So, let's get into baking…
How To Make The Best Cinnamon Double Chocolate Chip Cookies- Step-By-Step Guide
This cinnamon double chocolate recipe is a distinctive version of chocolate cookies that will melt in your mouth, leaving a lingering sweetness. Double chocolate chips combine with cinnamon, vanilla, sugar, and butter to give you a rich, velvety and scrumptious treat!
Preparation time- 50 minutes | Baking time- 10 minutes | Additional time- 10 minutes | Servings- 24 cookies
Step 01
Get prepared with the required ingredients and necessary equipment.
Spices needed:
Other ingredients:
2 cups of all-purpose flour
03 ounces of semi-sweet baking chocolate (coarsely chopped)
03 ounces of milk chocolate (coarsely chopped)
2/3 cups of unsweetened Dutch-processed cocoa powder
01 teaspoon of baking soda
1/4 teaspoon of salt
01 cup of granulated white sugar
01 cup (02 sticks) of unsalted butter (softened)
2/3 firmly packed light brown sugar
02 eggs
Some dark chocolate chips to top (optional)
Coarsely chopped walnuts, pecans, or cashew nuts to top (optional)
Required equipment:
Mixing bowls
Spoons
A wooden spatula
A stand mixer/ hand mixer
A cling wrap
A baking sheet
No-stick cooking spray
Parchment paper
Cinnamon is the ultimate baking spice that compliments sweet and savory foods equally. Click on this link to find more exciting ways to bake with cinnamon.
Step 02
Start by combining all the dry ingredients in a medium-sized mixing bowl- flour, cocoa powder, baking soda, salt, and ground cinnamon. Whisk them together until well incorporated and set aside.
Step 03
Now, in another large mixing bowl or in the bowl attachment of your stand mixture, beat sugar and butter on medium speed until the mixture turns light and fluffy. Add in the two eggs and vanilla extract, and mix well.
Step 04
Next, add the previously made flour mixture to the butter mixture gradually and beat well until everything is thoroughly combined. Take the bowl out of the stand mixer, or keep your hand mixer aside, and add the dark chocolate and milk chocolate chunks. Combine well using a wooden spatula.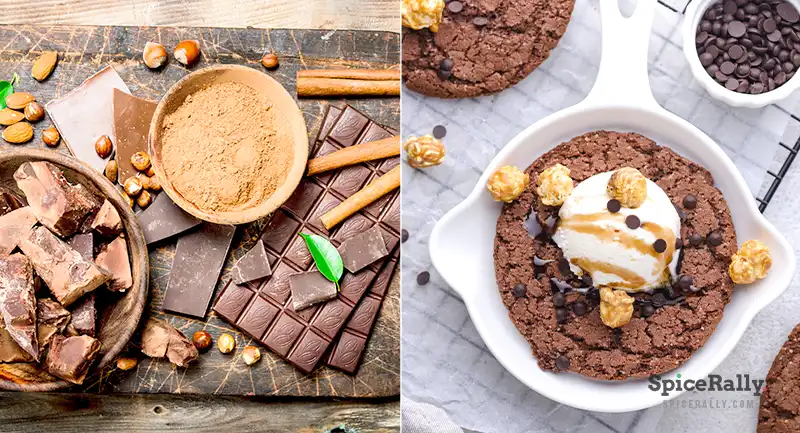 Step 05
Now, cover your cookie dough with a cling wrap and keep it in the refrigerator for about 30 minutes. Chilling your cookie dough makes crispier ends to your cookies with a chewy center. Meanwhile, preheat your oven to 350 degrees Fahrenheit (177 degrees Celsius).
Step 06
Take your cookie dough out of the fridge after 30 minutes. Then set your baking sheet with parchment paper and spray the no-stick cooking spray so it will be easy to take out the cookies. Dollop the cookie dough using a rounded tablespoon or ice cream scoop. Each portion of cookie dough should be at least 2-inch apart, so they have enough room to bake.
Step 07
Top each portion with some dark chocolate chips or chopped nuts if desired. Bake the cookies in the preheated oven for about 8-10 minutes, keeping the temperature at 350 degrees Fahrenheit. After 10 minutes, check if the cookies are perfectly baked. If not, leave them to bake for another 3-4 minutes. The baking time could have slight variations depending on the oven.
Step 08
Once your cookies are nicely baked and golden brown, take them out and let them cool down on a cooling rack. Serve with vanilla ice cream or milk!
Tasty Notes By SpiceRally…
Make sure that all your ingredients are at room temperature.
You can also use dark chocolate chips instead of baking chocolate.
Using Dutch-processed cocoa powder is not a must, but we still believe it gives a richer chocolaty taste and a darker color.
Make sure not to overmix the cookie dough. Overmixing could cause too much gluten to form, resulting in tough and chalky cookies. Therefore, just fold the cookie dough using the wooden spatula after adding the chocolate without beating it using the mixer.
Chilling the cookie dough is not compulsory, but we recommend not skipping this step since refrigerating your dough will make the cookies more flavorful.
After the cookies are baked, take them out and let them rest on the baking sheet for about 10 minutes and another 10 minutes on the cooking rack before serving.
You can also use mint chocolate chips instead of dark chocolate chips to top the cookies before they bake. Mint chocolate chips will give a contrasting taste to these guys!
Related Topics