When you have a handy spice blend in your spice rack, you shouldn't be limited to its conventional uses. That being said, let's look into some of the best biryani masala uses and how to incorporate this blend with your daily cooking.
This robust spice blend can be included in your cooking using the following methods:
Are you curious to know more? Then, read along until the end of our article!
05 Innovative Methods To Use Biryani Masala Powder
Biryani masala powder might not be the most versatile spice blend you keep in your pantry. Or, you must be using it only with your favorite pot of biryani. But, the warm, aromatic, spicy, and distinctively flavorful combination of this blend has way more advantages than its typical use!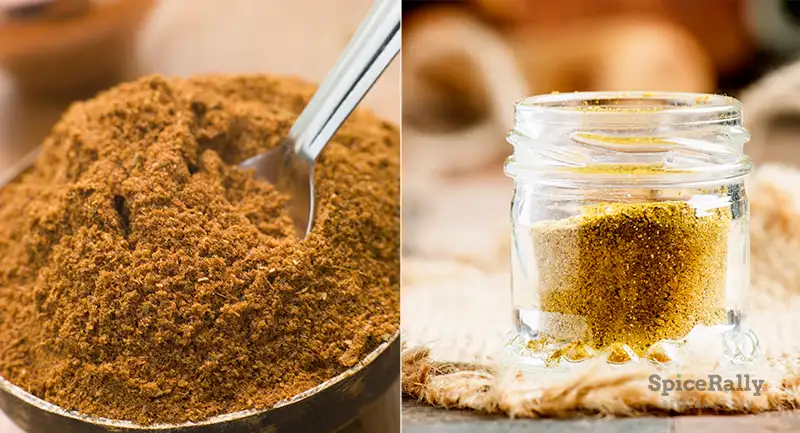 Biryani masala powder is fortified with strong spices like star anise, cardamom, cloves, nutmeg, mace, etc. Some variations include exotic ingredients like Marathi Moggu and black stone flowers. Hence, this spice blend complements recipes that call for a richer taste. 
The spices and herbs used in this blend are slightly roasted, so the flavor of these elements is intensified to go, especially with meat, fish, and seafood. Here are some ideas you can try to make the best out of your jar of biryani masala powder.
01- To Spice Up Other Rice Dishes Apart From Biryani
As mentioned before, biryani masala is not only for biryani in terms of rice recipes. You can use this to flavor up other rice variations like pulao and spiced rice. Suppose you have nothing at home to make a special rice dish. 
In that case, our topic leader can be the ultimate companion to help you with a special recipe. You can easily make a tempered rice dish using biryani masala powder and make a simple meat, fish, or vegetable dish to go with it. This can even make the perfect twist to plain rice and instantly bring the goodness of a wholesome meal.
02- With Meat, Fish, And Seafood Recipes
This spice blend's dominant warm and spicy overtones are ideal for pairing with chicken, fish, crabs, pork, mutton, etc. Try once to replace Garam Masala, curry powder, tikka masala, or tandoori masala when preparing your animal proteins. 
This method is suitable to go unless you are making dishes that specifically call for these spice blends. Your meat or seafood dishes will turn out to be so good that you need to try biryani masala with them daily! 
Pair this spice mixture with coconut milk and other ingredients like onions, tomatoes, potatoes, or fresh herbs like cilantro. These meat, fish, or seafood dishes can be complemented with plain rice, flatbread, or south Indian mains if you need to bring the authenticity of an Asian meal as a weeknight dinner.
03- To Use As A Base For Rubs And Marinades
You don't necessarily have to stick to conventionals like Cajun, Creole, or Old Bay seasoning when it comes to rubbing or marinating. An exotic flavor combination like biryani masala powder can be an unexpected game-changer to your marinade, dry rub, or wet rub. 
You might want to incorporate biryani masala with other ingredients like garlic powder, onion powder, ginger, olive oil, soy sauce, etc. This is an excellent choice when you need to make fusion marinades and rubs for chicken, fish, lamb, steak, or even tofu and cottage cheese. 
The spiciness and profound flavor of this spice mixture will blend with other ingredients to give a well-balanced taste when you need to fry, bake, grill, or roast these foods.
Follow up on this link and dig into our detailed post to learn what biryani masala actually is and what ingredients make it so unique in flavor.
04- It Adds Depth To Dals And Grains
Not only animal proteins but our topic leader can also add depth to a variety of vegetarian dishes as well! While it gives profundity to your favorite meat or fish, it can spice up various types of dals and grains you typically consume at home. 
Use biryani masala to prepare Mysore, chana, chickpeas, green peas, kidney beans, etc. The slightly roasted, intense flavor combination of this spice blend makes a quintessential pairing when incorporated with coconut milk. You can replace curry powder when making out of these types of dal and grains to introduce different flavor dimensions to your dinner table!
05- Jazzes Up Curries, Gravies, And Curry Sauces
Apart from the various dal, grain, meat, or fish curries we have discussed on top, biryani masala can also back up the taste of many other curries. You can tweak the flavor to classic curries such as green beans, potato, cauliflower, korma, and even vindaloo. 
In addition to these dishes, this spice blend can elevate your regular curry sauces and gravies. The deep and rich flavors of biryani masala can be complemented with coconut cream, heavy cream, broth, and other liquids when making gravy or curry sauce. 
Mix this with fresh or dried herbs like cilantro, parsley, mint, and curry leaves to get a distinctive flavor boost, transforming your curry sauce or gravies from good to delicious! Serve gravy with roasted turkey and pair curry sauces with savory rice dishes or plain bread.
Break The Stereotype With Biryani Masala Powder In Your Kitchen!
With biryani masala powder in hand, you have the opportunity to explore and discover different dimensions of tastes in your foods. As we have brought to you throughout our article, this spice blend doesn't have to confine to typical biryani making when it can rock your dishes with profundity, aroma, and flavor!
So that now you don't have to wait until you make your next batch of biryani to use this spice mixture, feel free to use our ideas to come up with delicious meals and give the best to your family and loved ones!
Related Topics