Biryani masala powder is an essential spice blend in a typical Indian kitchen and it is the key to a rich, flavorful, and aromatic pot of biryani. So, let's discover all the ins and outs of this robust spice mixture!
Biryani masala powder is a powerful blend of ground spices and herbs with a complex flavor profile. Ingredients used vary slightly depending on the variations. But still, a set of similar elements often appear in almost every recipe. They are:
Star anise
Coriander seeds
Fennel seeds
Cumin seeds
Caraway seeds
Green cardamom
Black cardamom
Cloves
Black peppercorns
Mace
Nutmeg
Cinnamon
Kashmiri red chiles
Bay leaves
Some variations could also contain turmeric powder and exotic ingredients like Marathi Moggu, stone flowers, etc.
Read along and learn everything you were longing to know about this flavor-loaded spice blend!
What Is Biryani Masala?
Biryani masala powder is a combination of piquant spices and herbs ground for perfection to create a complexly-flavored spice blend. This is the key flavoring agent of the flavorful rice dish- biryani. Biryani is a Persian-inspired rice dish, which is also considered one of the most delicious rice recipes in the world.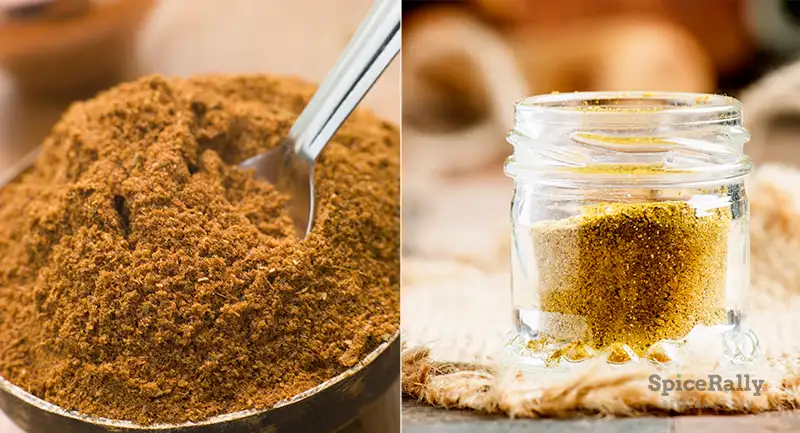 The origin of biryani masala powder is known to have happened in India. But biryani is enjoyed by many other countries, like Iraq, Pakistan, Sri Lanka, Nepal, Southern Africa, etc. However, you can find many variations of Biryani across various regions in India. 
Therefore, you might also experience a few differences in ingredients and their quantities used to make the biryani masala powder. However, every one of them is robust, flavorful, and aromatic regardless of the variation. 
You would find several commercially-made biryani masala options in the market. While many Indians find it convenient and authentic to make their own blend at home. Thus, the taste of this spice blend is adjusted according to the palate and personal preference. Nevertheless, this spice blend typically calls for many spices to achieve its complex taste and aroma profiles.
How Does Biryani Masala Powder Taste?
This spice blend has a complex, pronounced flavor profile regardless of the variation. It has a predominant aroma compared to other typical Indian spice mixtures. It is piquant, warm, spicy, and savory, with a pleasant combination of bitter-sweet, earthy touches and a slight heat note.
Ingredients In Biryani Masala Powder
Spices and Herbs
Star anise– This is also recognized as "biryani flowers" in some places of the world owing to its significant relationship with biryani masala powder. Star anise is one of the fundamental ingredients in this mixture. This spice has a characteristic flavor with very sweet and licorice-like overtones, similar to aniseed.
Coriander seeds– Gently flavored coriander seeds also hold a considerable place in this spice blend. This spice has a relatively mild flavor profile compared to other robust spices in biryani masala. Its citrusy, earthy, warm, and slightly sweet taste elements balance out this blend's overall flavor profile.
Fennel seeds– Fennel seeds have an assertive, herbal flavor, and it tastes like anise with sweet undertones. This spice pairs well with cumin, caraway seeds, coriander, cinnamon, etc. It helps to build the base flavor of this mixture, teaming up with the rest of the ingredients.
Cumin seeds– This spice goes well with fennel seeds, caraway, cinnamon, coriander, and star anise. It is nutty, warm, and bittersweet, with a characteristic aroma to elevate this mixture's overall flavor and aroma profile.
Caraway seeds– Caraway seeds are widely used in Indian cuisine to prepare many spicy dishes. Thus, it is an essential part of this blend, giving it an almost nutty, bittersweet hint of anise and citrus. Caraway seeds are often paired with cumin seeds, fennel, coriander, star anise, and cinnamon.
Green cardamom– This spice is incredibly aromatic with an impressive flavor profile. Green cardamom holds an almost minty taste with warm, herbal, citrusy, and spicy undertones. This is one of the signature spices that help amplify this spice mixture's overall flavor and fragrance profile. It is particularly paired with black cardamom and most other spices used here.
Black cardamom– Distinctively flavored black cardamom lends a drastic flavor boost to this spice blend. It has a strong menthol overtone with smoky, pungent, and warm notes. It is more intense than green cardamom and often paired with cloves, nutmeg, cinnamon, and star anise.
Cloves– This is another potent ingredient used in biryani masala powder. Cloves are astringent, warm, robustly aromatic, and have a subtle bittersweet flavor effect. This spice is teamed up with other warm and intense spices in this mixture.
Black peppercorns– Woody, earthy, warm, and spicy black peppercorns give a unique pepperiness to this spice blend. This is the ultimate peppery agent in the biryani masala powder that elevates the flavor quality, pairing with the rest of the ingredients.
Mace– Mace is sweeter and milder, with a touch of citrus, cinnamon, black pepper, and pine. This is often used along with nutmeg to enhance the general flavor profile of this spice blend. The warmth of mace is further paired with cloves, cinnamon, star anise, and bay leaves.
Nutmeg– Nutty, aromatic, sweet, warm, and spicy—nutmeg comes as a whole bundle of flavorful elements to upgrade this spice blend. Generally, a generous amount of nutmeg is used in this mixture hand-in-hand with mace, and it is often paired with other ingredients like cinnamon, cumin, star anise, and cloves.
Cinnamon– Ceylon cinnamon often features authentic biryani masala powder thanks to its characteristic flavor. Cassia cinnamon is seldom used in this blend, as cassia has a pungent taste. But Ceylon cinnamon is sweet and spicy with a wonderful aroma to complement the overall flavor of our topic leader.
Kashmiri red chiles– Being the ultimate heat provider of this blend, Kashmiri red chiles are used mindfully. They are hot and provide a nice color to the biryani masala powder. Since many robust spices are used here, this spice is moderately used to give just a kick of heat.
Bay leaves- Although we saved this ingredient as the last in our list, you should remember that this is as important as star anise to biryani masala powder. The authentic spice blend usually uses Indian bay leaves, called "tej patta." The aroma and flavor of Indian bay leaves are strongly reminiscent of cinnamon and cloves, and this herb pairs with most other warm ingredients used in this blend.
If you are interested in trying out to make your own biryani masala spice blend at home, we have shared an irresistibly flavorful and authentic blend right in this article.
Other Ingredients In Biryani Masala Powder
While the spices mentioned above often appear more or less in most biryani masala powder recipes, you may also find many other ingredients in this spice blend. 
Exotic spices like Marathi Moggu (Kapok Buds) and stone flowers (Parmotrema perlatum) can often be found in Bombay biryani masala powder. In addition, you might also find the following elements depending on the production or variation:
Turmeric powder

Salt

Dried plum

Unripe mango powder

Muskmelon

Garlic powder

Onion powder

Ginger powder

Citric acid

Artificial colors, flavor enhancers, and preservatives

Anti-caking agents
How To Use Biryani Masala Powder?
The most prevalent method of using biryani masala powder is with various types of biryani. But, interestingly, the powerful flavor combination of this spice blend can complement the taste of many other dishes. 
It doesn't only go with Asian or particularly Indian-style dishes. Still, it is good to go with foods that call for a richer, deeper flavor, such as:
With meat, fish, and seafood recipes

To spice up other rice dishes apart from biryani

To use as a base for rubs and marinades

Ramps up minced meat and ground seafood recipes

To incorporate into a variety of vegetarian dishes

It adds depth to dals and grains

Jazzes up curries, gravies, and curry sauces
Click on this link and see our detailed article to learn about the different interesting ways to use biryani masala powder.
What Are The Best Substitutes For Biryani Masala Powder
Biryani masala powder can be the fundamental ingredient while making biryani. But there can be times when you are out of this spice blend and therefore have to count on an alternative. On that note, here are some of the best substitutes you can use when biryani masala powder is not around:
Garam Masala

Indian or Madras curry powder

Ras el Hanout

Chaat masala

Tandoori masala

Tikka masala

Biryani seasoning mix
Follow up on this link and refer to our post on substitutes for biryani masala powder to discover how these alternatives could be utilized in place of the original blend.
Where To Buy Biryani Masala Powder In The US?
Biryani masala powder is a ubiquitous blend that you might not find hard to get outside the countries that use it the most. Therefore, you'll have the chance to get this spice blend at the international spice aisle of leading supermarkets or from online sellers if you're living in the US. In addition, you can also get this easily by visiting an Asian/ Indian store.
Is Biryani Masala Powder The Same As Garam Masala Powder?
Biryani masala and Garam Masala have several features in common but are not virtually the same. The most apparent difference between these two blends is their subtle texture distinction. 

Biryani masala is a little coarser, while garam masala is finely powdered. Moreover, biryani masala has a more predominant aroma profile than Garam Masala. At the same time, Garam Masala is known for its deep flavor and warmth.
If you are curious about the differences between Garam Masala and Biryani masala in detail, click on this link and refer to our informative article. (Biryani masala vs Garam Masala)
How To Store Biryani Masala Powder?
Biryani masala can be stored with the rest of your dry spices and herbs, and it would be best to store it in an air-tight glass container and keep it away from direct sunlight, humidity, and moisture. 

Store-bought biryani masala might have a longer shelf life than homemade options if preservatives are included. But you can keep either one of them flavorful and aromatic for up to 6-8 months when stored properly. And also, refrigeration is not essential.
Is Biryani Masala Powder Vegan?
Like most Indian spice blends, biryani masala is also vegan-friendly as long as it is made with only plant-based spices and herbs. But still, you will have to be careful with the store-bought options since they might contain ingredients that are not vegan-friendly. So, the best thing to do is read the ingredients list in the packaging before buying.
Is Biryani Masala Powder Keto-Friendly?
Biryani masala is generally a blend of spices and herbs that is not comparatively high in carbs. Therefore, a dash of this blend can be a safe option to include in your ketogenic diet. (Biryani is not keto-friendly, though!)
Does Biryani Masala Powder Contain Gluten?
Most biryani masala powder recipes do not contain gluten-related ingredients. But still you might find them in some shop-bought variations. Hence, check the packaging and read the ingredients well before purchasing if you're sensitive to gluten. 
Fill Your Kitchen With The Aromatic and Delicious Flavors Of Biryani Masala Powder!
Asian cuisine is well-reputed for powerful spice blends that showcase their mastery in cooking. Biryani masala powder is an invention that comes together with a myriad of robust spices and herbs such as star anise, bay leaves, coriander, cumin, cardamom, etc. 
While the most common usage of this spice blend is to elevate various biryani recipes, it can also be used in numerous other ways. It is undoubtedly one of the most aromatic blends you'd find in Asian cuisine, filled with warm, earthy, spicy, and savory flavors.
Related Topics