Stew is a cross between a soup and a curry. Thus, things get a bit trickier when you need to find the right flavors to balance the taste of it. So, here we bring the best spices for the beef stew to make a tasty dish.
You can use the following spices in your spice cabinet to add depth to your beef stew:
If you were ever in doubt about the spices you should pick for your beef stew, use this guide to get started!
The Best 09 Spices For Beef Stew.
Juicy, tender chunks of beef incorporated with colorful vegetables make a hearty meal for the entire family. The key to a delicious beef stew depends on mixing and matching the flavorings by pairing the right spices and herbs. 
No matter if you just put two or more spices, as long as you pair them up the right way, your beef stew will turn out amazingly! Not everything in your spice rack goes well with this dish. Therefore, it is essential to learn about the ideal flavors that can complement the richness of the meat and enhance the taste of your own family beef stew recipe.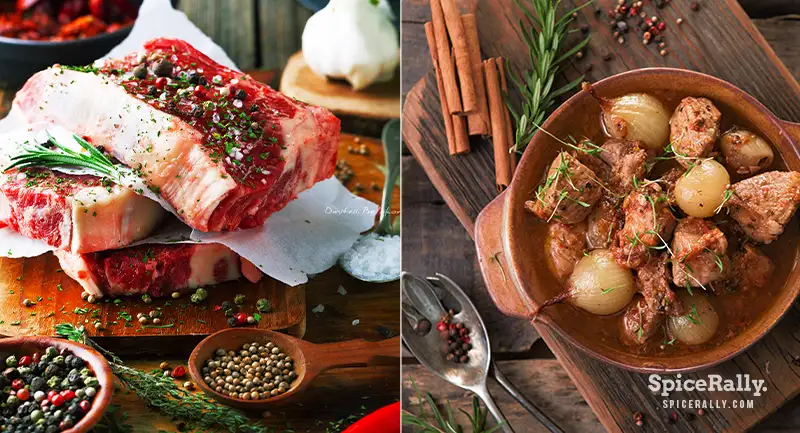 01- Paprika
This spice is the choice of many who need their beef stew to be colorful and spicy at the same time. Although regular or sweet paprika does not do much to a dish other than adding color, smoked paprika and hot paprika undoubtedly offer so much profundity with vibrancy. 
Hence, paprika is literally one of the best spices for beef stew that you must use with every recipe you make! The versatile flavor and texture of this spice pairs well with many other ingredients, including garlic, black pepper, cayenne pepper, onion, and other root vegetables used in this dish.
02- Garlic
Pungent, bold, aromatic, and intensely flavored garlic is another spice that can cut through the heaviness of beef. While freshly minced garlic features in most classic recipes, beef stew includes garlic powder. This spice adds so much flavor and depth to this dish regardless of the form it is used. 
Garlic is often used hand-in-hand with onions or onion powder. At the same time, it also goes well with other flavorings such as black pepper, rosemary, thyme, oregano, red wine, potatoes, etc. Accordingly, this spice has the perfect piquancy to hit you on the right pot on your taste buds!
03- Onion Powder
Onion powder is usually included in the beef stew seasoning, pairing it with garlic powder. However, the sharp, savory, and umami flavor notes of this spice are perfect to be added to any-style beef stew recipe. This can also be a great substitute for raw onions if you don't like to include them in your dish but still need the taste.
Nevertheless, you should remember that onion powder is only good to go if you are after the taste but not the texture you get from the raw onion. Team up this spice with oregano, black pepper, paprika, cayenne pepper, carrots, etc. 
04- Ground Cumin
Not to underestimate, but the nutty, warm, earthy, and slightly bitter-sweet flavor notes of cumin can be the unexpected taste booster to your beef stew! This spice is ideal for converting this dish into a warmer, heartier version, especially if you are making it on a dreary winter eve. 
Indian-style or most Asian-style beef stews tend to feature whole cumin seeds for added flavor and crunchiness, although western cuisine incorporates ground cumin more often. Work a generous amount of ground cumin with garlic, onion powder, paprika, and dried rosemary to make an incredibly delicious pot of warm beef stew!
05- Cayenne Pepper Powder
This is another spice that is perfect for this dish whenever you need to proceed one step ahead and give your beef a kick of extra heat. If you have already included seasonings like garlic, black pepper, oregano, rosemary, bay leaves, etc., then a dash of cayenne pepper would obviously take your recipe to the next level! 
This spice is not fiery hot but can add the right amount of heat along with a depth of flavor when included sparingly and paired with the right ingredients, as mentioned above. This spice is also often teamed up with smoked paprika in the beef stew seasoning blend.
Did you know that most of these spices are also included in the beef stew seasoning blend? Click on this link and refer to our detailed post for more information.
06- Black Pepper
Woody, earthy, and piney black pepper is considered a staple ingredient to beef stew, adding a distinctive pepperiness. You can add freshly cracked or finely ground black pepper, depending on the texture you need on your dish. The ubiquitous flavor profile of this spice makes the perfect seasoning when paired with salt.
Meanwhile, it also has that buildable taste that goes with the root vegetables and many other spices and herbs used in this dish. Hence, it gives so many reasons never to skip black pepper in your recipe and add that complementary flavor to the richness of the beef.
07- Cinnamon
Cinnamon is often overlooked when it comes to stew, but this is definitely one of the best spices to use when you need to come up with flavorful, lively recipes. The distinctive warm, sweet, and slightly peppery undertones of this spice are an excellent flavor enhancer when added in its ground form. 
Some prefer using whole cinnamon sticks, but ground cinnamon tends to have a more concentrated flavor and blend in well with the liquid of the dish. You have the versatility to pair most other savory and warm flavorings, such as ginger, garlic, star anise, black pepper, etc., and complement the root vegetables used in your beef stew.
08- Ground Ginger
Warmly spicy, slightly city ginger is laced with a sweetness that can give a surprising flavor upgrade to your beef dish. The zest of this spice will provide you with better results when paired with other spices and herbs like cinnamon, black pepper, star anise, chives, etc. Stir in a dash of ground ginger with the rich and thick liquid of your beef stew to add that desired instant kick!
09- Star Anise 
Known as another warm spice, star anise is another remarkable ingredient that can complement the heaviness of the juicy beef chunks. The unique flavor of this spice also adds licorice-like and earthy notes to your dish while filling it with a fantastic aroma. 
Pair star anise with warm spices like ground ginger, cinnamon, and garlic. You can use whole star anise florets or ground star anise on your preference. But remember that ground star anise can give a more intense, concentrated flavor than the whole florets.
Flavorful Spices Are The Most Amazing Thing That Can Happen To Your Beef Stew!
With a dash of paprika, a sprinkle of ground black pepper, and a spoonful of minced garlic- you can transform your beef stew recipe into a more satisfying, heartier meal. 
Exceptional spices like star anise, ground ginger, cinnamon, etc., are the choice of many who need to make their stew more spicy and flavorful. So, you can blend and pair each of these spices with one another and create a surprisingly scrumptious recipe that your loved ones will forever need to taste!
Related Topics