You might be someone who often reaches out for store-bought seasoning packets whenever you need to come up with a beef stew. But, in this feature, we will be sharing an easy step-by-step guide on how to make beef stew seasoning at home.
This is going to be just the perfect thing that will load your pot of stew with so much flavor. So, follow the guide to make this blend in no time!
How To Make Beef Stew Seasoning At Home- Step-By-Step Guide
You will never have to run back to the pre-packaged beef stew seasoning blends once you try this! Our recipe is versatile, and you can have complete control over the ingredients- especially the amount of salt that goes in. Let's get started!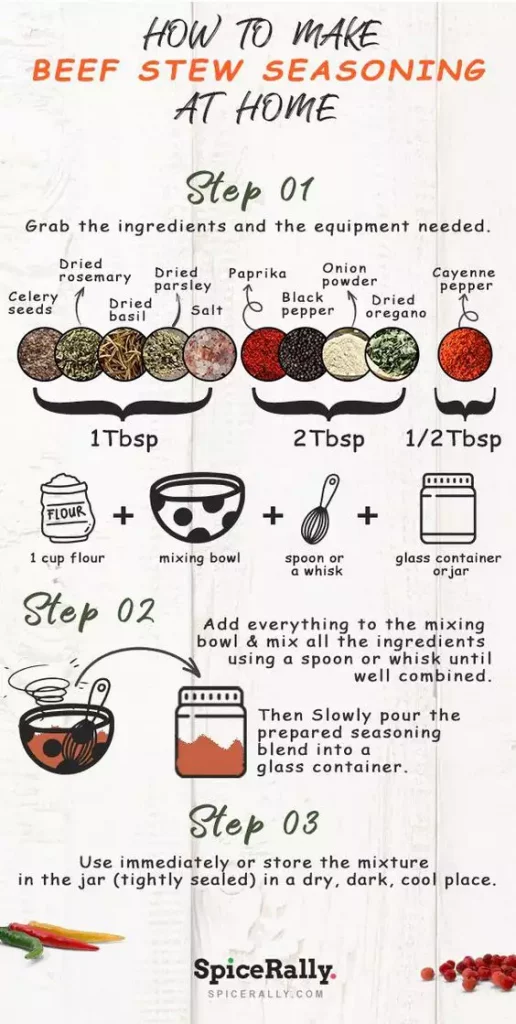 Preparation time- 10 minutes | Cooking time- 00 minutes | Additional time- 05 minutes
Step 01
Grab the ingredients and the equipment needed.
Spices and herbs needed:
One tablespoon of celery seeds
Two tablespoons of paprika
Two tablespoons of black pepper
Half a teaspoon of cayenne pepper
Two tablespoons of onion powder
One tablespoon of dried basil
One teaspoon of dried rosemary
Two teaspoons of dried oregano
One tablespoon of dried parsley
If you are interested in learning in detail about the ingredients used in beef stew seasoning, click here and refer to this article.
Other ingredients:
One cup of all-purpose flour
One tablespoon of salt
Required equipment:
A large mixing bowl
A spoon or a whisk
A tight-fitting glass container/jar that will hold enough of the seasoning blend.
Step 02
First, add flour to the mixing bowl.
Step 03
Follow up with the rest of the spices, herbs, and salt.
Ramen seasoning blend is another mix you can easily put together at home. Click here and follow our step-by-step to make a flavorful homemade batch!
Step 04
Mix all the ingredients using a spoon or a whisk, until well combined.
Step 05
Slowly pour the prepared seasoning blend into a glass container.
Step 06
Use immediately or store the mixture in the jar (tightly sealed) in a dry, dark, cool place.
Tasty Notes –
* You are free to omit salt if you do not like it in your seasoning.
* If you feel like adding more types of herbs like marjoram, sage, savory, etc., go ahead!
* Choose paprika based on your preference. However, our recommendations are sweet, smoked, and mild versions.
* If you are sensitive to black pepper, you can adjust the quantity accordingly.
Related Topics