As you already know, beef stew seasoning is basically a combination of spices and herbs that add a rich taste to your stew. So, in this episode, we will tackle the best beef stew seasoning substitutes that you could use whenever you run out of the original product.
The best beef stew seasoning substitutes include:
So, continue reading to discover how these replacements will help you to replicate the original taste.
The 05 Ultimate Beef Stew Seasoning Substitutes
This seasoning blend usually comes together with several spices and herbs as its main ingredients. They are:
Paprika
Cayenne pepper
Onion powder
Celery seeds
Oregano
Rosemary
Parsley
Thyme
In addition to this, it has flour, corn starch, salt, and some other complexly flavored additives. Therefore, the substitutes are literally limited and have to be chosen wisely.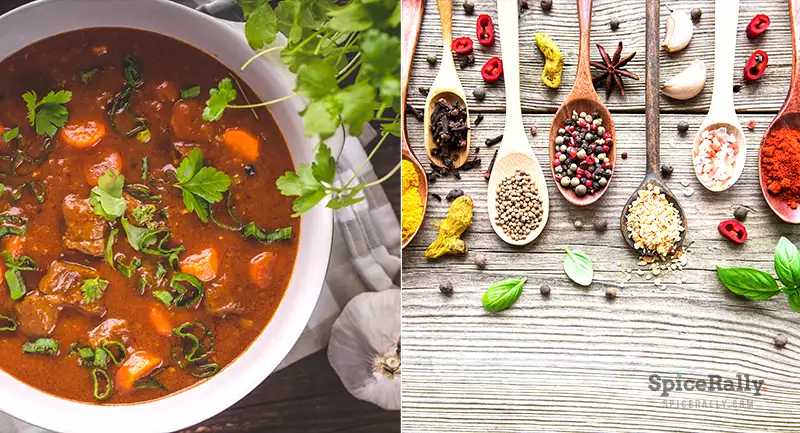 On that note, we came up with 05 effective options that could mimic the taste of our topic leader. Yet, you will have to make a few adjustments when using them. So, read further to learn more!
01- Taco Seasoning
Readily available taco seasoning includes some essential ingredients as in our topic leader like:
Paprika
Onion powder
Garlic powder
Black pepper
Oregano
Corn starch
Salt
Moreover, taco seasoning might also include some additional ingredients such as chili powder, red pepper flakes, and ground cumin. And it might not contain as many herbs as in our subject leader.
Thus, you might sense a slight flavor difference with a bit more intensity. But still, this alternative is good to go in your crock-pot or slow cooker beef stew. And it can give you a new taste experience as well. However, when substituting, start with a small amount and adjust as you go.
Did you know that taco seasoning and adobo seasoning share some similarities as well as dissimilarities? So, if you are interested in learning how these two seasoning blends actually differ, click here and refer to this article.
02- Fajita Seasoning
Fajita seasoning works as well as Taco seasoning! They are very similar, but fajita seasoning could contain souring agents like lime juice powder, tomato powder, or citric acid.
However, it shares some common elements with our topic leader, such as:
Cayenne pepper
Paprika
Black pepper
Garlic powder
Onion Powder
Oregano
Cornstarch
Salt
Thanks to these many ingredients, this seasoning has the capability of replicating a closer flavor to the beef stew seasoning. 
But, you should be moderate with the quantities since too much fajita seasoning can be overpowering due to the souring agents it has. Hence, you can begin with a fair amount and follow up with some dried herbs to adjust the flavor.
03- Ranch Seasoning
This is one of the most easily accessible beef stew seasoning substitutes since many of us have ranch seasoning in hand. And, this includes a set of common ingredients like:
Onion powder
Garlic powder
Black pepper
Parsley
Corn starch
Salt
However, the classic ranch seasoning mix is not typically spicy. Therefore, you can either add some paprika or cayenne powder. Or else, choose a variety that comes under the " Spicy " label.
Moreover, ranch seasoning particularly contains buttermilk powder which is not an ingredient in our topic leader. Hence, this ingredient can give a relatively tangy flavor to your stew. So, we suggest you start moderately and adjust the taste accordingly.
04- Greek Seasoning
Greek seasoning is another great possibility to use in the absence  of our topic leader with many similar ingredients. It typically shares flavors like:
Black pepper
Onion powder
Garlic powder
Oregano
Parsley
Thyme
Salt
Corn starch
Greek seasoning, too, doesn't usually contain hot spices like cayenne pepper or paprika. But, it has additional ingredients like cinnamon and nutmeg. 
However, add some paprika or cayenne pepper if you need more flavor approximation. Start slow and proceed until you reach the desired taste.
If you are interested in making your own Greek seasoning at home, check out our simple step-by-step guide for a delicious recipe.
05- Other Beef Seasoning Blends
This option is better kept as the last choice if you have none mentioned above. However, you can get many types of other beef seasonings under multiple brands. 
So, make sure you read the list of ingredients and match it at least with the basic elements in our topic leader (for ex- garlic powder, onion powder, paprika, oregano, parsley, etc.). Be cautious of the sodium level and pick wisely.
Furthermore, most beef seasonings might not include a thickener. Therefore, you'll have to use an additional thickener like corn starch or wheat flour, if you use one of these substitutes,
As another great choice, you can give a try to make your own batch of beef stew seasoning at home. So, to assist you with that, we have shared an easy step-by-step guide/recipe here- click on this link!
Waving Good-Bye With The Best Beef Stew Seasoning Substitutes…
As you see, options like taco seasoning, fajita seasoning, greek seasoning, etc. are excellent possibilities to use whenever you run out of the beef stew seasoning blend. In fact, with slight flavor adjustments, you can have the opportunity to experience the goodness of the original element.
Related Topics