There are a few special tips we should know even when making the simplest dish. Likewise, you can find some best herbs for the beef stew to make a heartier, colorful meal to go well with the richness of the meat.
Prime herbs to be included in a beef stew include:
Read along to learn how to incorporate these herbs to make your beef stew extra flavorful!
The Best 09 Herbs For Beef Stew.
The secret of a delicious beef stew lies in the perfect balance of flavors. In that case, using spices, sauces, or other seasonings isn't the only thing that could make your stew dish flavorful. Thus, knowing the right herbs that go well with the flavorings you apply to your recipe is important.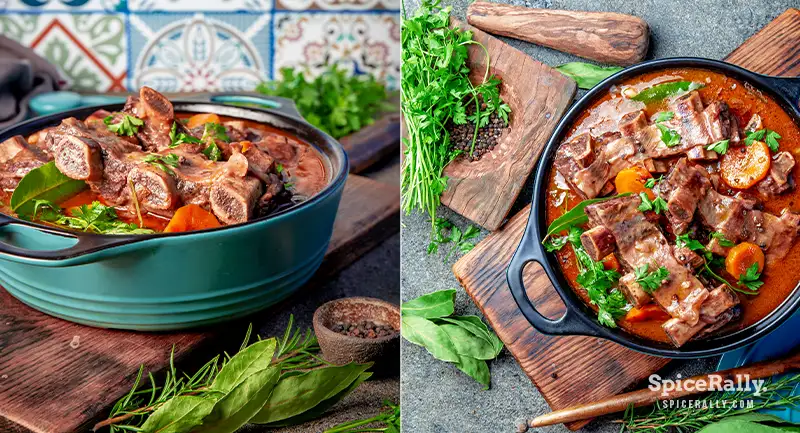 It could be the most classic version or a fancy beef stew; pairing herbs can make it all up to you! So, if you are not sure about what to add to your stew recipe and how to pair the herbs with other seasonings, read the following explanations we have given below.
01- Sage
Intensely flavored sage is laced with slightly musky and minty undertones. The sharp and bold taste of this herb is ideal to be used fresh or dried, paired with other elements like butternut squash, rosemary, potatoes, tomatoes, garlic, etc. 
Since the flavor of sage can be a bit too overpowering when compared with other herbs, you should be using it sparingly and combine it with other piquant spices and herbs.
Spices play a significant role in flavoring beef stew just as much as herbs would do. Click here to learn about the best spices you can use to ramp up your family beef stew recipe!
02- Thyme
Thyme is a herb with its own distinct identity but does not essentially hit you on the head with its flavor or aroma. Thus, this can be considered one of the best herbs to pair with the warmth of your beef stew. It has a pleasant flavor balance that jigs between earthy and minty, citrus-edged, tangy, but also sweet. 
We recommend using fresh thyme during the first stages of making your stew and letting it simmer with the stock. Dried thyme can be added anywhere during cooking along with other dried herbs. You can pair this aromatic with ingredients like carrots, onions, tomatoes, oregano, cumin, and coriander.
03- Rosemary
This herb is known for its pronounced flavor notes, which possess distinctive pine, lemony, woody, and peppery touches. In fact, rosemary is an excellent complement that can cut through the juiciness of the beef, also lending a beautiful aroma to the dish.
 You can use a few sprigs of fresh rosemary at the beginning of the cooking process and let it braise through. At the same time, include dried rosemary in the beef stew seasoning or add it as an individual herb, teaming up with garlic, oregano, thyme, black pepper, and other heartier vegetables.
04- Bay Leaves
Lesser known in comparison with other herbs, but bay leaves can be that unexpected flavor enhancer you'll never resist! This element has a characteristic taste with unique piquancy with bitter and minty undertones. 
Its noticeable aroma gives your beef stew a different flavor dimension and is best when added in its dried form during the initial cooking steps. Bay leaves work best when left to simmer with the ingredients for a longer time, and make sure to pair it with red wine, balsamic vinegar, potatoes, carrots, thyme, etc.
05- Oregano
Oregano is a herb used mostly when making Italian-style beef stew. It doesn't mean that you cannot include it in your classic stew- you can absolutely do it when paired with ingredients like garlic, onion, tomatoes, black pepper, parsley, rosemary, etc. 
Strongly perfumed oregano holds intricate earthy, bold, and slightly peppery, bitter hints. This herb is usually incorporated into the beef stew seasoning or combined with other flavorings in its dried form.
Like these herbs add depth to the beef stew, some of these also give a signature flavor to other beef recipes. Click on this link and discover more herbs that go well with any beef dish!
06- Tarragon
The interesting licorice, fennel, and anise flavor combination of tarragon is another herb that is worth trying in your beef stew if you haven't so far! This is a savory herb that can make this dish more special, transforming it into a heartier, more satisfying version, especially when paired with other flavorings. 
To put together a flavorful beef stew, you can team up dried tarragon with marjoram, onions, black pepper, garlic, potatoes, carrots, mushroom, and parsley. Surprise your family with a phenomenal beef dish with an Irish or French flavor touch!
07- Cilantro
Did you know that Peruvians make a staple beef stew known as Seco de Carne using fresh cilantro as the primary ingredient? Not to underestimate, but this herb can make a flavorful difference when incorporated with this dish, either fresh or dried! 
Cilantro has a characteristic fresh, lemony, and slightly peppery flavor which is reminiscent of a more robust version of parsley. Thus, you can undoubtedly pair it with parsley and other powerful ingredients like garlic, ground coriander, cumin, carrots, peas, etc. You can include dried cilantro in the beef stew seasoning, use a handful of freshly chopped cilantro while the dish simmers, or top it off as a garnish.
08- Parsley
Versatile parsley is one of the best and most common herbs used with beef stew. This herb has a clean, bright herbal note with slightly peppery, earthy undertones. Depending on your preference, you can use fresh or dried parsley, while curled-leaf parsley can be a pretty garnish on your stew dish. 
Combine this herb with other spices, herbs, and vegetables to your liking since parsley has a super adaptable flavor and aroma to complement most ingredients used in the beef stew.
09- Marjoram
Incorporate the chunky, juicy beef and vibrant vegetables with the pronounced flavor of marjoram to create the best beef stew you've ever made! This herb is literally a secret tastemaker that can upgrade this dish with signature woodsy, earthy, savory and warm touches. 
It is best used in its dried form, particularly when you need to give an Italian or a Mediterranean kick to your classic beef stew. Mix and match this herb with other ingredients like paprika, rosemary, thyme, black pepper, garlic, etc.
Elevate Your Beef Seasoning Recipe To The Next Level With These Herbs!
Although beef stew tends to be one of the most classic recipes that are made in our homes, it needs to be complex in flavor in order to be a satisfying meal.
Hence, robustly flavored herbs like rosemary, sage, thyme, oregano, tarragon, etc., play a significant role in boosting the taste of this dish while pairing with other spices and seasonings used. It is live proof that herbs never disappoint you!
Related Topics