Apple cider is an all-time favorite that comforts our taste buds as a warm or cold beverage. But, are there any possible options to use instead of this when it is not around? In that case, we've got you covered with the best apple cider substitutes.
Whenever you can't find apple cider, you can try alternatives such as:
So, how will these apple cider substitutes bring a similar kick to quench your thirst? Let's check that out!
The 06 Best Apple Cider Substitutes
As mentioned previously, apple cider is a wonderful beverage serving you with something more than quenching your thirst. In fact, it is refreshing, soothing and offers you the ultimate nutrition of the apples and spices.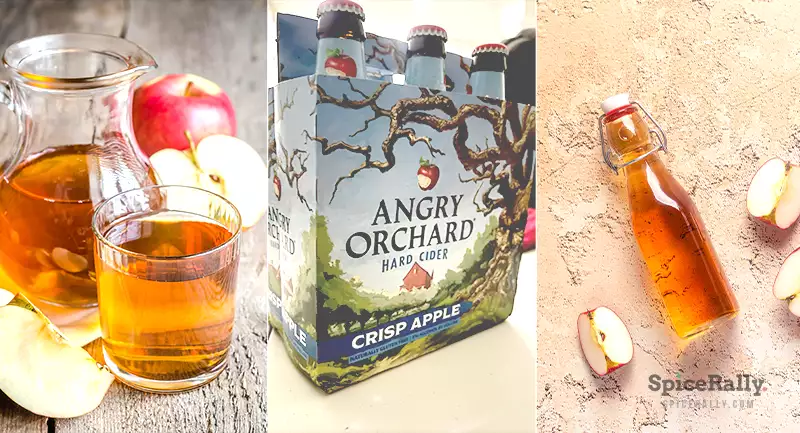 Accordingly, apple cider typically contains ingredients like:
Apples
Oranges
Spices (cinnamon, cloves, nutmeg, allspice, ginger)
Brown sugar or a sweetener
Water
However, the substitutes we picked for you today are the ones that will bring the closest flavor replication to our subject leader. They might not give the exact same taste, but they will satisfy you whenever your favorite drink is not in hand.
01- Apple Juice
Apple cider is actually more like a complicated version of apple juice. Therefore, if you are looking for the closest flavor replication for our subject leader, apple juice would be one of the best choices.
However, unlike apple cider, you will not be able to enjoy it as a warm or hot drink. And, you will not savor the flavor of spices. But still, if you choose high-quality apple juices like Tropicana or Simply, you can get the same tart-sweetness and fruity punch as in apple cider.
We suggest you choose "unsweetened" organic apple juice if you are more concerned about your health. In fact, this is a drink that you can enjoy any time of the day and is readily available in any grocery store or supermarket.
If you need to figure out how exactly apple cider differs from apple juice, click here and refer to this article for a complete explanation.
02- Homemade Apple Cider
This is actually the most viable apple cider substitute if you are capable of making it! Homemade apple cider is not rocket science if you follow our step-by-step guide in this post to prepare your own batch!
This recipe is inexpensive. You will only need a few ingredients, and it will come together in a short time. Your whole family will love the treat since it will be as (or even more) delicious as the ones you usually buy from the store.
03- Hard Cider
Hard apple cider is actually the alcoholic version of apple cider. However, if you intend to have this in place of our topic leader, there are a few things that you might want to keep in your mind. 
The most important fact is that, unlike apple cider, hard apple cider is not suitable for kids or children since it is a beer-type alcoholic beverage. And the alcohol percentage could vary depending on the way it is processed and the brand. 
However, a popular brand like Angry Orchard has a 4% – 5% alcohol content. Thus, this is considered a more adult version of apple cider. It has a similar flavor to our subject leader and could be directly purchased from the store or ordered online.
Are you interested in knowing what ingredients are used in Angry Orchard hard cider? Click on this link and refer to this detailed article.
Summing Up With The Best Apple Cider Substitutes…
You can't really expect a substitute to offer the same taste as the original element would do. But still, options like apple juice, homemade apple cider, and hard apple cider can undoubtedly give a comparable flavor to our subject leader.
This post may contain affiliate links. If you use these links and make a purchase, We may earn a small commission. However, there's no extra cost to you. Also, as an Amazon Associate, we earn from qualifying purchases. Thanks!
Related Topics