When it is really hot outside, and when you are in the mood to chill with your friends, there's nothing better than a refreshing spiked drink! Hence, Angry Orchard hard cider must be something on the top of your list. But which ingredients in Angry Orchard hard cider make it so special? This article is all about that.
According to the label indication of the Angry Orchard hard cider container, it includes ingredients such as:
Carbon dioxide
Natural flavors
Sulfites
Water
So, if you are curious about learning how these elements bring flavor and why they are added to this drink, here's all you need to know!
What's In Angry Orchard Hard Cider?
The ingredients of this beverage are picked sensibly to bring up a bright and refreshing flavor. Hard cider and apple juice are used as the key ingredients to give its authentic taste.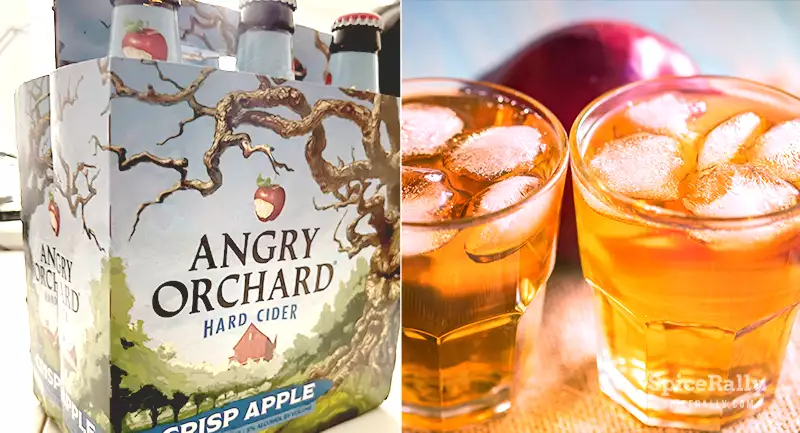 In addition, it is subtly sweetened with honey and cane sugar. And natural flavors and preservatives like sulfites are used to preserve its freshness. 
In fact, this hard cider can stand up to many hot and spicy foods. Sharp-flavored cheese like cheddar and blue cheese, barbequed meat, roasted pork, and smoked beef are some foods that pair well with this drink.
01- Hard Cider
This is obviously the most important ingredient in this beverage. Pineapples, peaches, and cherries are some common fruits used in hard cider making. But, this beverage in particular is made with an assortment of sweet and tart apples.
Hard apple cider is obtained by fermenting apple juice (this process is very similar to wine-making). Usually, yeast is added to apple juice. And consequently, the yeast converts the natural sugar in the apples into ethanol.
Did you know Angry Orchard hard cider is an excellent option to enjoy when apple cider is not around? So, if you are interested in discovering more substitutes for apple cider, click on this link and refer to this article.
However, the duration for the completion of the fermentation depends on the amount of sugar in the juice. According to the experts, more sugar content will take a longer period to ferment.
Nevertheless, contradictory to popular belief, hard cider is not a beer, although it falls into the beer category.
02- Apple Juice From Concentrate
Apple juice from concentrate is another significant flavoring ingredient in this beverage. Once the apple juice is pressed, the pressed juice undergoes a filtration process to extract excess water.
Even though hard cider already contains apple juice, apple juice from concentrate is used to give our subject leader an extra punch of flavor. However, this juice could be pasteurized since typically, the juices that say "from concentrate" do undergo pasteurization.
03- Cane Sugar
Cane sugar is simply the type of sugar obtained from "sugar cane". The label does not mention in what form it is used. But, it is clear that cane sugar adds the perfect touch of sweetness to this drink.
04- Honey
Honey is another sweet accompaniment to this hard cider. It is a naturally occurring sugar. And therefore, its subtle flavor complements the taste of apple juice and cane sugar.
05- Malic acid
Malic acid is a compound that is usually found in apples and pears. The addition of this substance works as an acidulant to this beverage. 
In fact, it essentially helps to enhance the sweet and tart flavor of apple juice and hard cider. Moreover, it improves the pH stability and camouflages any unwanted saltiness.
A Brief Insight To Other Angry Orchard Ingredients…
Also other elements like carbon dioxide, natural flavors, water, and sulfites are added apart from the main ingredients that contribute mainly to flavoring and complementing the key flavors.
Carbon dioxide is the main element that makes this beverage sparkle! In addition, it helps to impart a tangy flavor and it also prevents spoilage.
Sulfites are basically antioxidants that help the preservation of hard cider. In addition, water is added for concentration, and the label mentions "natural flavors," which might possibly be their trade secret for producing such a great-tasting hard cider!
Angry Orchard Hard Cider Nutrition Facts
This beverage is gluten-free. And here are the nutrition facts of a 12-ounce (355ml) Angry Orchard hard cider container: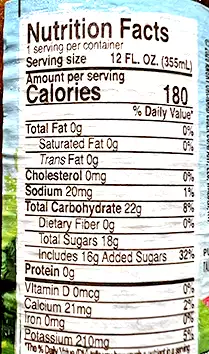 Sodium- 120 mg (1%)
Sugars- 18g
Calcium- 21mg (2%)
Total fat- 0g
Total carbohydrates- 22g (8%)
Protein- 0%
How Many Calories Are In Angry Orchard Hard Cider?
There are 190 calories in a 12-ounce (355ml) Angry Orchard hard cider.
The Flavorful Angry Orchard Hard Cider Ingredients Do The Real Magic!
As you see, the flavoring and flavor-supporting elements of this beverage is the reason for it becoming the spotlight in the hard cider market. Apple juice from concentrate, cane sugar, honey, hard cider, etc., perfectly balances the sweet and tart taste of this drink, giving the ideal kick you always crave!
Related Topic