The seasoning blend we will bring you deserves a special place in your pantry as it is super versatile and loaded with fresh flavors. So, let's teach you how to make Creole seasoning.
Creole seasoning is simply a phenomenal blend that comes together effortlessly to spice up your favorite daily dishes. A decent batch will complement your meat, pasta, rice dishes, salads, and fries! So, let's get started with the readily available ingredients in your kitchen.
How To Make Creole Seasoning At Home- Step-By-Step Guide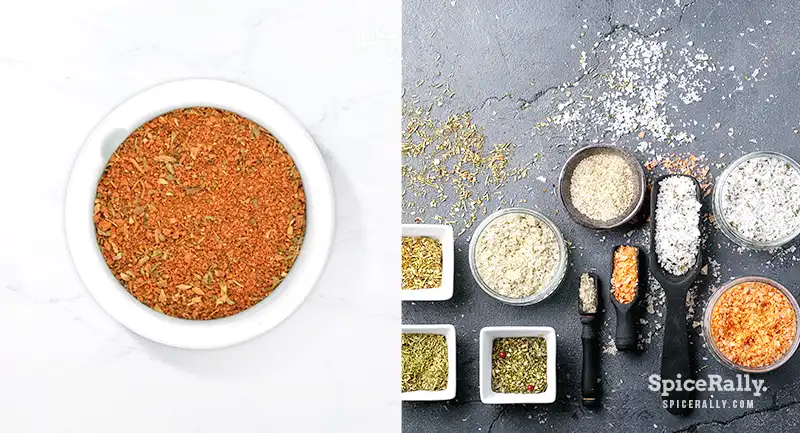 Our version of Creole seasoning is very easy to make, and it will be the ultimate flavor booster to anything that calls for a savory kick! Just spend five minutes of your time and get the most flavorful Creole blend you could ever have!
Preparation time- 05 minutes | Cooking time- 00 minutes | Additional time- 05 minutes | Servings- 25- 27 tablespoons
Step 01
Get prepared with the required ingredients and equipment needed.
Spices and herbs needed:
03 tablespoons of sweet paprika
03 tablespoons of smoked paprika
02 tablespoons of cayenne pepper
02 tablespoons of onion powder
04 tablespoons of garlic powder
02 tablespoons of ground black pepper
02 tablespoons of white pepper
02 tablespoons of dried thyme
02 tablespoons of dried oregano
02 tablespoons of dried basil
01 tablespoons of dried rosemary (optional)
Other ingredients:
1 1/2 tablespoons of sea salt flakes
Required equipment:
A mixing bowl
A wooden spoon
Glass air-tight container/ spice jar
Cajun seasoning is actually the cousin of Creole seasoning, which is worth giving a try! Click on this link and refer to this article to learn how to make an easy Cajun seasoning blend at home.
Step 02
Whisk all the ingredients in the mixing bowl really well until everything is thoroughly combined.
Step 03
Your Creole seasoning blend is ready! Use it immediately with your dishes, or store it in a tightly-sealed glass container to be used later. 
Tasty Notes By SpiceRally…
Although we have included salt in our recipe, you can skip it if you need to go for a sodium-free blend.
If you need more hotness in your recipe, increase the amount of cayenne pepper or use hot paprika instead of sweet paprika.
Using both paprika varieties is not a must; you can go with the type you have in hand. Keep in mind that you should use six tablespoons if you are using one type.
You can also use a crushed bay leaf for extra flavor.
Try to use at least three types of dried herbs from the ones we have mentioned in our recipe to get the authentic flavor of this blend.
Related Topics