Cinnamon arguably adds exquisiteness to any dish, turning it from bland to a real delicacy. It is a warm and sweet spice that could give a hint of festivity in our hearts at any time of the year, especially when incorporated with baked goods.
When mixed and paired with other ingredients like vanilla, sugar, caramel, coffee, or chocolate, cinnamon gets the power to tantalize our senses with scrumptious baked goodies! So, in this article, we hope to present to you 14 ways of how you could use cinnamon in baking and facts about the best type and form of cinnamon that you would employ when baking. Let's start the sweet escapade!
14 Ways To Use Cinnamon In Baking
Baking could bring immense joy and tranquility to our hearts, whenever we are stressed out with something or spend days with hectic working schedules. When meddling with the baking ingredients, cinnamon is a significant spice that we find in our pantry that could make our baked relishes extra tempting and flavorful.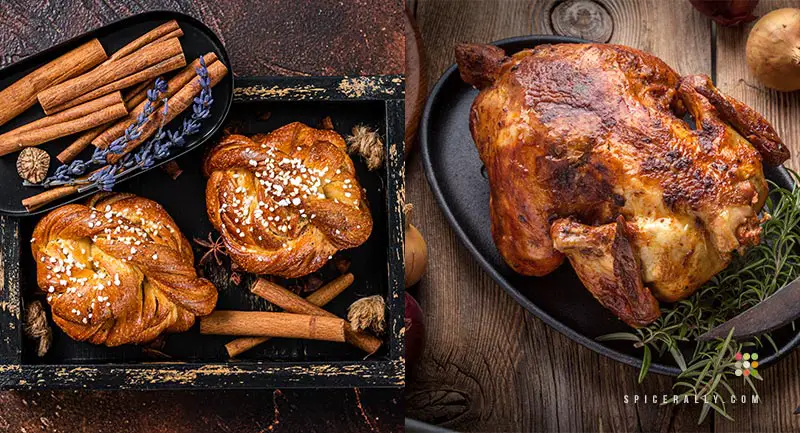 However, there are many ways that we could include cinnamon in our baking process. In fact, baking has different prospects when compared with cooking. And when it comes to baking with cinnamon, it could be way more diverse than using cinnamon in cooking.
So, check out these 14 best ways to use cinnamon in baking to make your baking experience a much more delicious moment to share with your family and loved ones.
01- Brown Sugar And Cinnamon Coffee Cake
Cinnamon complements brown sugar while pairing really well with other ingredients like vanilla. In this cake, while cinnamon is used in the cake itself, it is also topped with cinnamon whipped cream to add an extra punch.
02- Snickerdoodle Cookies
When it comes to baking with cinnamon, chewy, crunchy, and tasty snickerdoodles can never be missed. These cookies become so special because of the flavorful kick they get by rolling in cinnamon sugar. The doodles themselves contain ground cinnamon, and it pairs well with vanilla used in the cookie dough.
Did you know that cinnamon is an integral part of the Chinese five-spice mix? And this spice blend is even used in making snickerdoodle cookies! To learn more exciting ways to use the Chinese five-spice blend, click here, and we are ready to share everything we know!
03- Cinnamon Quinoa Bake
If you are going on a gluten-free diet and need to try something healthy yet tasty for breakfast, this cinnamon quinoa bake would be your best bet. The recipe generally includes around a tablespoon of ground cinnamon which gives an ultimate flavor blending well with the fruits and nut butter used.
04- Cinnamon-Sugar Crisps (Bunuelos)
Tortillas fried until golden brown and cinnamon sugar sprinkled on top, this Mexican delight makes a perfect dessert or a go-to snack that is often enjoyed with fresh fruits or vanilla ice cream.
Do you know the perfect ratio for making cinnamon sugar? If you need to learn the right way of making cinnamon sugar at home, click on this link as we have the best recipe for you!
05- Baked Cinnamon Chicken
If you struggle with some extra pounds to lose and hope to go on a keto diet, the cinnamon chicken will be a real life-saver! Packed with flavors including cinnamon, the key spice, and other flavorings like cumin, garlic, and paprika, this dish is ideal for anyone who needs a complete low-carb meal.
The weight loss properties of cinnamon will enhance the goodness of this chicken dish with added flavor and texture.
You see that cinnamon is a great baking companion. So, wouldn't you like to try some substitutes for cinnamon if in case you run out of it? If so, click here for a complete list of the best cinnamon substitutes.
06- Baked Indian Pudding With Maple Syrup
Baked puddings are not wonders during Thanksgiving, and this cinnamon-based Indian baked pudding makes a perfect family treat. Ground cinnamon is used as the main spice along with ground ginger, brown sugar, and other ingredients to get the scrumptious flavor.
07- Traditional Sri Lankan Love Cake
Well suggested by the name, Traditional Sri Lankan Love cake is a baked goodie made by the Sri Lankans to show their warm hospitality and love towards their loved ones. It is sweet, slightly nutty, and spiced, especially with cinnamon, cardamom, and nutmeg.
Sri Lanka, the land of Ceylon Cinnamon, is lucky enough to use their very own precious cinnamon for this cake recipe. Ceylon cinnamon adds a delicate sweetness and spiciness with so much flavor.
08- Cinnamon-Orange Salted Roast Turkey with Thyme Gravy
The name of this recipe would seem long, but it doesn't even hurt a bit for its great taste! This turkey dish is full of flavorful and aromatic spices, including cinnamon, coriander seeds, cloves, and star anise.
The preparation might take a little longer, but in the end, you would feel that it is absolutely worth the wait. Cinnamon is basically used when roasting the turkey, and this will make a real delicacy for Christmas eve.
09- Italian Cinnamon Rolls
Are you looking for a recipe to please everyone during Easter brunch? If so, this Italian Cinnamon Rolls will save the day being the star on the table. These cinnamon rolls are distinctively cinnamon-y and mouth-watering with the incredible orange juice glaze on top of them.
Cinnamon couples well with anise, lemon zest, and orange to give this recipe a unique tangy, sweet punch.
Did you know that vanilla is one of the most flavorful baking spices? Click on this link and refer to our comprehensive article to learn everything about this aromatic ingredient.
10- Cinnamon Apple Moonshine Cake
Cinnamon and apple- such a match made in heaven! This cake is another recipe with a fantastic combination of apple and cinnamon that is mixed with all the other ingredients, including vanilla.
It is gooey, soft, and buttery, with an overall taste of cinnamon glazed with a delicious cinnamon-caramel glaze. In fact, everything about this dessert is cinnamon, and you could obviously taste apples and cinnamon with every bite.
Did you know that ground cinnamon can be an excellent substitute for apple pie spice? We have listed a few other alternatives for this spice blend that might interest you. Click here for more information.
11- Lebanese-Style Cinnamon Meatballs
Arriving from Mediterranean cuisine, this recipe proves that meatballs are not only for the classic spaghetti dish. These tender meatballs are featured with the warm flavors of cinnamon and allspice to bring everything together so scrumptiously.
The juicy meatballs are first baked and then cooked in a creamy and thick tomato paste with cinnamon and allspice as the main flavoring agents.
Pro Tip:  Always remember that, like every other ingredient you use when cooking or baking, cinnamon also has a shelf life, and it could possibly lose its flavor and intensity over time. So, when you choose cinnamon, especially for baking, make sure you get new and fresh cinnamon and use and finish them quickly before moving to the next batch.
12- Cinnamon Custard Pie
If you are not a pie lover, then you have no right to stay on this planet! Well, well, all jokes apart, who wouldn't really love to savor a pie, especially when it is a cinnamon custard pie.
This dessert is flavored with a creamy base, and cinnamon is blended well with butter, sugar, and vanilla to give out a unique taste. Ground cinnamon makes a perfect combination with granulated sugar and vanilla paste to give an overall cinnamon flavor.
13- Pecan Pie Monkey Bread
Yes, you heard it right, it is Monkey Bread! Not just Monkey Bread, it is Pecan Pie Monkey Bread coming to your table with an outlandish flavor of cinnamon.
Cinnamon bread is plenty, but this recipe is just next level as cinnamon is perfectly blended with pecans, butter, and sugar. Cinnamon sugar just complements all the other ingredients to make this monkey bread perfect for a family reunion.
14- Cinnamon-Apple Pork Chops
Pork loin chops are the favorite of many, so this recipe that is infused with apple and cinnamon will become something enthralling for you. This dish is very easy to put together in just one pan and comes with only a few ingredients that are readily obtainable in your kitchen.
Cinnamon is mixed with brown sugar, nutmeg, and salt to be incorporated with the apples to complement the roasted pork chops, and voila! You are equipped with a bowl of happiness at your table.
What Type Of Cinnamon Is Best To Use When Baking?
You already know that there are basically four types of cinnamon: Ceylon cinnamon, Cassia cinnamon, Saigon, and Korintje cinnamon. However, we should admit that out of these four varieties, Ceylon cinnamon comes with a very high price tag and is rare in the market. Whereas, the other three types are relatively inexpensive and are readily available. 
When looking at the baked recipes that we have mentioned on top, you see that most of them are sweet dishes or desserts. So, when it comes to desserts or sweet dishes, the cooking experts suggest that Ceylon cinnamon would be the best to use due to its delicate, mild, and pleasant sweetly-peppery flavor.
Other varieties of cinnamon, including Cassia, go mostly with savory or spicy dishes. The form of usage depends on the recipe it calls for. Some recipes call for ground cinnamon (most desserts and sweet dishes), while some of them call for cinnamon as sticks. 
While cinnamon is an excellent ingredient in baking, it also becomes a great companion to the drinks at Starbucks. Are you excited to discover more? Then, click here for a complete article about the cinnamon drinks at Starbucks.
Isn't Baking With Cinnamon Fun?
Getting your baking done with a versatile spice like cinnamon is honestly an experience to treasure. Since the recipes that call for this flavorful spice are countless, you will never get bored with your baking journey!