Jump to Recipe
We all love it when our kitchen smells like it's already Christmas! Cinnamon Sugar is probably one of the most versatile baking ingredients that never runs out of style. So, let's learn how to make it properly at home!
Cinnamon sugar is an ingredient that combines ground cinnamon with granulated sugar. When making this, the ratio of mixing these two elements is critically important to get the taste and texture right. From adding to cinnamon rolls to flavoring oatmeal, and waffles, and combining with butter, this has endless uses in cooking and baking!
Read along to learn how to make your own batch at home and many other essential things about this ingredient.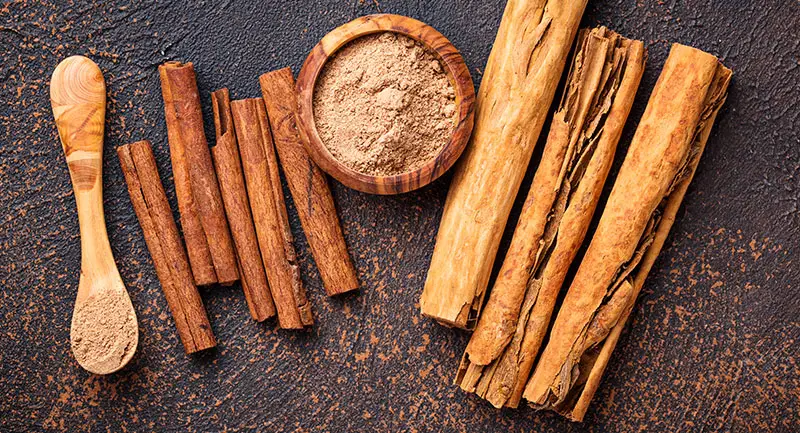 What Is In Cinnamon Sugar?
As mentioned above, this is a blend of two simple ingredients: cinnamon powder and granulated sugar. It is categorized as a spiced sugar, popularly used in baking and in the preparation of sweet dishes. 
We use two main varieties of cinnamon Cassia and Ceylon cinnamon in cooking applications. But in this recipe, we highly recommend going with a high-quality variety like Ceylon cinnamon that'll give more flavor with a sweeter element to compliment the granulated sugar. 
Granulated white sugar is the next common key ingredient. However, depending on your needs, you may also use soft brown sugar.
If you're interested in learning the best ways to use cinnamon in baking, we have lined up a well-explained article right here. Click on this link to let us take you to our post!
What is the Perfect Ratio To Mix Cinnamon With Sugar?
Since this is a "spiced sugar", you need to have the taste of sugar more elevated with the subtle and lovely element of cinnamon. 
Therefore, the perfect ratio to mix ground cinnamon with granulated sugar would be 1:4 (one part of ground cinnamon to four parts of granulated sugar). This way, the robustness of cinnamon won't be overpowered in your this mix.
How To Make This On Your Own?
Store-bought products are just fine. But, it cannot be compared to the joy of making your own fresh batch! This is very easy to make and you can use this sweetener with anything and everything!
How To Use This?
– Mixing with apples and apple-infused pudding recipes
– To sweeten up breakfast cereal or oatmeal
– Adding to pancakes and waffles
– To elevate the taste of yogurt
– Mix with cream cheese and whipped cream for garnishing and frosting
– Sprinkled on top of buttered toast or French toast
– To spice up coffee or milk
Shelf Life And Storage Of This Mix?
You may store this in a glass-air-tight container. Refrigeration is unnecessary since you can keep it and other dry baking ingredients at room temperature. But, you should keep your jar out of reach of direct sunlight, heat, and moisture. This way, it might stay fresh and flavorful for several years. But, since cinnamon is included in this ingredient, it tends to lack its potency over time.
What Are The Substitutes For Our Topic Leader?
– Make your own- You can mix ground cinnamon with granulated sugar. You can use the above recipe!
– Use brown sugar- Brown sugar lacks the cinnamon taste but will give comparable sweetness, depth, and color.
– Other types of spiced sugar- These products might be a little more intense than cinnamon sugar but they could have a similar effect on your dishes.
What's The Difference Between Brown Sugar And Cinnamon Sugar?
Although the color resemblance can mislead you to think that our topic leader and brown sugar are similar ingredients, they are two different elements. Cinnamon sugar incorporates ground cinnamon with sugar to make a sweet ingredient for sweet dishes. Thus, it differs from brown sugar, a single-element sugar type with no additives. It is less processed than granulated sugar, offering some moisture with a richer texture. While our topic leader has a spicy-sweet undertone, brown sugar tends to be just sweet with a caramel-like flavor.
Does This Mix Contain Gluten?
No, it is naturally gluten-free. But we suggest you check the list of ingredients when buying from the store since occasionally some products may contain traces of gluten.
Is This Vegan-friendly?
It is a simple combination of sugar and ground cinnamon and both ingredients are vegan-friendly. Therefore, anyone who follows a vegan diet can include this ingredient in their dishes.
Can Someone On A Keto Diet Consume This Mix?
This contains a larger amount of granulated sugar which is not recommended in a keto diet. But, you may use a keto-friendly sweetener like granulated stevia with ground cinnamon to make a keto-friendly version.
Related Topics
This post may contain affiliate links. If you use these links and make a purchase, We may earn a small commission. However, there's no extra cost to you. Also, as an Amazon Associate, we earn from qualifying purchases. Thanks!