Jump to Recipe
Thai cuisine is a pioneer in making wholesome pastes. Thai Tom Yum paste is such an ingredient, which is very versatile in flavor. So, let's discuss how this ingredient makes your soup-making more effective.
Thai Tom Yum paste is an all-in-one addition to flavor up tom yum soup recipes. You can buy it from the store or easily make it at home. This paste includes authentic Thai spices, herbs, and other seasonings, such as:
Lemongrass
Galangal
Garlic
Thai red chiles
Tamarind
Kaffir lime peel/ leaves
Coriander roots and leaves
Fish sauce
Dried shrimps
Shallots
Sugar
Oil
Store-bought options might also include other flavor enhancers and preservatives. 
Let's look deeper into the whereabouts of the tom yum paste and see how important this is to your cooking applications.
What is Thai Tom Yum Paste?
Thai tom yum paste or Thai Tom Yum Soup paste is an instant, hot, spicy, and sour ingredient, primarily used to mix into tom yum soup recipes. As the name suggests, it comes as a paste and an easily blendable, slightly coarse texture to add tons of flavor to whatever you use it.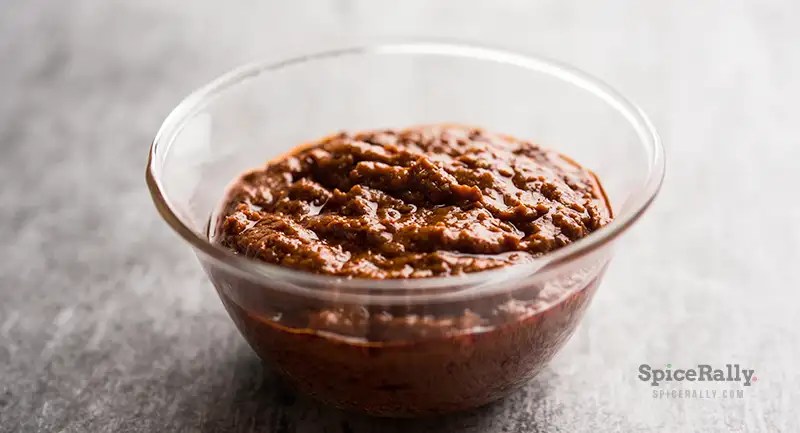 You can use the Thai tom yum paste whenever you feel like it is too much work or doesn't like to use herbs and spices as pieces in your soup. This paste will have a more concentrated flavor as it is made with many spices, herbs, seasonings, and other flavorings.
All you have to do is to mix this with the broth, add the vegetables and proteins and enjoy a flavorful bowl of soup. Thai tom yum paste also comes with the versatility to adjust the flavor in your liquid, unlike using the ingredients in pieces. This paste also has many other uses which we will be discussing in the latter part of this article.
What Ingredients Are Used In Thai Tom Yum Paste?
This paste is filled with authentic Thai ingredients. It is more like you can taste all Thai flavors encompassed in just one jar. There are a few basic ingredients used in this paste to make its base flavor. However, secondary flavor components are adjusted, added, or excluded depending on the production or chef.
Spices and Herbs
Galangal– Aromatic, spicy, warm, and intense galangal is one of the main ingredients used in the Thai tom yum paste. This spice comprises a punch of flavor that transforms the taste of a certain dish instantly. Galangal is typically paired with garlic, kaffir lime leaves/peel, and lemongrass in this paste.
Garlic- This spice packs a punch with strong, intense, pungent flavor notes and a potent aroma. More or less fresh garlic cloves are incorporated into this paste depending on the preference. This spice intensifies the health value of the Thai tom yum paste while teaming up well with galangal, red chiles, lemongrass, coriander leaves, roots, etc.
Thai red chiles– The hot, spicy, and flavorful Thai red chiles are one of the most important ingredients in this paste accountable for its heat and vibrant red color. Most commercial products include dried Thai red chiles while many homemade versions use a combination of dried and fresh Thai chiles.
Most Thai chiles score about 50,000-100,000 units on the Scoville heat scale, which is quite hot to the bite. However, some choose to use a medley of less hot chiles with pretty hot ones for a perfect balance and a nicer color.
Tamarind- Generally, fresh tamarind juice is used in the Thai tom yum paste for more flavor. This juice is usually extracted by mixing fresh tamarind with a bit of water. But in some cases, certain productions or chefs go for tamarind concentrate, pulp, paste, or powder. The unique sweet-sour flavor of tamarind adds a lovely taste to this paste, combining well with all other spices and herbs.
Kaffir lime leaves- This Thai staple adds a unique flavor to this paste with its spiced-citrus flavor. While most homemade Thai tom yum paste recipes are made with kaffir lime leaves, store-bought options are often made with dried kaffir lime peel to maintain its longer shelf life. Kaffir lime leaves are usually paired with galangal, coriander leaves, and lemongrass to build a wonderful flavor.
Lemongrass- As the next critical flavor component in the Thai tom yum paste, lemongrass plays a tasty role adding a distinctive fresh, lemony, and citrusy burst of flavor with touches of ginger. Adding lemongrass to this paste will also give it a great deal of fragrance, making it more appetizing.
Fresh stalks of lemongrass combine well with the taste of kaffir lime, galangal, red chiles, and garlic to give an assertive flavor to your soup or anything you prefer.
Coriander roots and leaves– As another common ingredient in most Thai food, coriander roots and leaves also play a significant role in the Thai tom yum paste, offering a pleasant taste.
While homemade versions use roots and leaves in combination, commercially produced pastes primarily include dried roots for long shelf life. Coriander leaves impart a fresh herbal, lemon, and peppery flavor, while roots have a more earthy, concentrated flavor.
Other Ingredients
Other than the main spices and herbs we have discussed above, this paste usually includes these ingredients as the main flavor elements:
Fish sauce
Lime juice
Shallots
Dried shrimps
Sugar
Salt
Oil
Shrimp paste (optional)
Commercially-made Thai tom yum paste might also include preservatives, color and flavor additives such as:
Citric acid
Monosodium glutamate (MSG)
Sodium Benzoate
Paprika oleoresin (as color additive)
Shrimp powder
How To Use Thai Tom Yum Paste?
As the name of this paste suggests, the main purpose of these ingredients is to add an instant flavor boost to various recipes of tom yum soup. But still, it is versatile enough to be used in a variety of other ways in cooking. These methods are as follows:
To use as a marinade for meat, fish, and other seafood
To mix with dips, sauces, and salad dressings
As a spread for sandwiches, burgers, toast, and crackers
To mix into other types of soup
As a base for stir-fries and stews
To mix into rice recipes, noodles, and spaghetti
To mix into roasted and baked vegetables
If you're interested in learning about more uses of Thai tom yum paste apart from this primary use, click on this link and refer to our detailed article.
What Are The Substitutes For Thai Tom Yum Paste?
Unfortunately, there are only a very few alternatives available to replicate the flavor and purpose of the Thai tom yum paste. Accordingly, you can use the Thai Red Curry Paste as the closest substitute to replicate the taste and color of this paste.
The red curry paste is better off as a secondary ingredient, while it will not suit well as a substitute for tom yum soup. If you're using store-bought products, you can try making your batch of Thai tom yum paste as an alternative.
The possibilities to be used when you don't have the tom yum paste do not confine only to the red curry paste. Click on this link to find a few more great alternatives for this paste that might help you out!
Where To Buy Thai Tom Yum Paste In The US?
Thai tom yum paste is readily available in any shop in Thailand, but you will have to put some effort into getting it if you're living outside of Thailand. However, if you are a resident of the US, you can try this paste from Asian shops. If not, you will also find this from leading online stores and a few other online sellers.
How To Make Thai Tom Yum Paste At Home?
Did you know that making Thai tom yum paste at home is easier than you ever expected? If you find the right ingredients and set them in proper amounts, you can make a healthy, incredibly flavorful batch of tom yum paste in no time. So, here's a simple recipe you can start with. This is a classic Thai tom yum paste recipe made with our own twist of flavor!
Shelf Life and Storage Details of Thai Tom Yum Paste
Commercially-made Thai tom yum paste products usually have a shelf life of about 1-2 years, unopened. But once opened, they should be consumed within 1-3 months. However, homemade recipes have a lesser shelf life due to the absence of preservatives.
They typically last about a week in the refrigerator and about 6 months in the freezer. But the taste would change and flavor decreases over time. Both store-bought and homemade pastes should be refrigerated in a glass, air-tight container.
Tom Yum soup is one of the best dishes in authentic Thai cuisine. It has two main varieties and to learn more about this delicious soup dish, click and refer to our detailed article.
Does Thai Tom Yum Paste Contain Gluten?
This depends on the ingredients used in each recipe. Most store-bought varieties might have gluten-related ingredients. Therefore, always check the list of ingredients you buy. However, homemade versions are usually free of gluten.
Is Thai Tom Yum Paste Vegan-friendly?
Thai tom yum paste is not typically vegan-friendly due to the addition of dried shrimp, shrimp paste, and fish sauce. But, you can skip them and make a vegan version at home.
Is Thai Tom Yum Paste Keto-friendly?
This paste does not contain an excessive amount of carbs. Thus, this can be an excellent addition to your keto-friendly diet plan.
Use Thai Tom Yum Paste To Make A Tasty Difference In Your Dishes!
Thai tom yum paste or Thai tom yum soup paste is a versatile ingredient in many of your cooking applications. It is made with flavorful and aromatic authentic Thai herbs and spices, blended to perfection primarily to give an instant flavor upgrade to your tom yum soup. You will not regret having a jar at home, bought from an Asian store, or made a fresh batch at home!
Related Topics
This post may contain affiliate links. If you use these links and make a purchase, We may earn a small commission. However, there's no extra cost to you. Also, as an Amazon Associate, we earn from qualifying purchases. Thanks!