Southeast Asian cuisine undoubtedly has some of the best soup recipes that amuse the world with their tastes. So, here's this SpiceRally episode that will share all about the Tom Yum soup and its ingredients.
Tom Yum soup is one of the best and most popular soup dishes originating from authentic Thai cuisine. There are two varieties of this soup: Tom Yum Goong Nam Sai (clear broth soup) and Tom Yum Goong Nam Khon (creamy soup). They both vary in texture and flavor, but some common ingredients are used in both types, such as:
Galangal
Lemongrass
Thai chiles
Kaffir lime leaves
Stock water
Mushrooms
Lime juice
What type of tom yum soup is your favorite and how are these ingredients help make this soup so flavorful? Let's check them all out in this article.
What is Tom Yum Soup?
Tom Yum soup, commonly known in Thailand as Tom Yum Goong, is one of the most flavorful soups in the world, embraced by many food lovers. This dish is famed for its simplicity and the burst of flavors that can be sensed through every taste bud from start to end.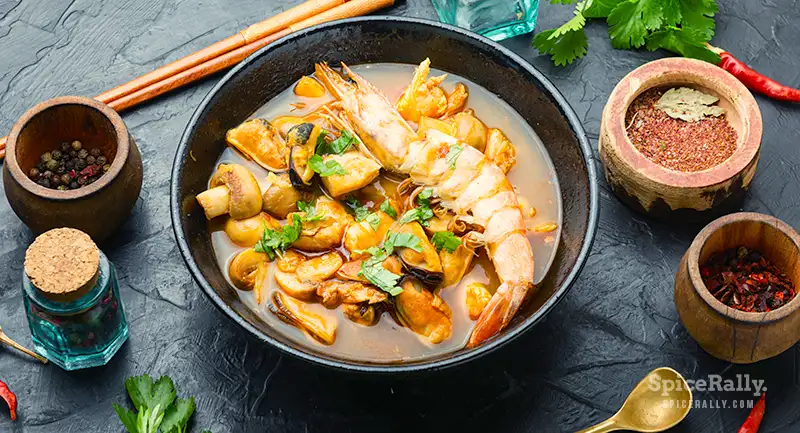 Tom Yum soup can be found in almost every street food stall in Thailand, and it is also served in star-grade hotels and restaurants. It is known to have originated in central Thailand. And the sources also say that it is generally believed that the plenitude of freshwater shrimp in the Chao Phraya River in Central Thailand gave advancement to this dish.
However, now it has become a staple in Thai cuisine and it is considered that ancient soup types like Tom Yum Goong tend to define the importance of Thai heritage. This is also recognized as one of the healthiest soups in the world thanks to its abundance of fresh spices and herbs.
The Two Main Types of Tom Yum Soup
Once the inception of this soup dish happened in 1888, there was only one type of tom yum soup which is the one with clear broth. Thus, the creamy version of this soup is an evolved version that happened over time.
Tom Yum Goong Nam Sai (Clear Broth Tom Yum Soup)
As the name suggests, this soup has a clear broth with a much lighter body and flavor. It is made with infused stock water and the basic ingredients are mixed into this stock water along with shrimp or whatever protein you use and then boiled for perfection.
Would you like to learn how to make Tom Yum Goong Nam Sai at home without too much work? Then, click on this link and get the recipe from this article.
Tom Yum Goong Nam Khon (Tom Yum Soup With A Creamy Broth)
This soup has a creamy broth just like you assumed it to be. It is heartier and typically more flavorful than Tom Yum Goong Nam Sai. This variety also has a thicker body and comes with more fulfilling flavor components thanks to the evaporated milk or coconut milk added. You can also expect Tom Yum Goong Nam Khon to be spicier and hotter than its sibling.
Tom Yum Goong Nam Khon is not at all difficult to make at home if you follow the right steps. If interested to try this recipe on your own, click here and refer to our recipe post.
What Ingredients Are Used in Tom Yum Soup?
When it comes to Tom Yum Goong Nam Sai and Tom Yum Goong Nam Khon we must say that the ingredients used in each variety are pretty much different which is obviously why they are two types. 
However, the basic ingredients that make "Tom Yum Goong " are similar in both varieties and they are the key ingredients that build the flavor of this dish. So, let's take a look at what similar ingredients show up in both varieties.
The Holy Trinity of Tom Yum Soup: Lemongrass, Galangal, and Kaffir Lime Leaves
Galangal- This Thai staple is one of the non-negotiables in this soup recipe. Fresh galangal, cut into thin stripes, is added to the soup broth along with other ingredients to add a distinctive taste to the soup. Galangal is different from well-known ginger, where it is much stronger in flavor and aroma with a piney, spicy flavor.
Lemongrass- Generally, a decent amount of lemongrass is included in tom yum soup to make its unique flavor base. The stalk of lemongrass is first slightly pounded and then cut and put into the broth or water along with galangal and kaffir lime leaves. Lemongrass is also another staple in this dish since it lends a beautiful aroma with a citrusy, lemony flavor with hints of ginger.
Kaffir lime leaves- This herb plays a significant role in tom yum soup for creating its base flavor. Kaffir lime leaves pair well with lemongrass, galangal, and Thai chiles to build a wonderful, unique taste. This ingredient is quite irreplaceable as it gives an unparalleled flavor and aroma with hints of a spiced-citrus flavor.
Other Spices and Herbs
Thai chiles- Tom yum soup is typically a dish with some heat to the bite. Fresh Thai chiles are often used in any variety of this soup to get the desired hotness. The amount usually depends on one's palate. Thai chiles usually score 50,000-100,000 SHU on the Scoville heat scale, meaning that they are quite hot. They impart a fruity flavor along with its heat and nice color to the soup.
Garlic- Garlic is not a staple in this dish and one can skip this if they don't like the taste. But garlic adds so much pungency, intensity, and aroma when infused with the broth. Fresh garlic cloves are usually bruised or slightly pounded before adding them to the broth.
Cilantro- This herb is used at the end of the cooking process for garnishing. One can skip cilantro if they don't like the taste. But, the taste of the tom yum soup and the peppery, lemony, pungent flavor of this herb goes so well together. You can also use other herbs like sawtooth coriander leaves or parsley to substitute cilantro.
Did you know that cilantro is also used to flavor different types of Thai fried rice recipes? Follow up on this link if you're interested in learning more about this delicious rice dish. We also have a simple recipe for you!
Proteins Used in Tom Yum Soup
The word "goong" in Tom Yum Goong soup itself translates to "prawns", indicating that this soup dish is originally made with prawns/ shrimp. However, at present, different recipes created by chefs include other types of seafood like cuttlefish, oysters, and clams along with fish, chicken, beef, pork, etc.
Vegetarian or vegan versions also include protein varieties like tofu. But, if you use any other type of protein in place of prawns/shrimp, you cannot call this soup "Tom Yum Goong"
Vegetables
Onion- Finely sliced white, red, or yellow onion is used to flavor the broth of the soup. This ingredient is used in any variety of tom yum soup.
Tomatoes– Typically, big red, sliced tomatoes are added along with onions to add a tangy, sour, and sweet flavor to the soup. This vegetable enhances the richness and color of this dish.
Mushrooms- A few types of Asian mushrooms are used in this dish such as oyster, Shimeji, and straw mushrooms. Types like button mushrooms don't suit well with the texture and flavor of the tom yum soup. 
Other Common Ingredients Used in Tom Yum Soup
Stock water- There's no standard type of stock used in this soup recipe; it depends on the preference of the consumer. However, most commonly chicken stock or prawn stock is used in this.
Lime juice– This is one of the critically important ingredients in this soup which is non-negotiable. A decent amount of freshly squeezed lime juice is used in this dish to get the desired sourness that the tom yum soup usually has.
Fish sauce- This sauce lends a wonderful salty and umami flavor to the broth. Vegans can skip the fish sauce and proceed with a splash of soy sauce instead.
Sugar- A dash of brown sugar or palm sugar is added to the broth to balance out the salty and sour flavor. This ingredient is not a staple in the recipe, though.
Special Ingredients Used in Tom Yum Goong Nam Khon Soup (Creamy Soup)
Evaporated milk- The authentic recipe of Tom Yum Goong Nam Khon Soup calls for evaporated milk for its lighter body. However, after the soup is made, you will not usually taste the milky taste for some good reason. Some even go for coconut milk, but coconut milk will change the flavor of the tom yum creamy soup to something else.
Thai chili paste (Nam Prik Pao)- Thai chili paste/ chili jam/ chili oil is a staple when making Tom Yum Goong Nam Khon. This ingredient gives this dish a twist of flavor with its heat and sweetness. Thai chili paste is added to the milk and simmered to perfection to get the ideal taste of this soup dish.
What is Tom Yum Paste?
Tom Yum paste is a mixture of aromatic herbs, spices, and seasonings made into a paste to be added to the stock when making the tom yum soup. You can make this paste at home from scratch or buy it from Asian stores.

The tom yum paste is usually bright red and contains ingredients like Thai red chiles, lemongrass, galangal, kaffir lime leaves, lime juice, etc. This paste can be used whenever you need to come up with a quick batch of tom yum soup and avoid the large pieces of ingredients you usually put into the stock.
To learn more about this tom yum paste, how to use it, and how to make it easily at home, follow up on this link and read our detailed article.
Is Tom Yum Soup Gluten-free?
Traditionally tom yum soup does not include any gluten-related ingredients. But you must be mindful if you're using the tom yum paste or ordering from a restaurant.
Is Tom Yum Soup Vegan-friendly?
The authentic tom yum soup is not a vegan-friendly option since it contains prawns/shrimp. In addition, most tom yum soup varieties can contain fish sauce which is not suitable for a vegan diet. But you can make vegan tom yum soup if preferred, and ask the restaurant or the hotel not to use animal protein, tom yum paste, or fish sauce in your soup if you order from outside.
Is Tom Yum Soup Keto-friendly?
This soup does not contain excessive carbs. So, if you're following a ketogenic diet, tom yum soup can be an excellent choice to include in your lunch or dinner. This is a very healthy dish with lots of nutritional value.
Indulge In a Healthy Dose of Tom Yum Soup That Bursts With Flavors!
Tangy, spicy, and hot tom yum soup is nothing but the perfect accompaniment to your dinner or lunch whenever you need an authentic Asian twist. Made with a healthy broth and delicious seafood like shrimp, tom yum soup can be accustomed to suit your palate as a clear broth or a creamy soup.
Related Topics