What is the actual taste of Worcestershire sauce? You may feel it's sweet, or sometimes tangy, or even tart or sour. Thanks to this complex flavor profile, there are many Worcestershire sauce substitutes too.
People can come up with many alternatives for this sauce, but the trick is choosing the best out of the many. The best Worcestershire sauce substitutes include:
We actually have a list of the 20 best alternatives that can be used in place of this sauce. So, read further to discover all of them!
Best Substitutes For Worcestershire Sauce
This sauce is a result of an integration of many distinctively flavored ingredients like spices, anchovies, types of vinegar, molasses, etc. As we mentioned earlier, the taste of Worcestershire sauce is pretty hard to explain.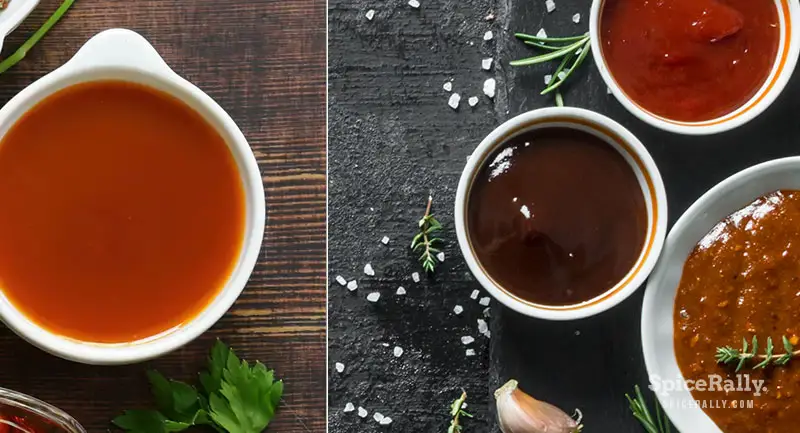 The challenge itself is a blessing that has made a lot of replacements available to use. The following Worcestershire sauce substitutes on our list are easy to find from your pantry, and they are also widely available in the market. So, let's get started!
01- Soy Sauce Mixed With Ketchup
You can go with a 1:1 with both of these ingredients. Soy sauce is the closest match to Worcestershire sauce, and adding ketchup will give you a more umami, sweet, and sour flavor resemblance. Soy sauce will replicate the runny consistency, and you can use this with dishes like:
Soups
Stews
Meatloaf
Burgers
02- Miso Paste Mixed With Water
Miso paste will perfectly replicate the fermented, salty, and slightly sweet flavor effects of our subject leader. Be careful not to add too much water, though. 
You can make it into a gentle runny liquid and incorporate it with cooked dishes. However, since this mixture is cloudy, adding them to clear cocktails, salad dressings, or vinaigrettes is not a good idea.
03- Soy Sauce Combined With Lemon Juice, Granulated Sugar, And Hot Sauce
We know you have all these right in your kitchen! Add 1/4 teaspoon of granulated sugar in 1/4 teaspoons of lemon juice and two teaspoons of soy sauce. Dissolve sugar well in the concentrate and stir in a few drops of hot sauce. 
Whatever hot sauce you have in your kitchen is fine. You'll get the desired spicy, salty, sweet, and umami taste. Plus, this can be used anywhere you wish to use the original product and is obviously one of the best Worcestershire sauce substitutes you can have.
04- Tamarind Concentrate Mixed With Fish Sauce
You can mix equal amounts of tamarind concentrate and fish sauce together. One tablespoon of this mix will substitute one tablespoon of Worcestershire sauce. The cooked and heavy dishes will get the expected sweet-salty-umami touch from this replacement. 
But we do not recommend you to use this with salad dressings and vinaigrettes since this could have a bit of a more robust flavor and a darker tone.
The substitutes must have hinted you on something but aren't you interested in discovering what is really in Worcestershire sauce? Great if you like because we have a complete article on this wonderfully delicious relish right here!
05- Fish Sauce Mixed With Molasses And Lime Juice
Combine equal amounts of fish sauce, blackstrap molasses, and lime juice together to get a better flavor resemblance to our topic leader. This mixture can be a bit dark and cloudy. And thus, again, it is best with dark-colored and cooked dishes. You can use the same amount from this as the quantity you use with Worcestershire sauce.
06- Oyster Sauce
If you frequently make stir-fries and put together sauces in your kitchen, the oyster sauce must obviously be a staple at home. This sauce is often made with sugar, caramelized oyster juice, soy sauce, and thickened with cornstarch.
Hence, the umami sweetness of oyster sauce can bring a close flavor replication to our original product but with less saltiness. 
It will work with simply anything you need to use in place of Worcestershire sauce, and you have the ability to replace it in similar amounts. When used in cooked dishes, consider adjusting the salt quantity when using the oyster sauce.
07- Anchovy Paste Combined With Water
Anchovy paste usually comes together with salt, vinegar, sugar, water, or olive oil. So, in fact, this can be one of the best Worcestershire sauce substitutes. To get the liquidy texture, you can mix anchovy paste with equal amounts of water. 
That is, if you take one tablespoon of this paste, you can dilute it with one tablespoon of water. You can swap the same amount for the original product, particularly in cooked dishes.
08- Shrimp Paste Mixed With Water
Shrimp paste might never be running out from your pantry if you are someone who experiments with various rice dishes. Therefore, if anchovy paste is unavailable, you can use shrimp paste as a substitute for Worcestershire sauce. 
All you have to do is combine water and shrimp paste in similar amounts. Like we discussed in point number 07, this replacement also will be best with cooked dishes.
09- Malt Vinegar Incorporated With Tamarind Paste And Molasses
A little party at home but no Worcestershire sauce for what you plan to make? Worry not- if you got malt vinegar, tamarind paste, or concentrate and molasses at home, they will save your dishes! Mix equal parts from each of these three ingredients and use them with stews, stroganoffs, burgers, or meatloaf. 
This substitute will not get along well with salad dressings or cocktails due to the extra dark color. But still, you can use it with many cooked recipes to get a similar sweet-sour-salty-umami flavor.
10- Balsamic Vinegar Combined With Tamarind Paste
When mixed with tamarind paste, the concentrated, fermented, and tart flavor of balsamic vinegar will give a great kick to your recipes that you need to replace Worcestershire sauce. 
You can also add a dash of hot sauce into this mixture to get a tangy punch and a better taste resemblance. When used in smaller amounts, this will work on cooked dishes, including salad dressings and vinaigrettes.
Studies find the top 3 most stressful moments in people's lives: death, divorce, and properly pronouncing "Worcestershire sauce!

Tony Hsieh
11- Sherry Vinegar
The sweet, sour, musty, and malty notes of sherry vinegar will be reminiscent of the lovely nature of Worcestershire sauce. You can use a drizzle of hot sauce to get the heat and spiciness that sherry vinegar lacks and get a great taste similarity. 
Use this substitute as the exact amount you would use the original product, particularly with cooked dishes and sauces. However, using this with cocktails or clear vinaigrettes is not a good idea since it can be too sour.
Did you know that sherry vinegar is also an excellent substitute for apple cider vinegar? If you need to be enlightened with more replacements for this vinegar, click on this link and refer to this article.
12- Fish Sauce Mixed With Soy Sauce, Tamarind Paste, Ketchup, Apple Cider Vinegar, And Allspice
We know this requires a pretty lot of ingredients, but you will not regret it once you taste it! You can mix equal proportions of fish sauce, soy sauce, and tamarind concentrate with half the amount of ketchup and apple cider vinegar. Stir in a pinch of allspice and combine all together until well mixed. 
This mixture has a rich taste with the perfect consistency and will give you the desired salty, sweet, spicy, and umami flavor notes. The thickness can be a little denser than that of the original product. Thus, it will go better with cooked dishes than salads or cocktails.
13- Hoisin Sauce Combined With Soy Sauce And Apple Cider Vinegar
The savory and sweet flavor elements of hoisin sauce combine with the rich pungency and saltiness of soy sauce. The acidity and sweetness of apple cider vinegar will stabilize the saltiness and tangy taste of soy sauce and hoisin sauce. 
You can get similar proportions from each of these three ingredients to get a perfect Worcestershire sauce substitute. This will simply go with a lot of recipes that require the original product.
14- Lime/ Lemon Juice Incorporated With Fish Sauce, Distilled White Vinegar, And Cranberry Juice
Open your refrigerator, and you'll find all of these ingredients right there! Just mix one tablespoon from each of these to get the desired alternative. The tart, sweet, musty, and salty flavor notes will essentially replicate Worcestershire sauce in many cooked dishes in similar amounts. 
This mixture can be a bit stronger and darker in color, so you will want to use it with salad dressings, vinaigrettes, or cocktails. If you got pomegranate molasses at home, feel free to replace it with cranberry juice.
15- Tamarind Paste Combined With Soy Sauce, Hot Sauce, Ground Cloves, And Distilled White Vinegar
To a pinch of ground cloves, mix equal amounts of tamarind paste, vinegar, and soy sauce. Cloves will give the ideal pungency that the original product holds, and others will provide the salty, sweet, tart, and umami flavor elements. 
This blend, once again, will not get along well with raw dishes like dishes and cocktails. But the texture will match perfectly with cooked dishes.
 16- Red Wine Vinegar Mixed With Fish Sauce And Salt
Red wine vinegar neutralizes the zesty taste of the fish sauce and helps to bring out a similar flavor to our subject leader. All you have to do is mix equal parts of red wine vinegar and fish sauce together and add a pinch of salt to it. 
This mixture is excellent with any recipe you wish to replace. You can use the same amount as the quantity of the original product.
17- Shrimp/Anchovy Paste Combined With Onion Powder, Balsamic Vinegar, And Garlic Powder
Garlic powder and onion powder are usually staples in your spice rack. You can mix similar amounts of balsamic vinegar and anchovy pr shrimp paste and add one or two pinches each from onion and garlic powder. 
This will be a great substitute for Worcestershire sauce bringing out a resemblance to its unique flavor. With this subtle flavor profile, this replacement will work with anything you wish to use instead of the original product, and you can alternate in equal amounts.
18- Dry Sherry
With a depth of flavor, dry sherry has the ability to provide the slight fermented and musty flavor of Worcestershire sauce. But, it generally lacks the fishy, salty, and tangy taste elements. 
Therefore, when you swap this with the original product, make sure to adjust the amount of salt. However, this alternative can be used in cooked dishes, but adding to dressings, vinaigrettes, and cocktails is not a good idea.
19- Red Wine Vinegar Mixed With Broth, Molasses, White Pepper, Salt, Ground Ginger, And Garlic Powder
We know this sounds like a lot of stuff but don't you have everything in your kitchen right now? But unlike other substitutes on our list, you will have to heat this up after mixing the ingredients. 
What you have to do is to mix a tablespoon of balsamic vinegar into one and a half cups of beef or chicken broth. Then, mix 1/4 teaspoon of molasses and a pinch from each ground ginger, white pepper, salt, and garlic powder. 
Now, bring this to a boil and then to a simmer until the mixture reduces to half from its content. Cooldown this mixture completely and use it anywhere you need to use our subject leader! You can use the same amount as you use the original product and store any leftovers in the refrigerator.
20- Soy Sauce Mixed With Apple Cider Vinegar And Red Pepper Flakes
Adding a dash of red pepper flakes to two parts of apple cider vinegar and soy sauce will give a super sweet, salty, spicy-tart, and musty taste that you'll get from Worcestershire sauce. 
This replacement works really well with dishes like stews and meatloaf. Since it does not have a much concentrated, smooth texture, this will not get along well with sauces or cocktails.
A Long List Of Worcestershire Sauce Substitutes- So, What Is Going To Be Your Favorite?
We know picking one from this long, long list is a hard choice to make! But as you see, everything is so easy to put together, and besides, all these ingredients are usually around your kitchen all the time.
So, you don't have to worry again about not having the original product at home when you are in need. Grab these things and make one of your very own Worcestershire sauce substitutes and share your experience with us for sure!
Related Topic