If you have visited a Malaysian or a Singaporean restaurant, laksa is usually one of their best-served items. So, let's get to know about the curry laksa ingredients along with a tasty homemade recipe.
There are many regional variations of curry laksa in Malaysia, Indonesia, and Singapore. But a set of common ingredients often show up in most of these curry laksa versions. They are:
Laksa curry paste
Coconut milk
Laksa noodles
Chicken and seafood
Mung bean sprouts
Tofu puffs
Fish cake/ fish balls
Seasonings (Fish sauce, sugar, salt)
We know you are excited to see how things are coming together with this delicious curry soup- just keep reading!
Jump to Recipe
Curry Laksa And Its Ingredients
Curry laksa, also known as Laksa Lemak, is one of the most popular dishes enjoyed in Southeast Asian countries like Malaysia, Singapore, Indonesia, and Thailand. This is also one of the most complexly flavored soups in the world, which hold such a profundity of flavor that you savor it in each taste bud!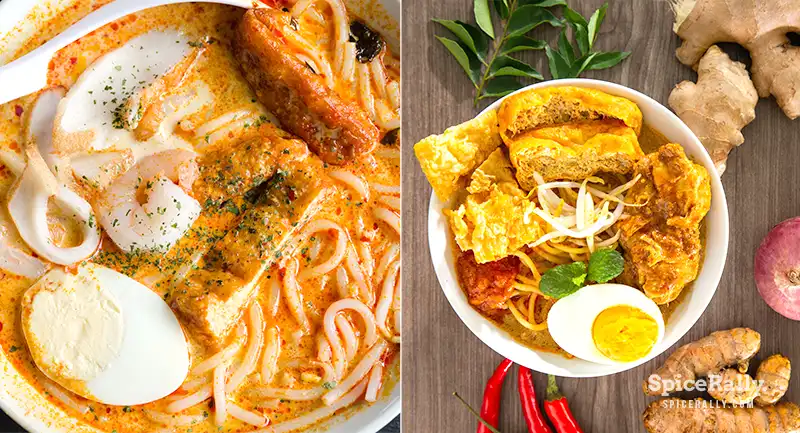 As mentioned previously, there are a number of different varieties of curry laksa, depending on the region and household. However, every curry laksa type is defined by its richly spiced, lightly creamed coconut milk broth which is usually heavy on seafood and chicken. We can see some slight differences between the Singaporean and Malaysian curry laksa. Still, the process of making them is basically the same.
It is a tough job to differentiate between each variant of this soup and bring you all the ingredients included in them. Hence, we thought of sharing some information about the universal ingredients used in making curry laksa in the parts mentioned above in Southeast Asia.
If you are interested in learning more about laksa, its origin, and its variants, click on this link and refer to our detailed post.
Spices And Herbs In Curry Laksa
The Spice Paste- Curry Laksa Curry Paste
Spices used in curry laksa are extremely important as they are the key to getting a perfectly delicious broth. All the spices and herbs are blended together with a few other ingredients to make the iconic curry laksa curry paste.
Premade and homemade options of this paste typically include some essential spices and herbs such as:
Red chilies
Galangal
Kaffir lime leaves
Lemongrass
Cilantro root (coriander root) 
Vietnamese Coriander
In addition to this spice paste, some cooks traditionally use a herb known as Vietnamese coriander or Vietnamese mint (laksa leaves) when simmering the broth. 
This herb is widely used in Southeast Asian cooking. It gives your laksa a distinctive spicy, lemony, and peppery accent. It is usually removed before serving and sometimes used for garnishing.
Other Curry Laksa Ingredients
Coconut milk- Thick coconut milk is the main ingredient of this soup, which also works as the base of the laksa broth. Canned coconut cream is also used in some recipes.
Laksa noodles- Traditionally, a thick and broad rice noodle type known as laksa noodles is used in this dish. But we can find variations with thin rice noodles, vermicelli, yellow noodles, egg noodles, and wheat noodles. This is the second ingredient that defines laksa as laksa.
Chicken and seafood- Curry laksa is known for its chicken and seafood-based broth. The content is also hefty, particularly with seafood like shrimp, fish balls, cockles, or clams. Primarily, meat from chicken drumsticks or thighs is used to enhance the meaty accent of this soup.
Mung bean sprouts- This wholesome ingredient is a specialty to many Asian dishes, so it is no wonder it has taken a remarkable place in curry laksa too! Mung bean sprouts are usually used as a topping as it gives a fresh, crunchy bite, pairing with the warmth and spiciness of the soup.
Tofu puffs- These are basically chunks of soybean curd that have been fried in oil until they are puffy and golden. They are crispy on the outside and hollow on the inside. Tofu puffs are another standard inclusion in curry laksa that portrays its Southeast Asian nature.
Fish cake/ fish balls- Like tofu puffs, fish cakes or fish balls can be deemed as another classic addition to this dish. They can be easily found in the Asian market and usually mark their place as non-negotiables in this soup.
Seasonings (Fish sauce/ Salt / Sugar)- The fish sauce is considered an essential seasoning in curry laksa, while it is followed by salt and sugar in pinches. Traditionally, palm sugar is used to season this soup, but some recipes also use regular white or brown sugar.
Is Curry Laksa Vegan?
Traditionally, curry laksa is a non-vegan dish since it contains meat and seafood. But nowadays, you can find plenty of vegan curry laksa recipes online. So, if you are vegetarian or vegan and still desire to try laksa, you can try one of them!
Is Curry Laksa Keto-Friendly?
If you're following a keto diet, we suggest you take laksa moderately. Since we include rice noodles in this dish, it could contain a considerable amount of carbs. Therefore, laksa can be categorized as a food that should be consumed sparingly by all our keto readers. However, with laksa's popularity gained over the years, you can also find keto curry laksa recipes online!
Does Curry Laksa Contain MSG?
MSG is not a traditional ingredient in curry laksa. But still, certain pre-made Curry laksa curry pastes and restaurant-served dishes might contain this taste enhancer. So, check before buying or ordering if you are concerned.
Does Curry Laksa Contain Gluten?
The authentic recipes of curry laksa do not include gluten-related ingredients. But, some recipes might have wheat noodles, and certain curry pastes could contain traces of gluten. So, if you are sensitive to gluten, intolerant, or following a gluten-free diet, remember to check before buying.
Enjoy The Goodness Of A Hearty Spiced Soup With Curry Laksa!
We are sure that all the soup lovers over there just crave the rich and lavish flavors that you get to savor in curry laksa. This dish is unique because it is not merely a coconut milk-based soup. But it is also flavored with myriad other exotic ingredients such as laksa noodles, Vietnamese coriander, fish balls, tofu puffs, etc., which portrays the essence of this dish.
Related Topics