Hailing from the southern cuisine of the USA, Jambalaya is an all-time family favorite. So, in this article, we will be focusing on discussing what spices are in the Jambalaya dish.
The spices in Jambalaya can slightly vary depending on the household. But, some common flavorings often show up in the traditional recipes, and they are:
In addition to these spices and herbs, some recipes also include garlic powder, chili powder, cumin, oregano, parsley, etc. Keep scrolling to learn how these ingredients help to bring out the magical taste of this rice dish in detail.
What Spices Are In The Jambalaya Dish?
Jambalaya is habitually decadent! It has a beautiful gravy-like consistency gotten from the moisture of juicy chicken, shrimp, and sausages coming all together in a single pot.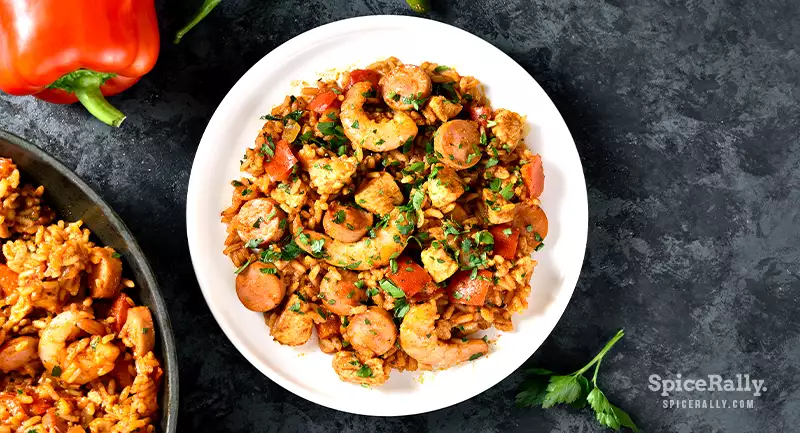 Spices used in Jambalaya are actually the key to its unparalleled flavor deviation. This rice dish is made in two main ways- Cajun and Creole styles. Accordingly, the seasonings used can vary depending on the type.
However, In our episode, we will be venturing into the spices used in Jambalaya in general. So, here they are!
01- Garlic
Garlic is considered a must-have flavor in this rice dish thanks to its potency and unique aroma. This spice typically helps to build up the base flavor of Jambalaya. 
It is added to be sauteed into oil or butter with the "holy trinity" of southern cooking- onions, bell pepper, and celery. Consequently, its intense flavor and aroma get infused with the rest of the ingredients used in this dish.
02- Cajun Seasoning
Coming together with many potent spices, Cajun seasoning often features in Cajun-style Jambalaya dishes. This seasoning blend typically contains spices and herbs such as:
Paprika
Cayenne pepper
Black pepper
Garlic powder
Oregano
Thyme
The warm and hearty flavor profile of this seasoning mix provides the perfect touch of authentic southern cooking to this dish, complementing all the ingredients used in it. This blend is often added with rice, while some people also use it to season the chicken and shrimp.
Need to make a classic Cajun jambalaya at home? If so, click on this link and get a simple, delicious recipe shared in this article!
03- Creole Seasoning
Like Cajun seasoning features in Cajun-style Jambalaya, Creole seasoning features in Creole-style Jambalaya. However, both of these seasoning blends offer a pretty much similar kick to this rice dish.
Creole seasoning usually contains ingredients such as:
Cayenne pepper
Paprika
Black pepper
Garlic powder
Onion powder
White pepper
Creole seasoning holds a depth of flavor that will essentially take your Jambalaya to the next level while complementing its rich tomato-infused texture. This blend is also used in the same way as Cajun seasoning is being used.
Although both Creole and Cajun seasoning blends are used to flavor this dish, they aren't the same. So, if you are interested in learning about how they differ, click here.
04- Paprika
Although the seasoning blends mentioned above already contain a sound amount of paprika, some people still prefer using additional paprika in their Jambalaya for some extra punch. 
In fact, varieties like smoked paprika can give this rice dish a distinctive, unique tang while pairing well with the smokiness of Andouille sausage.
However, whatever the type used, paprika would add up to the deep and rich color of this meal. And mild, hot or smoked paprika holds a profundity of flavor that'd pair with the bulk of the ingredients here.
05- Cayenne Pepper
Whoever needs their Jambalaya to have an extra kick of hotness wouldn't hesitate to throw in a dash of cayenne pepper. 
The hot, spicy, and fiery notes of this spice will enhance the richness of rice while integrating well with the juiciness of chicken, sausages, and shrimp.
If you want to try making a delicious homemade Creole jambalaya at home, click here, as we have shared an easy recipe for you!
06-Black Pepper
Black pepper is the quintessential spice that pairs with salt to season this rice dish. It gives a beautiful all-around pepperiness with piney, earthy and woody undertones.
Some people also prefer adding it at the end of the cooking process while the rice is hot for additional seasoning. However, some extra ground black pepper in Jambalaya is never a waste!
07- Bay Leaves
Dried bay leaves often add a characteristic, delicate aroma and a flavor similar to thyme and oregano. These leaves are usually let to simmer and infuse their taste with the stock into the rice and ingredients. 
However, some prefer removing the bay leaves after the dish is being cooked, while others just leave them but discard them without eating..
Gumbo is another popular dish in the southern USA. Click on this link and get more information about this delicious dish.
08- Thyme
Some use fresh thyme in their recipes, while others prefer going with dried thyme. Regardless of the form used, thyme is a super aromatic herb with a concentrated flavor of mint and lemon. The sharp and pronounced elements of thyme basically upgrade the taste quality of your Jambalaya.
Other Ingredients In Jambalaya
Apart from the spices and herbs discussed above, this meal might also include flavorings such as:
Dried oregano
Red chili flakes
Ground cumin
Garlic powder
Dried parsley
Moreover, as mentioned previously, there are two main ways of preparing this rice dish in the southern USA. 
Creole Jambalaya is also known as red Jambalaya since tomatoes are a prominent part of this dish. On the other hand, Cajun Jambalaya, which is also known as brown Jambalaya, does not typically contain tomatoes.
In addition to these elements, other main Jambalaya ingredients include:
The holy trinity of southern cooking- onion, celery, and bell pepper
Olive oil/ butter
White or brown rice (parboiled rice)
Chicken (rotisserie or cooked chicken is used often)
Sausages (Andouille sausage)
Shrimp
Chicken stock/ beef stock
Hot sauce
Tomatoes (can only be seen in Creole Jambalaya)
Green onions
Salt
Life was just a tire swing. 'Jambalaya' was the only song I could sing. Blackberry pickin', eatin' fried chicken, And I never knew a thing about pain. Life was just a tire swing

Jimmy Buffett
Ending The Flavor Story Of Ultimate Jambalaya Dish Spices…
Jambalaya is an ultimate traditional southern dish native to Louisiana, made with many flavorful and robust spices. This can also be considered one of the best dishes that could be overseasoned without a problem! In fact, spices/blends and herbs like garlic, Cajun seasoning, Creole seasoning, black pepper, thyme, etc., add a serious punch of flavor to this dish.
Related Topics