Although shichimi togarashi is a staple in Japanese homes, this blend could be exotic to you. But if you still want to try it, here are some of the best ways to use shichimi togarashi to spice up your daily dishes.
Shichimi togarashi is a flavorful blend of seven ingredients that could work as a condiment and a flavoring. It could be used in the following ways:
Read along to learn how this hearty blend could be incorporated into your dishes to match them to your palate.
09 Great Ways To Use Shichimi Togarashi
Shichimi togarashi is prized for its magical flavor combination, which mainly features seven ingredients: ground red chiles, nori, citrus zest, sesame seeds, poppy seeds, sansho pepper, etc. These elements have their unique way of adding to the blend, creating layers and layers of flavors to whatever calls for it.
This blend is popularly used in Japanese cuisine as a versatile condiment. But shichimi can actually jazz up our dishes in several other ways. Refer to the list below and see how you can use this mix to take your food to a whole new level!
Where does shichimi togarashi come from, and what ingredients make it taste so exotic? Click here to find all the answers to your questions!
01- To Top Off Soups
The delectable flavor mash-up of shichimi togarashi is great to top off bowls of soup. If you are used to enjoying rich and hearty noodle soups, mushroom soups, ramen soup bowls, pork soup, or even vegetarian soup, our topic leader can do a great job jazzing them up instantly.
In addition to topping off, you can also incorporate a generous amount from this blend with your classic  Asian soup recipes. However, you should expect the distinctive spicy, umami, citrusy, and nutty punch this could give your soup. And could also impact the texture since it contains sesame seeds/hemp seeds and poppy seeds.
02- As An Ingredient In Marinades
Our topic leader is an excellent complementary ingredient to go with Japanese, Chinese, Thai, or Vietnamese marinades made for meat, fish, and seafood. You could essentially pair this blend with a number of other spices, herbs, and other ingredients like soy sauce, fish sauce, olive oil, sesame oil, oyster sauce, etc.
Sesame/ hemp seeds and poppy seeds can give a bit of depth to your marinades, making them richer in texture and color so that the final result will come out amazing. You can also try these marinade infusions with tofu and mushrooms.
03- To Use As A Spice Rub For Meat, Fish, Seafood, And Vegetables
This might sound a bit odd as you might think if a condiment could be really used as a spice. But, if you are experimental, shichimi can work as an excellent rub for chicken, steak, pork, shrimp, etc. The flavor assortment and its piquancy can complement the richness of the meat.
So, if you intend to use this with your next meat or fish batch that goes in for grilling, baking, or roasting, grind up this blend to a powder and incorporate it with other ingredients like garlic powder, onion powder, salt, etc. to give a fantastic kick to your proteins. 
You can also use this with vegetables like potatoes, carrots, asparagus, etc., before throwing them into the griller or even after roasting them to boost the taste. Try mixing this blend with barbeque sauce to savor a taste tweak you have never experienced before!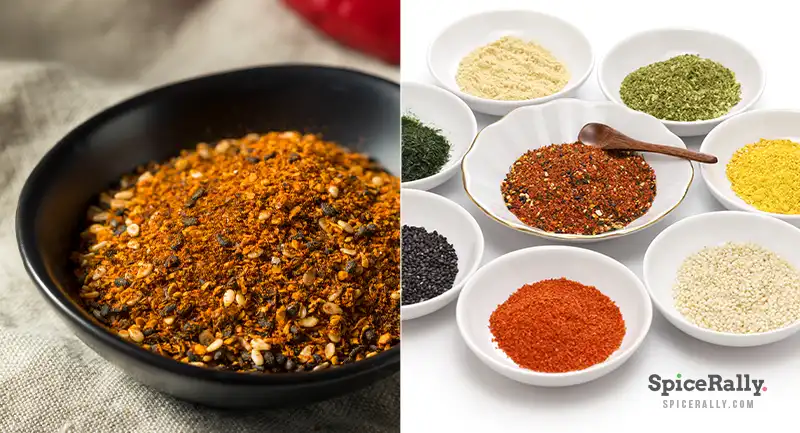 04- To Incorporate Into Egg Dishes
Yes, friends, this is as simple as it sounds! If you are bored of regular sunnyside-ups, omelets, and boiled or scrambled eggs, why don't you try a teeny-weeny dash of shichimi with them? All you have to do is to sprinkle some of this blend onto your prepared fried egg, omelet, or boiled egg. 
And if you need to have a real depth of flavor in your egg dishes, you can even mix this with egg mixtures. However, look out for the citrusy punch and nutty element this could give your egg recipes. So, try it in pinches to top the eggs, and then proceed if it is okay with your palate.
05- Mix With Avocados
Avocado is a natural, healthy food to incorporate into your meals even if you are following a low-carb diet. So, our topic leader can be a delicious and wholesome addition to avocados that will give an instant flavor boost to this fruit.
You can simply sprinkle shichimi togarashi with avocados and eat it, or even stir it with mashed avocados to top off the toast. When assembling this tasty shichimi-infused avocado toast, you can also mix some soy sauce and use a few slices of fresh cucumber with chopped scallions. 
Moreover, this blend can also be used to coat the rice and avocado mixture when making vegan onigiri, along with nori sheets and sesame seeds.
06-To Add To Salads
Another great and simple way to use shichimi togarashi is to mix it with salads, vinaigrettes, and salad dressings. The flavor combination of this blend perfectly complements both fresh and cooked salads. 
You can stir in this mixture with olive oil, rice vinegar, honey, lemon juice, etc., to make a delicious salad dressing/ vinaigrette. Or else, toss it with salads made with ingredients like carrots, onion, broccoli, chicken, beef, etc.
07- To Toss With Snacks
Use our topic leader to toss the snacks you enjoy satisfying your little hunger pangs. This blend is good to go with deep-fried food, chips, potato fries, sweet potato fries, roasted nuts, trail mixtures, etc. You can also mix this with ready-made popcorn or stir it with olive oil or butter when you pop your own corn kernels at home.
In addition to tossing this with the snacks, you can also try it with dips. Shichimi goes really well with mayonnaise, so you could mix them both to make a dip to accompany fresh veggies. Or else, throw a dash into guacamole or add to hummus with miso for an absolute flavor twist!
08- As A Condiment For Noodles And Rice Dishes
This is obviously the most popular use of this blend that most of you might know. But we thought our article would be incomplete without mentioning it. In fact, shichimi togarashi is like a blend that is born for noodle dishes! Our topic leader is commonly used around with Udon noodles, ramen, rice noodles, and a few other Japanese-inspired noodle dishes.
Moreover, shichimi is also used to top rice dishes like fried rice with eggs, rice bowls, mushroom rice with tofu, seasoned rice, etc. This blend can boost the flavor of most spiced noodles and rice dishes in a flash without much of a hassle!
09- To Incorporate Into Batters
Shichimi togarashi is a flavorful addition to tempura batters. You can mix this blend with the rest of the ingredients used to make this batter and use it to coat onion rings, shrimp, cuttlefish, squid, chicken, tofu, etc.
Sprinkle Shichimi Togarashi On Your Food To Feel The Charm!
Not a single second thought is needed- just go ahead and sprinkle shichimi with your favorite food to give your family an authentic Japanese food experience. As you see, this blend is not only for noodles, but you can also top soup bowls with it, incorporate it into marinades, spice up egg dishes, mix it into salads and you name it! So, try Shichimi togarashi with your next recipe, and let us know how it came out by dropping a comment below!
Related Topics