Spicy, smoky, and the right amount of heat in chipotle seasoning hits you on the right spot of your taste buds! So, let's share some great ways to use chipotle seasoning to add a dynamic kick to your dishes.
The versatile flavor profile of chipotle could be paired in many ways in your daily cooking, such as:
Come on- let's see how this amazingly flavorful seasoning blend can be the real game-changer in your kitchen!
07 Best Ways To Chipotle Seasoning
A jar of chipotle seasoning is such a versatile flavoring to have on hand.  And it is just addictive when you try it with a certain dish, so you would have the urge to try it with more and more recipes. The unique smokiness in this blend combines with its savory, spicy and hot flavor notes to bring you the absolute joy of a zesty dish.
While this blend commonly complements meat and fish, there are many other delicious ways you can use chipotle seasoning with your daily cooking. So, here are the 07 best ways that will make a twist in your diet!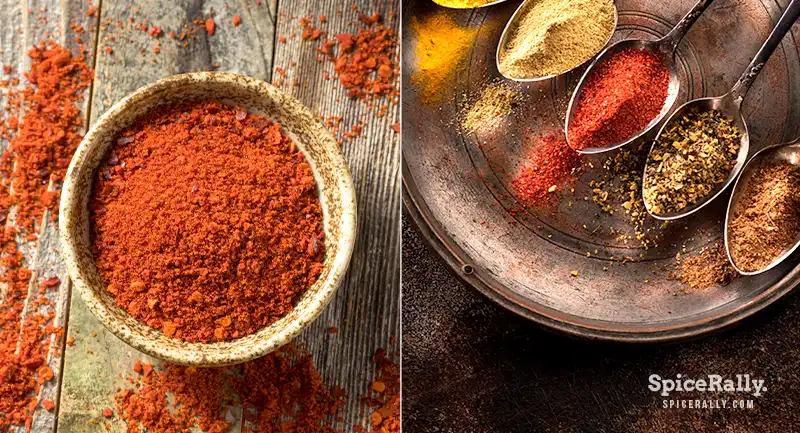 01- As A Rub For Meat, Seafood, And Vegetables
The piquant flavor profile of chipotle seasoning is an excellent complement to the rich texture and taste of many types of meat and seafood. Since it typically contains a considerable amount of salt, you can directly use it as a dry rub for chicken, turkey, steak, white fish, salmon, shrimp, etc., before putting them on the grill.
In addition, you can also use this when roasting or grilling vegetables, tofu, or paneer as a seasoning. You can also incorporate this with marinades or make wet rubs by combining it with other ingredients such as melted butter, olive oil, sesame oil, maple syrup, soy sauce, vinegar, etc.
Mix chipotle seasoning with melted butter and apply on corn cobs before putting them on the grill to enjoy flavorful grilled corn. Or else, just bake, roast, or grill your favorite vegetables the standard way and toss some from this blend while the veggies are warm.
02- To Toss With Snacks
When it comes to seasoning or a spice blend, we always think of complex ways to include it with our foods. But, we actually don't see or miss out on the most simple ways to make the best of them! Chipotle seasoning could add a distinctive smoky and savory punch to many of your snacks, such as:
Popcorn
Crackers
Pretzels
Roasted nuts
Pan toasted bread with olive oil or butter
Potato and sweet potato fries or chips
Tortilla and corn chips
Trail mixtures
If you pop your own corn at home, mix some of this seasoning with melted butter or olive oil along with the corn kernels.
03- To Spice Up Hearty Soups
Chipotle seasoning can be the best tribute you can do to your soup pot if you are a real soup lover. The rich flavor notes of this seasoning complement many of your favorite and hearty soup recipes. You can also add this blend to your classic stews and even throw in a dash to spice up chili. 
So, if you and your family are obsessed with spicy and profoundly flavored dishes, try chipotle seasoning with your next soup, stew, or chili recipe, followed by ingredients like chicken, beef, pinto beans, frozen corn, vegetables, etc.
What makes chipotle seasoning so special in its flavor? If you need to discover some interesting facts about this blend and try a simple homemade chipotle seasoning recipe, click on this link for more details.
04- Add Into Sauces, Glazes, And Dips
Ramp up the taste of your sauces, glazes made for chicken, pork, or steak, and dips with our topic leader! Combine this seasoning with other ingredients like maple syrup, hoisin sauce, olive oil, apple cider vinegar, or hot sauce to make glazes and sauces. And you can incorporate this into cream-based dips made with mayonnaise, sour cream, cream cheese, greek yogurt, etc.
05- Sprinkle On Bacon And Soft Cheese
Sprinkle chipotle seasoning on the bacon and flip it to cook for an instant taste boost. This will make an excellent flavor tweak to your breakfast toast and mashed potatoes. In addition, you can throw in a dash of this blend and make a spicy and flavorful soft cheese spread for burgers, sandwiches, and toast. Try this next time, and let us know how it turned out to be!
06- To Incorporate Into Ground Meat Mixtures
Skip the classic seasoning and substitute them with chipotle seasoning to experience a different taste in your sausages, meatballs, burger patties, fish cake, shrimp cake, etc.  Make your favorite sausage dish or combine the chipotle seasoning-infused meatballs with spaghetti to serve your loved ones the goodness of a Mexican-inspired meal.
07- Can Be Added Into Tacos, Enchilada, Burritos And Fajitas
This blend introduces a new flavor dimension to Mexican dishes, replacing the conventional taco, burrito, or fajita seasonings. Or else you can blend chipotle seasoning half and half with the relevant seasoning mixtures. It can add a lovely smokiness with a reasonable level of spiciness to your favorite Mexican recipes. But be careful- this can be highly addictive!
Rock Your Plates With A Dash Of Chipotle Seasoning!
While hefty amounts of chipotle seasoning bring the robust, decadent punch to your chicken, steak, turkey, and pork, pinches go well with roasted veggies or soft cheese. It also spices up soups and hearty stews with a unique smokiness while adding depth and a tasty tweak to classic tacos, burritos, and fajitas! So, what more reasons do you need to make this a staple in your spice cabinet?
Related Topics