There's nothing comforting and cozy like a hearty dish of chili on a chilly winter evening. But, what if you run out of your seasoning and won't even have time to run to the store for restocking? Don't worry- we'll be bringing the best homemade chili seasoning recipe that you'll ever taste in your life!
This is such a versatile mix, and you will never turn back to any store-bought options once you have this in hand. So, without further ado, let's get into mixing.
How To Make Chili Seasoning? (Easy Step-By-Step Guide)
You can put this seasoning mix together from scratch, which is highly personalized as you have full control over the ingredients. Moreover, you can increase or decrease the heat by adjusting the amount of pepper used depending on how hot you need your chili to be!
Prep time- 05 minutes | Cooking time- 00 minutes | Additional time- 05 minutes
Step 01
Get the required ingredients and equipment ready.
Spices and herbs needed:
One tablespoon of ground cumin
Three tablespoons of chili powder
Half a teaspoon of red pepper flakes
1/4 teaspoon of cayenne pepper
One teaspoon of smoked paprika (you can use any type of paprika you like)
Half a teaspoon of garlic powder
Half a teaspoon of onion powder
1/4 teaspoon of ground cinnamon (optional)
Two tablespoons of dried oregano
Required equipment:
A mixing bowl
Wooden spoon
A tight-fitting glass container
Did you know that the ingredients used in chili seasoning is the sole reason it becomes so flavorful? Click here and refer to this post to learn everything you need about the content of this blend.
Step 02
Add all the spices to a mixing bowl. Get the oregano and finely crush them between the palms of your hands and add it to the spices.
Step 03
Blend all the ingredients together using the wooden spoon until everything is well combined.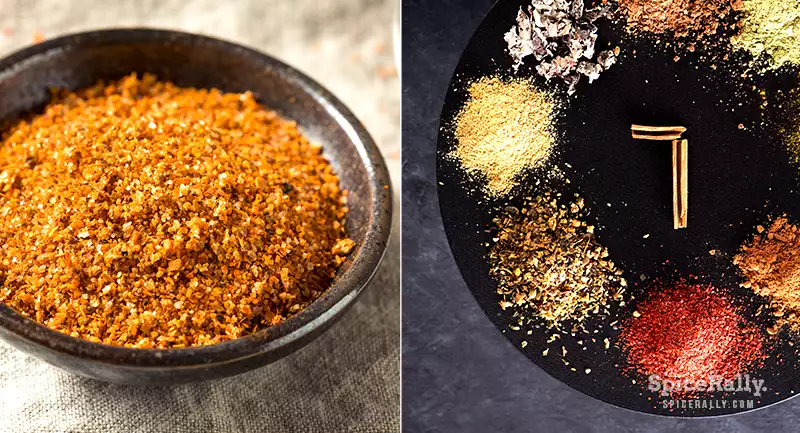 Step 04
Transfer the prepared seasoning mix to the airtight container and use it whenever you want!
Tasty Notes…
We have not used salt in our original homemade chili seasoning recipe. But, if you think that salt should be a staple, you can go ahead and add about one to two teaspoons of salt.
You always have the freedom to adjust the amount of heat in this recipe. If you like it spicier, increase the amount of cayenne pepper or use hot paprika.
We have kept ground black pepper out of our recipe since it is already spicy. But if you think you need more flavor, add about 1/2 a teaspoon of ground black pepper.
If oregano is not your thing, you can either leave it or substitute it with some other aromatic, like dried basil.
Related Topics