Most of the time, things get great with your dishes when you have the right seasonings or spice blends. So, let's talk about what is in chipotle seasoning- another combination that stands out from the ordinary.
Chipotle seasoning is a vibrant, rich blend of dried spices and herbs that often comes together with ingredients such as:
In addition to these ingredients, most recipes contain salt and sometimes crushed chipotle peppers, cayenne pepper powder, onion powder, and brown sugar. So, keep reading to know a little more about the context of this seasoning, and we have a simple homemade chipotle seasoning recipe lined up for you!
Jump to Recipe
What Is In Chipotle Seasoning?
Chipotle seasoning provides a smokey, spicy, intense, and savory kick to anything that deserves a rich, zesty bite! This blend is often associated with Mexican and Tex-Mex dishes and is commonly used to season meat and seafood.
The key ingredient of this seasoning blend is chipotle peppers. Although each recipe could have slight variations in proportions, the ingredients are pretty much the same. You will get several premade options in the market, and it is really easy to make your own blend at home.
Moreover, you can find variants of this seasoning, such as the Southwest Chipotle Seasoning Blend, which holds more profundity than the classic version. And they could contain additional ingredients such as dried orange peel, citric acid, dried mustard, and more herbs.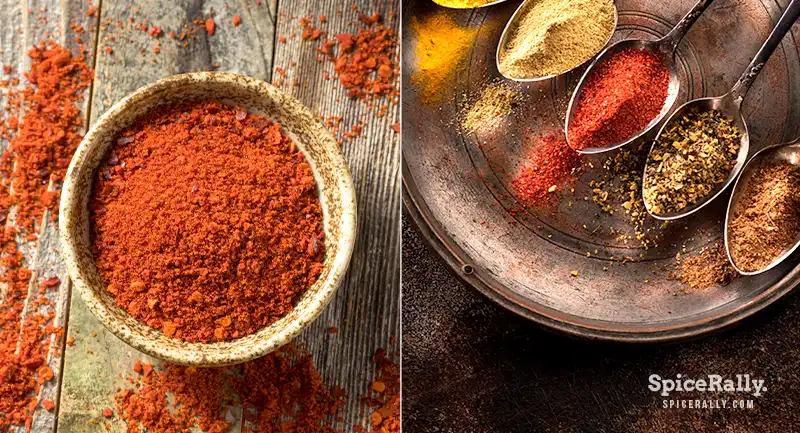 Spices And Herbs In Chipotle Seasoning
01- Chipotle Chili Powder– This is the key ingredient in this mix which makes it different from the other ordinary seasoning blends. Chipotle chili powder is used in every recipe, while some versions also include crushed chipotle pepper. However, chipotle is the dried jalapeno pepper which gives this blend its unique smoky, hot, and zesty punch.
02- Paprika– This spice is the next most important ingredient in our topic leader responsible for its depth of flavor and vibrant color. All sorts of paprika are used in this mix, and each recipe includes at least one type. Smoked paprika enhances the smoky accent of the chipotle seasoning, making it ideal for richer meat.
03- Ground Cumin– Nutty, warm, earthy, and bitter-sweet cumin is the perfect addition that pairs well with the smokiness of chipotle pepper powder. It habitually complements meat and seafood while giving a distinctive flavor effect when incorporated into dishes like soups, stews, burritos, fajitas, and tacos.
There are many ways to use chipotle seasoning, apart from using it with meat and fish. So, click on this link to discover the amazing ways to incorporate this blend with your daily dishes.
04- Ground Coriander– Teaming up with ground cumin, chipotle powder, paprika, garlic powder, and oregano, ground coriander does wonders with its delicate flavor profile. This spice is milder than the other ingredients used in this mix, so it also acts as a flavor stabilizer while giving a slightly sweet, earthy, and citrusy undertone.
05- Garlic Powder– The characteristic pungency of garlic powder provides the perfect savory and garlicky note to this seasoning blend which you must have when seasoning meat or seafood. This spice pairs well with the rest of the ingredients, collectively complementing whatever dish that calls for chipotle seasoning.
Sometimes, you could run short of chipotle seasoning and forget to restock. So, in such instances, a few substitutes could be used in place of chipotle seasoning. Click on this link and refer to this article to find out what they are!
06- Dried oregano– The traditional chipotle seasoning is usually made with dried Mexican oregano, which holds a more citrusy-lemony undertone with a hint of licorice. This herb adds a contrasting flavor to this mix when it is blended with other robust spices. However, using only Mexican oregano is not a rule, and it is possible to use regular or Greek oregano as well.
Other Chipotle Seasoning Ingredients
In addition to the basic ingredients mentioned on top, most recipes contain salt. And some options could occasionally have cayenne pepper powder, onion powder, or brown sugar for more flavor.
Concluding With The Piquant Chipotle Seasoning…
Smoky and spicy chipotle seasoning adds the right amount of flavor to your steak, pork, chicken, fish, and many other Mexican, Tex-Mex, or Mexican-inspired dishes. It typically includes chipotle chili powder, garlic powder, paprika, ground cumin, coriander, etc. So, this seasoning blend is a must-have at home if you are smitten with having spicy food on your table!
Related Topics