Versatile and decadent kimchi is absolutely much more than you think! This wholesome food can be eaten on its own or by mixing with many others. So, here we share the best possible ways to use kimchi.
Kimchi can be incorporated with everyday foods and used in ways such as:
Read along to learn how kimchi can be a part of your regular dinner table!
The 09 Amazing Ways To Use Kimchi
Flavorful kimchi is not something exotic to Koreans since they eat this healthy food almost every single day. But if you have a jar of kimchi at home, you must be really thinking about what to do with it other than having it as a side dish.
Kimchi is primarily fermented vegetables (Napa cabbage being the basic vegetable) seasoned with a variety of spices and other flavorings. This is zesty, piquant, and tantalizes all our taste buds with a distinctive spicy touch. Thus, kimchi pairs well with spicy foods, where you can simply incorporate it with things that are beyond convention!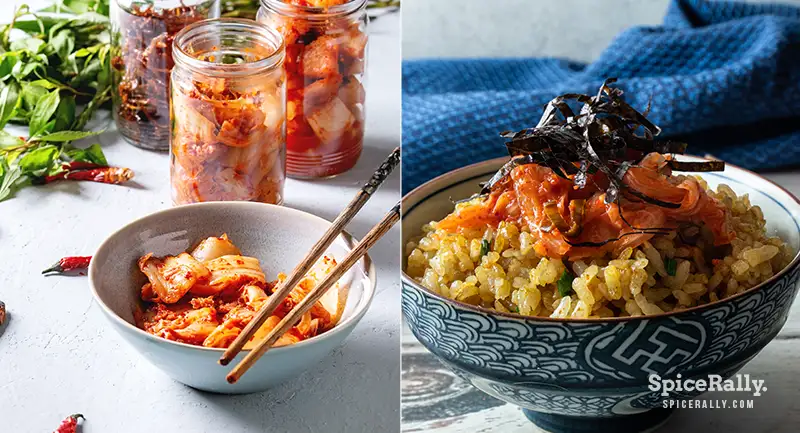 01- Mixing With Salads
Korean households are never short of kimchi, so they often add this to their regular salad bowls. You might feel that kimchi itself is more like a salad, but it is more fermented and is great when incorporated into fresh or even cooked salads.
This ingredient could add the perfect punch to your healthy salad, whether you are veg or non-veg. Mix kimchi with your classic vegetable/ shrimp/ chicken salad, potato salad, tuna salad, and even with greens like kale and bok choy. Pair with quinoa for a more healthy salad, or incorporate with soba and udon noodles.
02- With Rice And Rice Bowls
While kimchi fried is the most popular way of using this ingredient with rice, you could even mix kimchi with plain steamed rice! Mixing kimchi with plain white rice would be the perfect meal of the day when it is boring but still when you need a filling treat.
Using our topic leader, you could also add a twist to your favorite rice bowl. In fact, the spicy, vinegary taste of kimchi pairs with pretty much everything you could add to rice!
03- It Can Be Eaten With Noodles, Spaghetti, And Macaroni
Kimchi has literally become one of the favorite additions to noodles, spaghetti, or pasta lovers all around the world. You could make a nourishing meal for your family if you have a packet of noodles, some kimchi, eggs, and a few vegetables. 
You could come up with anything fancy or classic such as instant noodle cups, ramen bowls, or noodles stir-fries, by matching and mixing with any of the vegetables or proteins you have around your pantry. And also, you can top off grain bowls with kimchi if you prefer a more healthy option.
Make an incredible flavor twist by mixing kimchi with your regular mac and cheese! You'll get an amazing flavor explosion when you pair kimchi with cheeses like gruyere, sharp cheddar, or swiss cheese. The rich creaminess will be complemented by the contrasting taste of the fermented vegetables to give you an unforgettable meal experience.
04- Add It To Pancakes And Fritters
Kimchi pancakes are popularly known as Kimchijeon in Korea. This is a versatile and famous food in almost every Korean household, marked for its spicy, crispy, and flavorful nature. Kimchi-infused savory pancakes are very much different from the ones we regularly eat. You could also make traditional kimchi fritters, pairing it with ingredients such as miso paste, gochujang, eggs, green onions, etc.
Click on this link and refer to our detailed article to learn more interesting facts about kimchi and its different varieties.
05- Make Dumplings
Are you a dumpling lover? Then here's the good news- stuff your dumplings with kimchi! You can pair our topic leader with minced beef, pork, chicken, etc., and wrap it in a dumpling wrapper. Depending on your preference, steam or pan-fry them, and enjoy them with a spicy dip. These kimchi dumplings are popularly known as Kimchi Wangdu.
06- Ramp Up Toast And Pizza
If you are looking for a quick breakfast fix and crave something different and tasty, grilled cheese with kimchi is a meal that is definitely worth trying. It shouldn't be really grilled cheese when all you have is just bread, avocado, and kimchi. Toast your bread, pair it with a decent layer of creamy avocado, and enjoy with kimchi on top. We are sure you'll be thanking us later!
In addition, kimchi pizza is another delicious, healthy dish you can make even when you are tracking a particular diet. Make the pizza dough with whole-wheat flour and top it off with kimchi, pairing it with anything you like. But don't forget to add a lot of cheese to get the best taste!
07- Flavor Stews, Soups, And Braises
Using this with soups, stews and braises are one of the most effective ways to use kimchi to get the best of it. You have endless recipe options when it comes to mixing our topic leader with soups and stews. You can flavor braises, especially when your braise has a tomato base and is enriched with chicken (chicken and kimchi go so well together!).
Add some kimchi juice to homemade stocks and broths for an unexpected flavor twist. Pair this ingredient with all sorts of protein and vegetables when making stews or soups. Traditional Korean tofu stew, beef stew, Miso soup, chicken noodle soup, etc., are some hearty meals you can make, especially to rejuvenate when you are sick.
08- Add It To Egg And Meat Dishes
Kimchi is an absolutely incredible pairing when it comes to eggs and meat. If you've been making eggs in ordinary ways, our topic leader can tweak them up, giving an extraordinary taste. You could use kimchi to make poached egg bowls, add to scrambled eggs, top omelets or even serve alongside fried or boiled eggs.
Moreover, you can also serve kimchi with barbequed meat like chicken, beef, and pork. Stir-fry your proteins and add this as a last-minute ingredient to give those dishes a unique kick of flavor. These meat dishes are great to be served with rice or noodles.
09- Use The Kimchi Liquid In Sauces Or As A Salad Dressing
If your jar of kimchi is over, never throw out its leftover juice! You can add this flavorful liquid when making dips and sauces and use it to make salad dressings or vinaigrettes. To make creamy dips, stir it with mayonnaise, sour cream, or cream cheese. 
Or else, make a delicious salad dressing or a vinaigrette to be drizzled over a fresh or cooked salad by adding more seasoning, oil, and sauce.
You Can Never Go Wrong With Kimchi!
Delicious and nutritious kimchi does not confine to your pantry merely as a slide dish. Actually, there are unlimited ways that you could use this ingredient and incorporate it into your meals as a tasty addition. Consequently, adding to rice, dumplings, soups, stews and mixing with salads or salad dressings are some of the great ways to indulge in this spicy ingredient.
Related Topics