Tandoori masala powder is one of the most popular spice blends in Pakistan and Indian cuisines to make Tandoori chicken. So, here we bring some other genius ways to use tandoori masala to elevate your daily dishes.
While the most common usage of tandoori masala is to marinate chicken when making Tandoori Chicken, this can be also helpful in the following ways:
Read along to learn how to utilize your jar of tandoori masala to make the best out of it!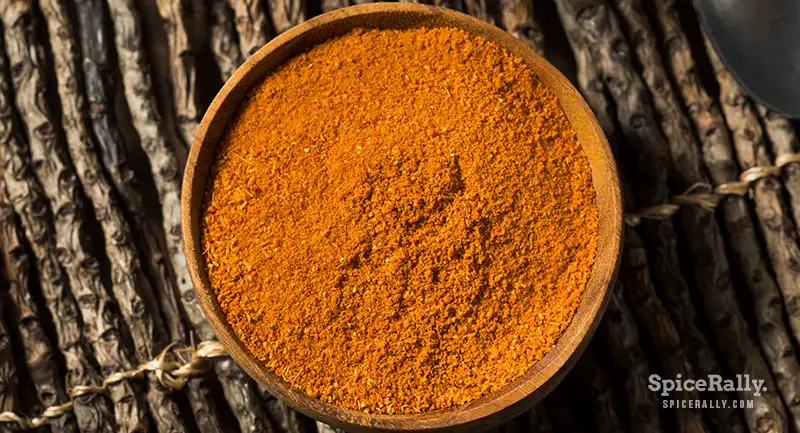 05 Genius Ways To Use Tandoori Masala
Tandoori masala is undoubtedly one of the most iconic spice blends from Indian cuisine known for its robustness. Spices are usually incorporated into this spice mixture to create a powerful flavor.
This is mainly because the tandoori masala is specifically used to marinate the chicken to make the Tandoori chicken dish. When making this dish, the chicken is roasted in a special oven known as the "tandoor" in high heat. 
Thus, the spices included are mostly warm and potent to keep the chicken flavorful and thrive in the extreme heat of cooking. Most often, coloring agents are included in this spice blend to make it more vibrant in color. 
This is popular as a marination spice and goes perfectly with meat like chicken. But, many of you must not have known that tandoori masala can also be used in several other ways despite its robustness. 
So, in this section, we will share all the possibilities you can use tandoori masala to make your recipes more rich and decadent!
01- Spices Up Creamy Dips And Salad Dressings
Tandoori masala is made with full-bodied spices like cumin, coriander, red chile powder, cinnamon, etc. This powerful spice combination is often backed by additions like salt to make it more flavorful. Therefore, this spice blend can be one of the best flavor enhancers for your dips and salad dressings. 
Tandoori masala does not go with every salad dressing or dip. There's a certain way of using this spice blend before adding it to your dips or dressings. Dry-roast tandoori masala until it changes colors and turns aromatic. Keep the flame very low and do not burn your masala powder. 
Add the roasted tandoori masala to your creamy dips and salad dressings for an unexpected taste! The best pairings for this spice powder are mayonnaise, unflavored yogurt, curd, sour cream, and even cream cheese will do better. 
 To make delicious condiments, you can mix in olive oil, lime juice, sun-dried tomatoes, etc. Serve these alongside fries, chips, and crackers, or pour them over your cooked or raw salads. This way, you can make irresistible fusion dishes to serve your family.
Tandoori Masala-Infused Sauces
You can use tandoori masala to infuse it with sauces or to make a new sauce. Use a few ingredients to go with its flavor like sriracha, ketchup, chili-garlic sauce, or other hot sauces. Incorporate these with mayonnaise with a dash of tandoori masala powder. 
Make your sauce a little runnier than the dips to facilitate the application. These sauces are ideal to drizzle on burgers, sandwiches, or fill inside wraps. Depending on your preference, they can become the ultimate flavor combinations for both veg and non-veg items.
02- Makes The Perfect Marinade For Vegetables
Do you have little ones who are determined not to eat their veggies? Then, tandoori masala can save the day by making crunchy vegetables in a surprisingly delicious manner! As you know, the potent flavor notes of tandoori masala can go a long way. 
Therefore, sprinkling from your tandoori masala jar can do wonders with your daily dishes. The color of this spice powder is very eye-pleasing so anyone will get a delightful visual appetite. 
You can make a decadent yogurt marinade by mixing tandoori masala with other spices and herbs. This marinade is great for your favorite vegetables. The best vegetables that go with the robust flavor of tandoori masala are as follows:
Potatoes
Butternut squash
Onions
Bell peppers
Cauliflower
Eggplant
Broccoli
Baby corn
Make the marinade by infusing tandoori masala with unflavored yogurt or curd. If you do not like creamy marinades, you can just puree some tomatoes with olive oil, soy sauce, maple syrup, and tandoori masala. 
Season your vegetables in this mixture, grill, roast, fry or air fry your vegetables as you like. Thick and creamy marinades will work as batters to give a crunchy exterior and succulent interior, These snacks are great party items!
03- Prepares Delicious Seasonings For Tofu, Paneer, And Mushrooms
If guests show up at your place for a small party or a gathering and if you wonder what vegetarian appetizers you would make, here comes the game changer! Tandoori masala powder is a suitable option for both vegans and vegetarians. 
Therefore, a tandoori marinade might do the trick, if you think of innovative ways to come up with tofu, paneer, or mushroom recipes. Pair ingredients like Greek yogurt or curd with chili powder, garlic powder, minced ginger, etc., with tandoori masala to make the marinade. 
You can slice tofu and cut the paneer into cubes, apply the marinade, and then leave them to season. Grill, roast, bake, or fry your tofu or paneer.  
Tandoori Masala-infused Mushrooms
You can follow the same procedure to make your mushrooms. But, apart from that, you can also follow another method to make tandoori mushrooms. For that, you may:
Take large fresh button mushrooms
Remove the stem and chop them into small pieces
Make a filling by cooking chopped onions, green chiles, chopped mushroom stems, and cream cheese, with salt and mozzarella cheese. You can add other ingredients you like to make this filling more tasty.
Pipe the filling inside the mushrooms.
Make the marinade by mixing cream cheese, heavy cream, red chile powder, salt, and tandoori masala.
Coat the stuffed mushrooms in the marinade.
Arrange the stuffed mushrooms on a baking tray and bake them until done.
You can also make these mushrooms in the air fryer.
If you feel like making mushrooms this way is too much work, get some large abalone or oyster mushrooms, wash them, break them into large pieces, and squeeze out excess water. Then, dip them in a tandoori marinade, and deep fry. This will make an excellent side dish to enjoy with rice!
If you're interested in learning further about tandoori masala and what ingredients are used in this spice blend, we are ready to educate you with a complete article. Go to this link!
04- Can Be Mixed Into Minced Meat, Seafood, And Fish Mixtures
Our topic leader is an excellent complement for meat, fish, and seafood. The warm and zesty flavor profile of tandoori masala can elevate the richness of these animal proteins. It will make them more powerful in taste and texture. 
So, if you just season your minced meat, fish, or seafood with regular spices, switch to tandoori masala and feel the difference! While you introduce the Indian flavors to your meat or seafood, you can also create new recipes this way. 
It is not a secret that tandoori masala works well with chicken. But, the robustness of this spice blend also goes well with ground beef, pork, lamb, minced shrimp, fish, etc. You can pair tandoori masala with chili powder, paprika, cayenne pepper, garlic powder, onion, powder, etc., to make delicious combinations. 
And, they are great for making sausages, burger patties, meatballs, fish cake, or shrimp cake! If you use tandoori masala moderately and team it up with other ingredients mindfully, these items are excellent to go into your kids' lunch boxes!
05- Upgrades Rich Curries
Tandoori masala does not stick to just a marination spice. When you learn to use it masterfully, it can do wonders in your kitchen! If you love curries, our topic leader is a great option to create a new flavor dimension in your ordinary curries. 
Make your own recipes by infusing this spice powder with chicken, beef, fish, or even egg masala curries. Stirring a dash of tandoori masala with lentil curries like dal or chickpeas also makes a spicy difference to your table. 
You can pair this spice blend with coconut milk-based curries to get the perfect balance of flavors. Serve your tandoori curries with plain rice, noodles, couscous, roti, or bread. A tomato gravy teamed up with coconut milk will provide the most delicious base for these curries, making an epic go-to meal!
Spice Up Your Life with Tandoori Masala In Your Kitchen!
Indian spice blends are pioneers in making your cooking experience more adventurous each day. Likewise, tandoori masala is another master spice blend to offer you wonderful recipes. Starting from the basic tandoori chicken dish, this spice powder can create amazing recipes infused with delicious marinades. It is suitable for both non-veg and veg communities so the options become simply endless!
Related Topics