Wholesome green beans are certainly one of the most delicious vegetables worth regularly including in your diet. So, let's check out some of the best herbs for green beans to make fabulous recipes!
The characteristic flavor of green beans can be complemented by incorporating the flavorful and aromatic herbs as follows:
Rosemary
Thyme
Oregano
Parsley
Dill
Basil
Tarragon
Summer savory
Curry leaves
Pandan leaves
Marjoram
Read along until the end to learn how these ingredients can help oomph your green bean recipes with a delicious herbal note.
The 11 Best Herbs For Green Beans
Most of us love green beans as a perfect go-to side dish. If you're tired of making heavy dishes like pies, casseroles, pasta, etc., green beans can make it up to you within a few minutes. 
Healthy green beans are undoubtedly a great addition to your regular diet. They are mighty sources of vitamin C, vitamin A, and vitamin K. They are also excellent sources of fiber and folic acid.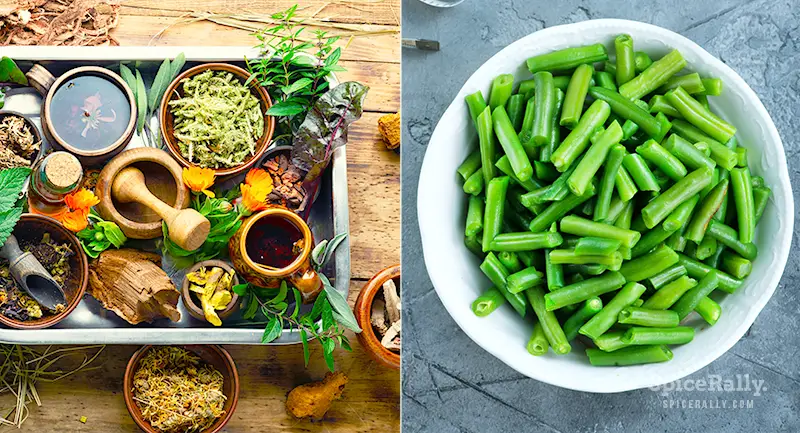 This vegetable grows on plants or vines, and there are quite a few types of green beans, such as:
Classic green beans (snap beans/ wax beans/ string beans)
Purple string beans
Yellow wax beans
Italian green beans (Romano wax beans)
Long beans (Haricots verts/ French green beans)
All these types can be cooked in numerous ways like steaming, roasting, stir-frying, currying, and you name it! Whatever method you follow, green beans can add color, vibrancy, nutrition, and taste to your meals, pairing well with many other foods on your table. 
Butter, avocado oil, olive oil, lemon, and spices like garlic and onion powder can be paired with this vegetable. In addition to these ingredients, fresh and dried herbs can play a significant role in enhancing the taste, aroma, and nutrition of this vegetable regardless of the way it is cooked.
01- Rosemary
This herb has an interesting flavor profile with piney, resinous, woodsy, astringent, peppery, and lemony undertones. Rosemary has a sharp scent and is best used when fresh with green beans. 
When cooking green beans, this herb is often paired with garlic, thyme, olive oil, red chile flakes, and black pepper. You can make stir-fries or salads with this vegetable if you incorporate rosemary.
02- Thyme
Thyme has a spicy, earthy, and somewhat minty flavor, and it is also layered with notes of floral, sweet, and peppery tastes. This herb acts more like rosemary with green beans paired with the same ingredients. 
This also tastes better when used fresh, and you can include thyme in salads or stir-fries. In addition, you can also try sauteed green beans with a lemon-thyme dressing for a wonderful twist on your dinner table!
03- Oregano
Oregano has a profoundly aromatic, camphoraceous scent and a slightly bitter, piquant flavor. This pungent flavor is composed of earthy, herbaceous, and minty notes. Oregano typically gives out its best to a wide variety of green bean recipes, either fresh or dried. 
It pairs with lemon, onion, garlic, olive oil, butter, and black pepper. Oregano is delicious when paired with nuts like pine and almonds. You can make heavenly French-style green bean dishes by complementing this herb with this vegetable.
04- Parsley
Parsley is one of the best herbs for green beans as it can be used fresh or dried. While curled-leaf parsley is ideal for garnishing, flat-leaf parsley lends a fantastic flavor. Flat-leaf parsley has a fresh, clean, herbal taste with slightly peppery and earthy touches.
You can use dried parsley with dressings to top green bean salads. Likewise, incorporate fresh parsley when cooking this vegetable. This aromatic herb goes well with a range of other ingredients, while olive oil, butter, lemon, and garlic if we were to name a few.
05- Dill
Many Mediterranean or French-style green bean dishes include dill or dill weed. This herb gives a characteristic warm, grassy aroma with hints of lemon and anise. Dill is often used in its fresh state to make salads, stir-fries, and pickles. 
This herb is generally paired with lemon, dijon mustard, tomatoes, and onions. Fresh sprigs of dill are infused in a spiced-vinegar solution to make delicious green bean pickles.
06- Basil
Basil is another versatile herb known for its herbaceousness and distinct flavor. The taste profile of this herb is a balance between savory and sweet, with hints of pepper, anise, and mint. This scented herb adds a sweetness to green beans, especially when included in their fresh state. 
Our topic leader is often roasted with basil, garlic, and parmesan cheese to create an incredibly flavorful dish. Moreover, green bean salad is put together with fresh basil, balsamic vinegar, black pepper, and olive oil to serve alongside steak. Recipes with green beans and basil are simply endless!
07- Tarragon
Tarragon is a highly aromatic herb that can give a spring taste with elegance to your green bean recipes. It has a unique flavor which is described as a cross between licorice, anise, and fennel. Tarragon is commonly used in French cuisine and goes hand-in-hand with fresh garlic and black pepper. 
You have endless recipes to try out with this herb, like making salads, roasting, or stir-frying. Pair fresh tarragon with Dijon mustard, hazelnuts, and shallots to make a super delicious meal to treat your family!
08- Summer Savory
Not to underestimate, but summer savory gives a distinctive kick to your green beans! This is the perfect herb to try with this vegetable whenever you need to come up with something special. Summer savory is intense, which resembles both thyme and sage. 
It has a warm flavor and a unique, clean, piney fragrance. Marinated green beans with fresh summer savory, onions, garlic, and olive oil are a perfect way to blow off the blandness of a boring dinner!
09- Curry Leaves
SpiceRally needs to touch international cuisines and is enthusiastic about bringing exotic flavors to your kitchen. Curry leaves can be something unfamiliar to American cuisine. But this is one of the best herbs paired with green beans in Southeast Asian cuisine. 
Indians and Sri Lankans commonly use fresh curry leaves to complement their green bean curries. This herb has a characteristic flavor with citrusy notes reminiscent of lemongrass, anise, and asafetida. It is also intensely aromatic and goes well with mustard seeds, coconut oil, pandan leaves, coconut milk, and turmeric.
10- Pandan Leaves
Pandan leaves go side by side with curry leaves, complementing green beans. This herb is widely used in Indian, Sri Lankan, and Thai cooking. It is very aromatic, and the flavor is described as grassy vanilla with a hint of coconut. 
The taste of pandan leaves intensifies when cooked with coconut milk for longer or sauteed in hot oil. Therefore, this herb is often incorporated into green bean curries or tempered green beans. It also teams up with mustard seeds, coconut oil, garlic, and onion, just as much as curry leaves would do.
11- Marjoram
We chose beloved marjoram as the last herb to feature on our list! Marjoram is a member of the oregano and mint family. It is known for its aroma and delicate flavor, similar to oregano. However, it has a more complicated sweeter, mild flavor hints with a pronounced fragrance. 
This herb can be used to make pan-grilled, roasted, and cooked green beans or to make a salad. Marjoram can be paired with lemon juice, black pepper, feta cheese, red onions, etc., to put together scrumptious recipes!
Make A Divine Difference By Incorporating Herbs With Your Dish Of Green Beans!
Herbs are known to do wonders with our food as they add color, vividness, aroma, and incredible flavor. Consequently, robust and fragrant herbs like oregano, thyme, basil, parsley, etc., are widely used when making green beans. 
Curry leaves and pandan leaves can be exotic to Western cuisine. But they are widely incorporated with green bean curries in Southeast Asian cuisine. At the same time, dill and tarragon are favorite additions to the French-style green beans recipes that you mustn't deny trying out!
Related Topics