There are basically endless ways to flavor sweet potatoes, while basic spices and herbs in your pantry play a significant role in seasoning. So, here are some of the best spices and herbs that'll help you out.
Preferably, earthy and warm spices and herbs can compliment the flavor profile of sweet potatoes, such as:
Let's see what's more we have piled up for you to make your sweet potato recipes taste epic!
The Best Spices And Herbs To Season Sweet Potatoes
Mildly sweet and starchy sweet potatoes are virtually a versatile vegetable that you can enjoy any time of the day. You might know many interesting ways to prepare this delicious vegetable according to family recipes. But it is important to understand that the key to any savory sweet potato dish is to get its seasoning right.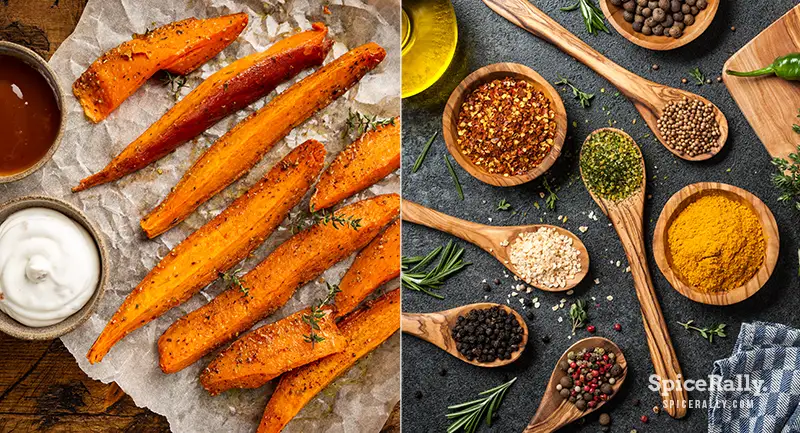 While savory spices and herbs like garlic, black pepper, chile powder or red chili flakes, oregano, rosemary, etc. go well with savory sweet potato dishes, pungent and warm spices like cinnamon, ground ginger, and cumin can be used to flavor both sweet and savory sweet potato recipes.
Moreover, these spices and herbs are often paired with other ingredients, such as:
Salt
Olive oil
Avocado oil
Vegetable oil
Butter
Honey
Maple syrup
Brown sugar
Parmesan cheese
Milk
Heavy cream
Lime/ lemon
Sesame seeds
Pecans
Spices To Season Sweet Potatoes
01- Black Pepper
Ubiquitous black pepper is mainly paired with salt to create the universal seasoning for sweet potatoes. In fact, the earthy, peppery, woody, and piney flavor elements of black pepper perfectly blend with the gentle sweetness of this vegetable and complement the briny taste of salt so that you can instantly make the perfect and easiest seasoning, particularly for savory sweet potato dishes.
02- Cinnamon
Slightly sweet, woody, and earthy cinnamon also contains a tinge of a citrusy note so that you can get an epic flavor to your sweet and savory sweet potato recipes with a pinch! Ground cinnamon is often paired with other warm spices like cumin, nutmeg, and cloves when it comes to rich sweet potato desserts. And you can also make decadently roasted or mashed cinnamon-sweet potatoes.
03- Garlic
Pungent garlic is ideal for sweet potato recipes that call for a unique umami kick. You can pair this ingredient with onion powder, cumin, and herbs like oregano or parsley when making baked, roasted, or grilled sweet potato dishes. Garlic powder and freshly minced garlic are also tasty additions that can be included to make mashed sweet potatoes.
04- Cumin
Whole cumin seeds and ground cumin both lend a perfect flavor enhancement to this vegetable. While whole cumin seeds are mostly included in Asian-style sweet potato dishes, ground cumin is included in both sweet and savory-style recipes. The nutty, earthy, and slight sweetness of cumin goes well with cinnamon, ground ginger, and black pepper in spicy sweet potato dishes.
05- Ground Ginger
Piquant ginger is another versatile spice that compliments the delicate flavor profile of our topic leader. Ground ginger offers a distinctive warmth with peppery and slightly sweet undertones. This spice can be paired with other warm spices and savory herbs like cinnamon and oregano, along with sweeteners like honey or brown sugar, mixed and matched depending on the recipe you make.
06- Chile Powder/ Red Chili Flakes
When it comes to chile powder or red chili flakes, it is essential to consider the heat level of the chile powder you are using. This is a perfect spice that compliments the mild flavor profile of this vegetable when you choose a chile powder or red chili flakes that are not so intense in heat. 
Thus, cayenne pepper, paprika, and chipotle pepper are some of the best options you can pick. These chile powders or flakes can give an instant flavor boost to your savory sweet potato dishes with a tasty kick of heat!
Best Herbs To Season Sweet Potatoes
01- Oregano
Slightly pungent and bitter oregano is one of the best flavors to go with the rich creaminess of this vegetable. You can use dried oregano to top roasted or baked sweet potatoes or even toss it with fries or chips. 
Do not forget to pair this herb with parsley, thyme, garlic powder, salt, and onion powder to get the best possible flavor! Fresh oregano can be used when making sweet potatoes with other ingredients like chicken.
02- Thyme
Thyme is somewhat minty with robust herbal, earthy, and savory undertones. This is the perfect herb to pair with oregano, garlic, onion powder, parmesan cheese, and olive oil, especially when you are making roasted or pan-sauteed sweet potato dishes. You can also combine dried thyme with garlic and a dash of black pepper to come up with a delicious bowl of mashed sweet potatoes.
03- Rosemary
Distinctively aromatic and flavorful rosemary is a unique herb with a complex flavor profile. Its woodsy, minty, and sage-like undertones perfectly balance out the complementary ingredients added to a certain sweet potato dish. Rosemary is often paired with thyme, oregano, black pepper, cinnamon, and olive oil when making roasted or stir-fried sweet potatoes.
Click on this link if you are interested in learning how to season your sweet potatoes to get a rich and delicious dish!
04- Basil
The versatile flavor elements of basil are another ideal herb to flavor this vegetable either you bake, roast, grill, stir-fry, or make sweet potato fries and chips. Basil has pronounced hints of black pepper with a balance of savory and sweet undertones that pair with oregano. Thyme, rosemary, black pepper, garlic, etc. You can use fresh or dried basil, depending on the recipe you make.
05- Parsley
The bright herbal and slight earthiness of flat-leaf parsley effectively pairs with the mild taste of our topic leader whole, complementing its rich creaminess. You can mix and match dried or freshly chopped parsley with other ingredients like garlic, black pepper, oregano, parmesan cheese, olive oil, and butter. Curl-leaf parsley can be a beautiful garnishing to any sweet potato dish.
Pick Your Favorite Herbs And Spices To Create Flavorful Sweet Potato Dishes!
Spices like black pepper, cinnamon, garlic, ground ginger, and cumin, along with herbs such as oregano, basil, rosemary, etc., can help you make your sweet potato dishes incredibly delicious. Use your level of creativity to mix and match the spices and herbs with other ingredients to bring hearty and satisfying sweet potato recipes to your dinner table!
Related Topics