Drizzling the syrup on top of your pancakes or waffles must be one of your favorite things of the day. In this article, we hope to bring you about the different types of culinary syrups and their ingredients.
Syrup is a widely used condiment and ingredient used with sweet dishes, beverages, and some savory preparations. They typically contain high amounts of sugar, along with other ingredients. Commonly used culinary syrups include:
So, use this guide to update your knowledge and know what you want to learn about the different syrups you use at home.
Jump to Recipe
Syrup And Its Ingredients
What Is Syrup?
The syrup is liquid sugar typically deriving from various sources such as:
Plant juices like raw sugar cane or agave
Trees like date palms or maples
Grains such as corn, sorghum, and rice
Different fruits
The juice is extracted from miscellaneous parts of the plant (stalks, tree trunks, kernel, etc.). The extracted juice is put through a refining process where the juice is filtered to get rid of debris, mold, and fibers. 
The remaining contents resume being distilled as they are simmered and then refiltered. At this point, the sugar is extracted if wanted, and the thick concentrated content remaining becomes the syrup.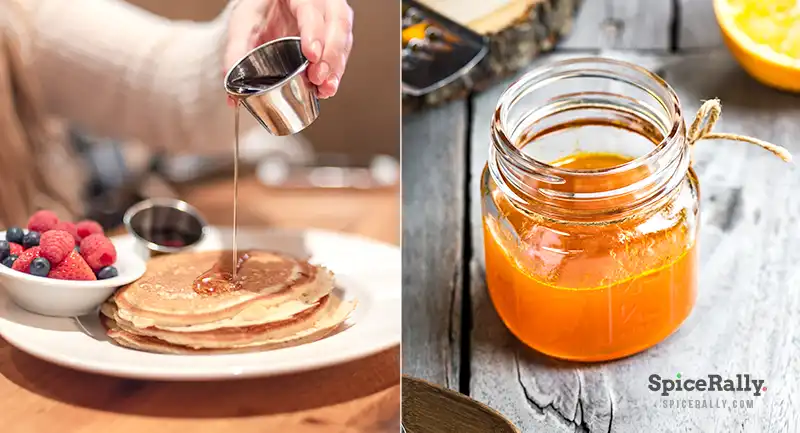 Types Of Cooking Syrups- Ingredients| Uses
The syrup is used for flavoring both before the preparation of a particular food as well as after when the food is served. For example, baked goods will have syrups included as an ingredient to sweeten the baked item. At the same time, this is used with other foods such as pancakes, waffles, and French toast as a topping. 
In addition, syrups are widely used in beverages such as tea, coffee, malts, cocktails, and mocktails to sweeten or enhance the flavors. Numerous plant sources produce syrups. Still, there are a group of common syrups for baking, cooking, garnishing, and sweetening.
01- Simple Syrup
This syrup is a very simple combination of ingredients:
These two elements are incorporated in a 1:1 ratio and boiled to get the simple syrup which is widely used in beverages and baking.
Simple syrup is known as the "stock" or "plain" syrup in many restaurant/ hotel kitchens or bakeries. This syrup is usually improved with assorted flavors like vanilla, mint, ginger, cinnamon, and lemon.  
Uses
Simple syrup and flavored simple syrup create the preferred taste for various food preparations such as:
To make iced drinks and cocktails
Used as a glaze
Drizzled over desserts
It improves the texture and sweetens the sponge cake when making gateaux.
02- Golden Syrup
Although golden syrup is often confused with honey in terms of its appearance, it is an entirely different sweetener. This is produced by inverting sugar during the refining process to form a viscous, amber-colored liquid. Basically, golden syrup includes:
Uses
This syrup is popular in British and American cuisine, while other parts of the world, like Asia cuisine, also use this to sweeten rich cakes and desserts. In addition, golden syrup is consumed in ways such as:
Drizzling over pancakes, granola, warm bread, scones, and cut fruit
Sweetens desserts like tarts
Added to beverages like tea, coffee, and iced tea
03- Corn Syrup
Corn syrup is made from refined corn starch by putting through the wet starch to enzymatic hydrolysis or acid, which transform the starch into maltose, dextrose, and dextrins. There are two main types of corn syrup: dark and light. 
Dark corn syrup contains molasses, resulting in a more profound, decadent sweetness and caramel coloring, while light corn syrup is transparent, milder in sweetness, and often vanilla-flavored.
High fructose corn syrup (HFCS) that you might find in many commercially prepared sweets, candies, soft drinks, etc., is different from what you get to buy from the local stores. This corn syrup has a more potent sweetness and naturally occurring fructose, while it can be harmful to health when consumed in large amounts.
Uses
Light and dark corn syrup are used in general cooking or baking in ways such as:
In making homemade ice creams, sorbets, and pies
In commercial bakery-items and condiments like jams and jellies
To make candies, chocolates, fudges, and biscuits
In making frostings like fondant
04- Molasses
Molasses is a product of the sugar cane and sugar beet refinement processes. It is usually more sticky and thick than other sweeteners like honey, maple syrup, agave syrup, etc. This is the ingredient in brown sugar that provides it with its characteristic color, flavor, and moisture. 
The most refined molasses is known as "blackstrap" and is particularly called for in recipes where a more concentrated flavor is expected. This type is lower in sugar and higher in mineral and vitamin content than regular molasses.
Uses
Molasses  is popularly used in the Caribbean and southern United States to add moisture, texture, and crust to baked goods such as:
Dark bread
Cookies
Gingerbread
Pies
Rich puddings
Molasses is also incorporated into savory preparations like marinades, sauces, and baked beans. In addition, this is even used to make rum.
05- Maple Syrup
Maple syrup is a natural sweetener derived from the concentration of the sap of the maple tree. In early spring, maple trees are dabbed, the sap is gathered, then it is simmered into a decadent, flavorful syrup. 
This syrup is widely used in the northeastern states of America and mainly in Canada. You can find different varieties of maple syrup, such as Grade A Golden, Grade A Amber, and Grade A Dark.  
Uses
This is commonly used as a condiment with:
Pancakes
Waffles
Oatmeal
Other breakfast meals
At the same time, this is also incorporated into other sweets and used to sweeten glazes, salad dressings, sauces, vinaigrettes, and many other savory foods.
06- Agave Syrup
Agave syrup (also known as agave nectar) is a naturally transpiring sweetener similar in texture to honey. It is extracted from different species of agave plant, which grows mainly in Mexico.
 Agave syrup is easily dissolvable, indicating its suitability to use in smoothies and cocktails. This syrup is a top pick by the vegan community to replace golden syrup or honey in their diets.
Uses
Agave syrup is excellent as a topping for bread, cereal, or pancakes. It can also be used instead of honey in dessert recipes. And it functions well in chewy bakes like sticky muffins, cakes, or flapjacks that are cooked at lower temperatures. You can also use agave syrup in salad dressings, dips, and vinaigrettes.
07- Fruit Syrup
Fruit syrups have recently become popular in many places since it has been broadly picked as a substitute for sugar. Traditionally, these syrups have been produced from overripe fruits like:
Apples
Pears
Pineapples
Lemons
The fruit is pressed to extract the juice, the color and fruit flavor are then removed, and the leftover juice is condensed to a clear syrup to be used as a sweetener. But sometimes, syrups from fruits like strawberry and blueberry maintain their flavor and color. 
Uses
These fruit syrups can be used in baking, beverages, dessert or breakfast toppings, sauces, marinades, and when making your own granola.
08- Flavored Syrups
This type of syrup is a massive hit in the beverage and liquor industry. If you visit a famous coffee shop, you can find a wide variety of flavored drinks that include:
Chocolate syrup
Caramel syrup
Vanilla syrup
Pumpkin pie spice syrup
Hazelnut syrup
Coffee syrup
Butterscotch syrup
Lavender syrup
Rose syrup
Accordingly, these syrups include:
Simple syrup
Flavors (chocolate, vanilla, spices, herbs, flower extracts, etc)
Uses
These syrups are primarily used in household and commercial preparations such as sweetening and flavoring:
Ice creams
Glazes
Breakfast meals
Alcoholic and non-alcoholic beverages
These are also widely used in restaurants and bars to jazz up cocktails.
Is Syrup A Condiment?
Syrup is both a condiment and an ingredient since it is used during the preparation of a particular dish and after it is served. 
If you need to know what a condiment is and the difference between sauces, dips, and condiments, click on this link and refer to this article.
Is Syrup Vegan?
The answer to this question is a bit controversial. Some could say that all the syrups which come from a plant sauce can be vegan-friendly. But, some sources also claim that although syrups derive from plant sources, non-vegan ingredients like animal fat could be included in the process. 
However, agave syrup is considered a popular pick by vegetarians and vegans. However, still, we suggest that you should always make sure to inquire from the relevant parties before purchasing any syrup from the store.
Is Syrup Keto-Friendly?
Most syrups are high in sugar, so they won't be a favorable choice for keto dieters. However, you'll be able to find certain sugar-free syrup types. But still, we recommend you to consume any kind of syrup moderately if you are strict on your diet.
Does Syrup Contain Gluten?
Most commercially prepared syrups might have a probability of containing traces of gluten. So, always check the list of ingredients before buying if you track a gluten-free diet or have conditions like Celiac disease.
SpiceRally's Thoughts About Syrups…
Syrup is nothing alien to Western cuisine and many other parts of the world. This viscous, thick, flavorful liquid ramps our dishes, coming in a variety of different flavors. Syrup acts as a condiment and also as an ingredient in our daily dishes and is considered a staple in baking and most fancy beverage preparations.
Related Topics