Mexican food is dynamic and colorful, making the most of fresh produce, aromatic herbs, and assertive spices to produce vibrant flavors. Here's a complete guide to Mexican herbs that create traditional dishes.
Commonly used Mexican herbs used to spike up their dishes include the following:
Cilantro
Mexican oregano
Epazote
Basil
Mexican thyme
Spearmint
Mexican mint marigold
Avocado leaf
Laurel (Mexican bay leaves)
Hoja santa (Mexican pepper leaf)
Parsley
So are you ready to get familiarized with the herbs that define delicious Mexican dishes? Here we go!
A Complete Guide To Essential Mexican Herbs- The Nature's Magic In Traditional Mexican Dishes
Mexican gastronomy is complex and ancient that runs back centuries, with strategies and skills developed over the years of history. This is one of the significant reasons Mexican cuisine has ranked as one of the top cuisines in the world.
Their dishes are typically elaborate and come out as vivid, flavorful, and aromatic recipes. The exciting flavor profiles of most authentic Mexican dishes are actually the final result of many essential ingredients, which particularly comprise spices and herbs.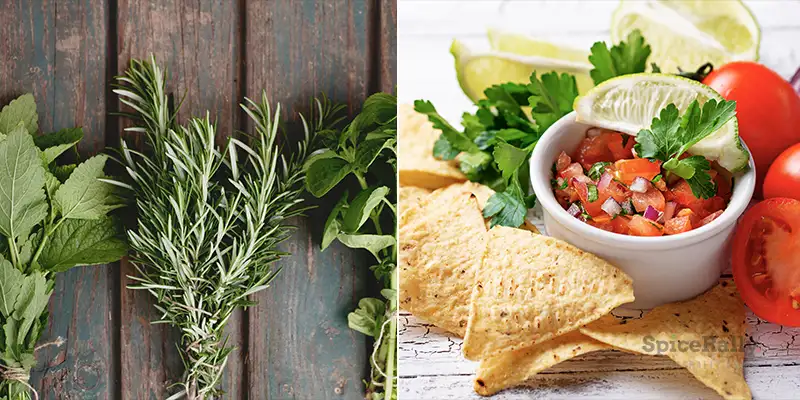 The culinary art of this country is broadly diverse, varying in terms of region and household. However, almost every household or restaurant is no short of fresh and dried herbs, especially in authentic savory preparations.
Some herbs essential to Mexican cooking derive from the Old World, namely cilantro, spearmint, and Mexican thyme. But, most other herbs familiar to Mexican cuisine are zonal natives that have been used to add flavor to the traditional recipes of indigenous people for thousands of years.
01- Cilantro
Cilantro has a steady presence in the food and culinary culture of Mexico. It is readily available and continues to be a highly exported herb around the world.
This herb has become one of the classic taco toppings, along with diced onions. It is also an ideal herb preference because it pairs well with both seafood and meat. This makes it a versatile option for a broad spectrum of popular Mexican dishes.
The fresh, citrusy, and bright flavor of cilantro turns out to be one of the best herbs to pair with the bold spiciness of many authentic Mexican dishes. Some of them that feature cilantro as a main ingredient include the following:
Mexican Cilantro Sauce
Mexican Cilantro Lime Rice
Tacos
Carne Asada al Cilantro
Salsa
Mexican Baked White Fish in Cilantro Sauce
Mexican Cilantro Pesto
Cilantro possesses some impressive health benefits for those who enjoy this herb in their favorite dishes. They are as follows:
Rich in Vitamin C and A
High in anti-inflammatory properties
It helps control free radicals and blood sugar
Alleviates digestive issues
It helps with nausea and heartburn
02- Mexican Oregano
While this is another staple ingredient in Mexican cooking, it is known for its characteristic earthy flavor with hints of lemon, citrus, and licorice. This versatile herb has been used for centuries in conventional Mexican and Tex-Mex cuisines, adding profundity and sophistication to a wide range of dishes.
This herb's flavor profile perfectly matches the chile peppers used in the bulk of traditional Mexican dishes. While Mexican oregano can be eaten raw, it tastes much better in its dry state. Rub the leaves between your fingers before using them to enhance the flavor. This will start to discharge the flavor concealed in the leaves.
Here's a list of traditional Mexican recipes that include this herb:
Pozole
Queso Birria tacos
Carnitas
Mexican chorizo
Chipotle fajita veggies
Calabacitas
Papas a la Mexicana
Tortas ahogadas
Panuchos
Tortas ahogadas
Mexican oregano is not only known for its culinary applications but also for its therapeutic properties. As with most herbs, it contains a plethora of vitamins and nutrients. It can help your body in ways such as:
Decrease inflammation
It helps to fight bacteria
Reduces viral infections
Contains anti-cancer properties
Lowers high blood pressure
03- Epazote
Epazote, pronounced as "eh-pah-ZOH-teh," is a large, leafy fragrant herb that is used in Mexican cooking, especially in Central and Southern Mexico. It is usually used to add flavor to dishes like pinto beans, black beans, soups, and stews.
Epazote lends a distinctive taste, almost medicinal and pungent, along with strong notes of mint, anise, camphor, and eucalyptus. And its aroma is described as having an intense petroleum note. Mexicans typically recognize this herb as something irreplaceable in many of their traditional dishes, such as:
Tamales
Quesadillas
Chicken pozole verde
Salsa de Epazote
Frijoles de la Olla
Mexican Chilaquiles Verdes
Mushroom and Epazote Queso Fundido
Along with the characteristic element this amazing herb gives your Mexican dishes, it also adds up to your health in the following ways:
It does contain fiber, b vitamins, and antioxidants
Contains gastrointestinal effects
It may promote weight loss
It helps to treat worms
Improves metabolic activity
04- Basil
Sweet, pungent, and slightly spicy basil is a benevolent companion to Mexican cuisine. This herb is widely used in tomato-based dishes and Mexican soups. The delicious herbal note of basil is also incorporated into beverages to make refreshing drinks. Basil features in traditional Mexican dishes such as:
Mexican Basil Rice
Watermelon and basil Mexican Agua Fresca
Chile and basil quesadillas
Basil pesto
Basil chimichurri
Birria tacos
Mexican black beans
Basil guacamole
This herb also contains the following health benefits:
Detoxifies the body
Boosts digestion
It helps maintain skin health
Fights against cancer cells
Improves heart health
05- Mexican Thyme
Mexican thyme is actually an African herb that was brought to Mexico by the Spanish. Since then, this herb has been a favorite and one of the essentials featuring various authentic Mexican recipes.
This is also called Cuban oregano, with a robust oregano-like flavor and notes of regular thyme and eucalyptus. It is often paired with meat in its fresh or dried forms. Some popular Mexican recipes that contain Mexican thyme include the following:
Chicken tinga
Mexican rice
Mexican casseroles
Asado de Puerco (Mexican Pork Stew)
Mexican Taco Al Pastor
Mexican Birria
Elotes Corn Salad
Have the following health benefits by adding this herb to your regular diet:
It contains anti-inflammatory, antimicrobial, and antiseptic properties
Speeds up the healing process
Boosts immunity
Helps with acne
Controls high blood pressure
06- Spearmint
The cool, bright, refreshing flavor of spearmint adds a delicious touch to many savory and sweet Mexican dishes, along with beverages.
The unexpected menthol-like flavor of this herb gives a contrasting taste to many recipes, paired with some robust spices, cream-based ingredients, and sweeteners. Spearmint introduces a different dimension of flavor to traditional Mexican dishes such as:
Mexican Mojito
Sopa de Verduras (Mexican vegetable soup)
Authentic Chicken Tacos with Mint Salsa
Mexican Paletas
Albóndigas with masa
Caldo de Pollo (Mexican Chicken Soup)
With the fresh taste and aroma of spearmint, it also boasts various health benefits as follows:
Helps with digestion
Improves memory
Lowers blood sugar
Lowers high blood sugar
07- Mexican Mint Marigold
Mexican mint marigold is a plant that looks similar to marigolds and is used as a symbolic herb in Mexican cuisine. This is often listed as an alternative to the French tarragon.
Mexican mint marigold is versatile and provides beautiful fall-colored yellow flowers. The leaves have a fragrance similar to licorice or anise. This is native to Mexico and Southwest US, and both the flowers and leaves are edible while they are often used in teas, salads, fish, and poultry dishes.
Here's a list of Mexican recipes made using Mexican mint marigold:
Peach and Mexican Mint Marigold Shrub
Beet and Carrot Soup with Mexican Marigold
Foil Baked Fish With Mexican Mint Marigold
Grilled Lamb Loin Chop with Mint Marigold Pesto
Lemon Sorbet with Mint Marigold Syrup and Meringue Bark
With the amazing flavor profile of this herb, you'll also reap its health benefits as follows:
Kills intestinal parasites
Soothes upset stomach
Relieves diarrhea
Eases menstrual cramps
Words as a general tonic for healing
08- Avocado Leaf
Avocado leaves are commonly known as "hoja de aguacate" in Mexican cuisine. This is another exotic ingredient that is often associated with many traditional Mexican and Latin American dishes. This herb can be used dried, fresh, or toasted.
This herb is widespread throughout Central and Southern México with a subtle anise flavor. The bold, slightly bitter, and pungent taste of avocado leaves intensifies when toasted as they release their natural oils. Thus, most Mexicans prefer using this herb this way.
However, both toasted and fresh leaves are added to bean dishes, soups, moles, and stews. They are also layered into casseroles, used as a base for roasting meats, and wrapped around chicken, fish, and other types of meat when grilling. Look at some popular traditional Mexican recipes that include avocado leaves:
Avocado Leaf Crusted Tuna Taquitos
Pork Barbacoa with Avocado Leaves
Patricia Quintana
Enfrijoladas
Mexican Carnitas
Mexican Tlayudas
Asado de Puerco
Avocado leaves not only upgrade your dishes but also add tons of health benefits. They are as follows:
Contains immunity-boosting properties
Promotes a healthy heart
Enhances blood circulation
Lowers blood pressure
Reduces hypertension
09- Laurel (Mexican Bay Leaves)
Mexican Bay Leaf (Litsea glaucescens), or Mexican Bay Laurel, is the bay leaf grown in Mexico and chosen for Mexican cooking. It is not the same kind typically found in the US (Laurus nobilis), which is a more robust, more harsh-tasting bay leaf than the mild Mexican version.
Dried laurel is usually simmered in slow-cooking liquids, including stews, soups, curries, and sauces, releasing their unique flavor and aroma as they cook. Bay leaves do not soften while cooking; therefore, they are often removed from the liquid afterward, as they will be harsh and distasteful to eat.
Some authentic Mexican dishes with Mexican bay leaves include the following:
Chicken tinga
Pescado a la Veracruzana
Salsa Roja
Frijoles De La Olla (Mexican-Style Pot Beans)
Carnitas
Birria
Mexican adobo sauce
With the unique flavor quality of laurel, it is also prized for its many health advantages. Here we go with a few:
Boosts immunity
Promotes healthy digestion
Reduced high blood sugar
Protects against oxidative stress
Promotes wound healing
10- Hoja Santa (Mexican Pepper Leaf)
The name Hoja Santa literally means "sacred leaf" in English. The leaves of the hoja santa plant are unsubdivided with a smooth, thick, and velvety texture. Though hoja santa can be found throughout Mexico, it is commonly used in the south.
Mexican cooks use hoja santa mindfully because of its powerful, unusual, distinctive taste. They are used fresh and dried in many different ways in traditional Mexican cooking, from tamales to soups. It is also wrapped around seafood and meat as an edible wrapper.
These wrappings keep what's inside moist and also infuse the filling with its exotic flavor. The flavor of this herb can be further described as eucalyptus-like with a tinge of mint. Some even find it similar in taste to anise with a combination of allspice and black pepper.
This interesting flavor profile adds up to traditional Mexican dishes such as:
Mole Verde
Frijoles negros
Tetelas
Chochoyotes
Quesadillas de hoja santa
Pozole Mixteco
Like any other herb, hoja santa also contains some notable health benefits. They are as follows:
Provides digestive aid
Relieves pain
Used as a topical treatment for skin irritations
Treats bronchial infections and asthma
11- Parsley
Parsley is one of the basic Mexican herbs that is used across almost every part of the country. Flat-leaf parsley is often incorporated into cooking, while curled-leaf parsley features a great garnish like it has always been!
Among the robust and intense aromatics used in Mexican cuisine, parsley is actually a mellow herb with a clean, bright, subtle flavor profile.  It also helps to bring out the visual appeal of the food with its vibrant green color. Here's a list of some popular Mexican dishes that use parsley:
Chimichurri Sauce
Pico de Gallo
Gremolata
Arroz Verde
Chiles en Nagoda
Chilaquiles
Parsley pesto
Enjoy the following health benefits of this herb while you add it to your regular diet:
Reduces bloating
Promotes bone health
A powerhouse of vitamin K
High in antioxidants
Lowers high blood pressure
Flat-leaf parsley in your homemade meatballs can undoubtedly make a tasty twist. Click on this link and refer to this article to get a simple recipe to make a super flavorful spicy meatball recipe with parsley!
How Does Each Mexican Herb Pair With Other Ingredients?
Incorporating botanicals with other essential ingredients that are required to make traditional Mexican dishes should be done skillfully. And it seems that the Mexican chefs are very competent in doing so since we usually savor a well-balanced flavor in their dishes.
Mexican herbs are mainly paired with a variety of spices to create exotic flavor profiles. If you're interested in learning what those spices are, we have shared an informative article with a complete guide to Mexican spices.
However, although spices and herbs play a significant role in most dishes together, there are many other ingredients you should know to pair with the herbs. Look at the table below to discover what those ingredients are.
| Herbs | Ingredients that go well |
| --- | --- |
| Cilantro | Shrimp, steak, lamb, chicken, seafood, lime, corn, chiles, garlic, ginger, carrot, avocados, cumin, bell pepper |
| Mexican oregano | Beans, chicken, beef, salmon, shrimp, onions, garlic, ginger, paprika, chiles, lemon, bell pepper, corn, cauliflower, eggs |
| Epazote | Different types of cheese, pork fat, chipotle peppers, onion, garlic, pinto beans, squash, corn, cumin, black beans, anise seeds, lime, oranges |
| Basil | Tomatoes, parmesan cheese, olive oil, apricots, asparagus, broccoli, Brussels sprouts, mushrooms, lemon, garlic, chicken, fish |
| Mexican thyme | Lamb, chicken, tomatoes, potatoes, seafood, eggs, cheese, coriander, ginger cumin, peas, carrots, beans, cloves, creamy ingredients |
| Spearmint | Allspice, coriander, cumin, paprika, pecans, butterscotch, whipped cream, chocolate, coconut, chiles, lime, watermelon |
| Mexican mint marigold | Fish, dijon mustard, mayonnaise, celery, lamb, carrot, beets, balsamic vinegar, olive oil, tomatoes, berries, honey, lemon |
| Avocado leaf | Black beans, avocado, onions, olive oil, bell pepper, garlic, sweeteners, tomatoes, cheese, creamy ingredients, fish, chicken, eggs |
| Laurel (Mexican bay leaves) | Allspice, ginger, garlic, onions, lemon, orange, seafood, chicken, pork, beef, lamb, pinto beans, black beans, chiles |
| Hoja santa (Mexican pepper leaf) | Different types of cheese, onions, chiles, tomatoes, corn, bell peppers, vanilla, syrups, honey, meat, fish |
| Parsley | Brussels sprouts, cucumber, eggplant, corn, onions, tomatoes, beans, grapefruit, chicken, pork lamb, seafood, eggs, ham, potatoes |
What Are The Traditional Mexican Herbs?
As we mentioned earlier, the culinary diversity of Mexico is woven around the flavorings, seasonings, and aromatics used in them. In fact, it is one main reason for them to receive world recognition among many cuisines around the world.
Although Mexicans build their flavors using some basic herbs, they have also become selective enough to choose some traditional herbs to create their wonderful dishes. These traditional herbs include the following:
Cilantro
Mexican oregano
Mexican thyme
Laurel (Mexican bay leaves)
Hoja santa (Mexican pepper leaf)
Epazote
Mexican mint marigold
Avocado leaf
Use Mexican Herbs To Give The Authenticity To Your Mexican Dishes!
Your love for Mexican food might not be limited just to one dish, as the cuisine itself is an adventure with a spectrum to explore. Hence, as we have detailed throughout our article, the herbs used in Mexican food have a remarkable role to play, especially when you need to get an authentic touch. Accordingly, cilantro, epazote, avocado leaves, Mexican oregano, hoja santa, etc., will help create an excellent flavor profile while upgrading the recipes, protecting their Mexican identity.
Related Topics