Thanksgiving is one of the most blissful events of the year, and we all need to celebrate in a special way. So, here're the best spices and herbs for Thanksgiving that'll make delicious meals to celebrate the day!
The essential spices and herbs that you should have on hand to prepare Thanksgiving meals are as follows:
Read along to check out how these ingredients could transform your kitchen into a real extravaganza!
The Best 11 Spices And Herbs For Thanksgiving
Meals prepared on Thanksgiving dinner are probably the most indelible moments of the day. So, we all like to come up with something traditional, memorable, and flavorful that could last throughout the year. 
When it is the beginning of the holidays, you might want to stock up on the essentials if you have already planned the dinner ahead.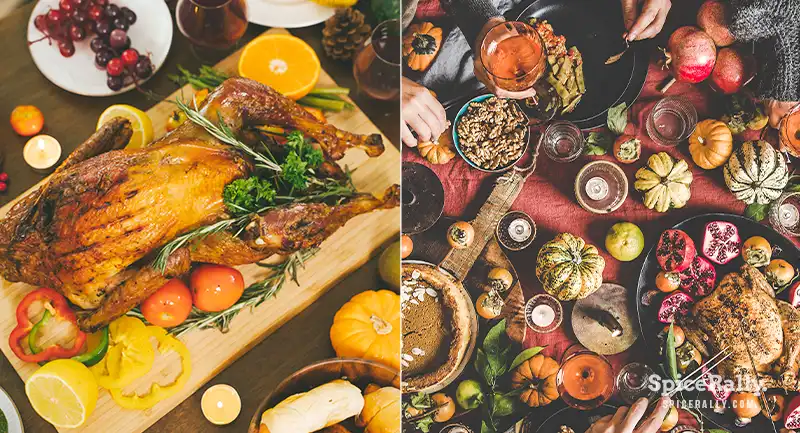 Whether you roast a turkey, make mashed potatoes and gravy, or bake pies, these spices and herbs will leave a lingering flavor and aroma, reminding you how important Thanksgiving is. Hence, since Thanksgiving is almost here, let's see what quintessential spices and herbs you need to restock or purchase anew.
Essential Spices For Thanksgiving ~
01- Cinnamon
Cinnamon-flavored dishes aren't new throughout Thanksgiving., The warm, distinctive flavor of this spice is iconic in the fall season. The characteristic warmth of cinnamon reminds us that we need to get cozy with our family in preparation for the upcoming colder days.
Ground cinnamon is a ubiquitous ingredient in pumpkin pie spice mix and apple pie spice mix. Whole cinnamon sticks are even used in the procedure of cooking down and spicing cranberry sauce. Cinnamon packs tons of health benefits, so we hope you wouldn't think twice about indulging in meals spiced up with ground cinnamon or cinnamon quills.
Some of the common ideas for Thanksgiving preparations that include cinnamon are as follows:
Sweet Potato Pie
Cranberry-apple Cobbler with Biscuits
Pumpkin Bundt Cake
Gingerbread Bundt Cake with Maple Cinnamon Glaze
Thanksgiving Salad with Cinnamon Cider Vinaigrette
Cinnamon Roll Turkeys
02-  Allspice
The interesting flavor profile of allspice enriches the cheerfulness of Thanksgiving. This spice is notable since it combines the flavors of nutmeg, cinnamon, and cloves with a warm, spicy hint. 
It could fill your home with holiday fragrance while adding depth to many Thanksgiving desserts like pies, cakes, puddings, and also savory preparations such as seasoning turkey and gravy. Some of the other popular recipe ideas with allspice include:
Roasted Carrots |with Allspice
Spiced Sweet Potatoes
Cranberry Sauce
Apple Brandy Allspice Fizz Cocktail
Allspice Grilled Squash
Did you know that both allspice berries and leaves are incorporated into cooking? Click here and read our detailed article for more information.
03- Cloves
Intensely warm, spicy, and incredibly fragrant cloves are the little guys that make rocking Thanksgiving meals! This spice is incorporated into a number of sweet, savory, and beverage preparations thanks to its vibrant warmth and ability to pair well with other warmly-spicy ingredients.
The robust taste of cloves, along with nutmeg, allspice, and cinnamon, brings fervor to traditional Thanksgiving desserts like bread pudding and pumpkin pie. Whole and ground cloves can also make it up in savory dishes like dumpling stew, turkey brine, and chicken.
Here are some more preparations that include cloves:
Honey Baked Ham with Cloves
Cranberry Sauce with Ginger and Cloves
Thanksgiving Hot Toddy
Classic Sweet Potato Pie
Orange and Clove Basque Cheesecake
04- Nutmeg
Nutmeg serves as much as cinnamon, allspice, and cloves in most Thanksgiving recipes. Freshly shaved portions of nutmeg or pre-packaged ground nutmeg are considered essential during the fall since this spice brings a characteristic warm, nutty sweetness regardless of whether you make sweet, savory dishes or beverages.
This is one of the basic ingredients in pumpkin pie spice mix, and it also adds to the flavor of several other desserts, baked goods, and savory dishes. Some common nutmeg Thanksgiving recipe ideas are as follows:
Thanksgiving Deviled Eggs
Nutmeg-Maple Cream Pie
Thanksgiving Beets
Swede Nutmeg Cake with Brown Butter Frosting
Apple Moscow Mule Mocktail
Nutmeg is an ideal seasoning for chicken dishes you make for Thanksgiving. And there are many other Spices you can use to flavor your favorite chicken dishes. Click here to discover more!
05- Ginger
The warmly spicy nature of ginger is such a blessing in disguise to spice up and give a distinctive kick to most festive meals. Zestful ginger teams up pleasingly with other warm spices like cinnamon, nutmeg, allspice, and cloves to create layers and layers of flavor in a variety of Thanksgiving meals.
This spice is widely used in its ground or fresh forms to flavor dishes like the classic Thanksgiving cranberry sauce, glazes, meat dishes, desserts, drinks, etc. So, here are a few iconic dishes that feature ginger on Thanksgiving:
Orange-Ginger Glazed Turkey
Cranberry, Ginger, and Orange Chutney
Green Beans With Ginger and Garlic
Juniper Brined Turkey With Ginger-Scallion Butter
Sparkling Cranberry-Ginger Cocktail
Click on this link if you need more information about ginger and its uses.
06- Black Pepper
Make sure you immediately restock black pepper this Thanksgiving since this spice is the universal seasoning that you'll be going to use with salt! Whole black peppercorns make perfect brines and give a wonderful flavor when used in braises and simmered with hot liquids.
The unique pepperiness and woody, earthy, warm, and piney flavor notes go perfectly with any savory and spicy Thanksgiving preparation. A pinch of black pepper could introduce a distinctive flavor dimension to certain desserts and also makes decadent flavor twists in some beverages. 
Check out these Thanksgiving recipe ideas that include black pepper:
Black Pepper-Pomegranate Molasses Glazed Turkey
Cornmeal Bao With Turkey and Black Pepper Sauce
Gruyère and Black Pepper Scones
Polenta With Rosemary and Black Pepper
Cranberry Rosemary Shrub Cocktail
Essential Thanksgiving Herbs ~
01- Sage
Thanksgiving-turkey-sage, they share an intimate bond that we'll never understand! Some would even say, what's Thanksgiving without sage? The herb has an assertive flavor with touches of mint, lemon, and eucalyptus. It also has a powerful aroma that doesn't get sunk easily, which indicates that sage works pretty handy in rich dishes with flavorful ingredients.
Sage combines well with other herbs like rosemary, thyme, parsley, bay leaves, etc., when it comes to making homemade seasoning blends. You can use fresh sage to stuff turkey or create a magical flavor and aroma in pumpkin soup by slightly crisping them with butter. Fresh sage leaves are also incorporated into particular cocktails with other fruits like orange, lemon, or pineapple.
Here are more delicious sage-infused Thanksgiving recipes:
Classic Sage and Sausage Stuffing (Dressing)
Oven Roasted Turkey with Sage Butter
Slow-Cooked Pork Shoulder with Braised White Beans
Braised Chicken With Apples and Sage
Fresh Gin Sage Cocktail
02- Rosemary
Rosemary is known for its distinctive, subtle flavor profile, and probably, little rosemary could go a long way in our dishes. Therefore, this herb is used either dried or fresh to combine with the merrymaking flavor combination of Thanksgiving. Rosemary has a wonderful aroma and a distinguishable lemon-pine taste.
You can place rosemary sprigs inside your turkey or extract the leaves, chop them finely with thyme and sage and then rub your turkey with the herb blend. In addition, you can also stir a spoonful of freshly chopped or dried rosemary into the mashed potato to give an awesome tweak. Or else, scatter it over heated goat cheese prepared for salads or as a cracker spread.
Check out these recipes that include rosemary to get inspired on behalf of the upcoming Thanksgiving:
Festive Roast Turkey with Rosemary, Garlic, and Lemon Sauce
Rosemary Roasted Potatoes
Rosemary Garlic Butter Roasted Artichoke Halves
Garlic Rosemary White Bean Dip
Rosemary Gin Fizz Cocktail
03- Thyme
The comforting nature of thyme creates a nostalgic flavor in Thanksgiving preparations. This herb has a noticeable flavor with floral and earthy undertones, offering a nuanced pepperiness to both stuffing and turkey. Specifically, the aroma and oils of thyme acquire their greatest potential when given enough time to simmer. Therefore, it is ideal for the protracted process of roasting or baking a turkey.
The extent of the herb combination of thyme is perfect, pairing well with sage, rosemary, bay leaves, and parsley accordingly. Although the herb is known for turkey stuffing, roasting, or in making gravy, it also creates a bright herbal note in other dishes, including certain Thanksgiving beverages and sweet preparations.
Here's a list of thyme-infused recipes that might give you an idea for your Thanksgiving dinner:
Creamy Lemon Chicken with Thyme
Thyme Skillet Potatoes
Baked Apples and Pears with Thyme and Maple
Lemon Thyme Lemonade with Mint
Roasted Butternut Squash Halves with Thyme Honey Butter
04- Bay Leaves
Perfumed bay leaves won't be used ubiquitously during Thanksgiving, but they add a profundity of flavor that should be addressed when making a wet brining or turkey stock. This herb is not incorporated as others like sage, thyme, or rosemary. But it has a buildable flavor that could equate with cozy Thanksgiving dishes.
Bay leaves are piquant in flavor with a slightly floral touch. They are used sparingly in most recipes and often removed after the cooking process is completed. In addition to stocks and brines, this herb is also used to add flavor to sauces, gravies, and stews.
Here're a few recipes made with bay leaves:
Bay and Lemon Brined Turkey
Bay Leaf and Honey Glazed Turkey Recipe
Roasted Potatoes with Olive Oil and Bay Leaves
Carrots Sautéed in Bay Leaf
05- Parsley
Last but not definitely least, Thanksgiving meals are sort of incomplete without a touch of parsley! This herb is used as much as rosemary, thyme, and sage as an ingredient and also as a garnish. Most often, curl-leaf parsley is used for garnishing, while flat-leaf parsley lends a clean, bright, herbal, slightly peppery flavor to most Thanksgiving staples.
Parsley is excellent for stuffings, stirring into roasted vegetables, or incorporating with soups, casseroles, and stews. Check out this brief list to get an idea about the dishes that come together with parsley:
Quick-Roasted Turkey with Parsley-Caper Sauce
Roasted Rainbow Carrots with Herbs
Thanksgiving Slaw
Classic Thanksgiving Dressing With Parsley, Sage, and Thyme
Sage Cranberry Parsley Mocktail Drink
It Is Certain That You Wouldn't Miss Out On Any Of These Spices And Herbs This Thanksgiving!
Thanksgiving is definitely one of the most awaited moments in the fall since we know we get to relish tons of specialties. Throughout our article, we tried to enlighten you with the essential spices and herbs you should have in your pantry this season. 
Thus, spices like cinnamon, cloves, nutmeg, cloves, and herbs such as sage, rosemary, thyme, parsley, etc., are excellent ingredients to have on hand to make scrumptious meals for your family and guests in this celebrational moment!
We wish you and your family a Flavorful Thanksgiving!
Related Topics