Asian cuisine has always been a place that has done a vast yet wonderful twist in the food industry. So, in this episode, we will talk about another so-called "incredibly flavorful" dish- Assam laksa!
Assam laksa is a popular spiced soup in Malaysia that is also widely enjoyed by Singaporeans and Indonesians. This soup has many regional variants, but some common ingredients are still included. They are:
Spice paste (Assam laksa curry paste)
Tamarind
Daun kesom (Vietnamese coriander)
Asam keping
Bunga kantan (torch ginger flower)
Fish
Laksa noodles
Sweet shrimp paste, calamansi, lettuce, cucumber, etc. (as the topping)
Read along if you need to discover the most interesting facts about your favorite Assam laksa and its ingredients.
Assam Laksa And Its Ingredients
Assam laksa is a unique noodle soup closely associated with Malaysian cuisine. Even though this soup has wide regional varieties, Penang Assam Laksa is the most widely consumed type. In addition to Malaysia, countries like Singapore, Indonesia, and Thailand also enjoy this dish as one of their favorites.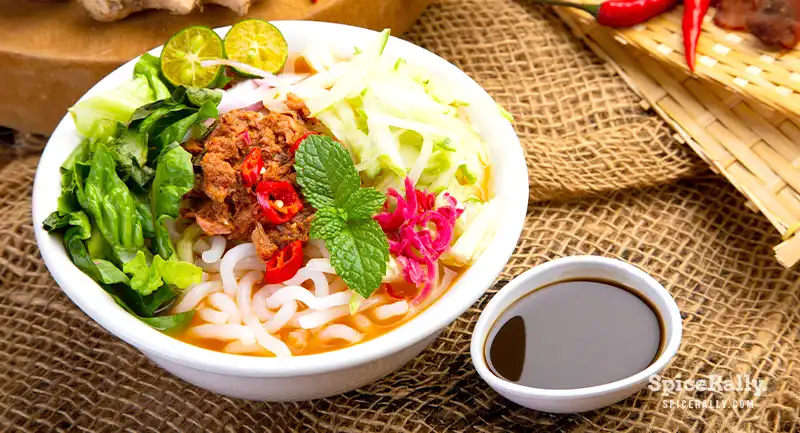 You will savor exotic flavors in this soup with a more sour, spicy, and complex taste. The sour taste is attained with tamarind and Asam keping (dried slices from a type of mangosteen). We can say it is nothing like the regular soup recipes we make, which could be one reason why Assam laksa was ranked second in CNN's List Of 50 Best Street Foods In Asia.
The actual origin of Assam laksa is unknown. Still, it is believed that it originated in the coastal regions of Malaysia among the local fishermen who assembled the dish from available ingredients. Throughout history, this soup developed into the Assam laksa we know today. So, let's peek at the ingredients that make this specialty so impressive.
Spices And Herbs In Assam Laksa
Spice Paste (Assam Curry Paste)
Most spices and herbs used in Assam laksa are mainly integrated into a curry paste. In fact, this is the base flavoring and key to the tasty outcome of laksa broth. There are some essential herbs and spices used in almost every Assam laksa curry paste, and they are:
Red chilies
Turmeric
Galangal
Lemongrass (sometimes lemongrass is stirred with the stock as whole stalks without incorporating it with the curry paste)
In addition to these ingredients, this curry paste also includes shallots and belacan.
Click here and check this article out to discover every important detail about the two types of curry pastes used for Assam laksa and curry laksa.
Tamarind Usage In Assam Laksa
This spice is one of the most exceptional ingredients in this dish to get its characteristic sour taste. Either tamarind paste or concentrate goes into flavoring the broth. This spice also adds a subtle sweetness to Assam laksa with its signature tartness.
Daun Kesom (Vietnamese Coriander)
This herb is another special flavoring used particularly in most Southeast Asian cuisines. Daun kesom, aka Vietnamese coriander, is also known as Vietnamese mint or hot mint due to its lemony, peppery, and spicy flavor. It essentially enhances this dish's depth and  "exotic" quality with its nuanced flavor profile.
Exotic Ingredients Used In Assam Laksa
As mentioned previously, Assam laksa is a very popular street food in Malaysia. Therefore, a few exotic ingredients used in Malaysian cuisine specifically flavor this soup to add a uniqueness from other regular soup dishes.
Asam Keping
Asam keping, also known as Asam gelugor, is the next important ingredient in this dish, responsible for the sourness of the laksa broth. They're basically sun-dried slices of fruit from the Asam gelugur Garcinia atroviridis tree, native to Malaysia, and the rind of this fruit is particularly sour. It is cut into thin slices, dried, and added to recipes like Assam laksa, which calls for a tart flavor profile.
Bunga Kantan (Torch Ginger Flower)
Being another exotic, Bunga kantan or the torch ginger flower is widely used in Malaysian and Nyonya cooking as a spice. It is fragrant and gives a distinctly sweet, flowery, pungent flavor. These flowers are directly used to taste the broth or chopped and used as a topping for Assam laksa.
Other Essential Ingredients In Assam Laksa
Fish
Assam laksa is known for its sour, spicy, and fishy broth. Thus, fish is a vital ingredient in a wide variety of this dish. In the traditional Malaysian Assam laksa, Indian mackerel (ikan kembung) is their best pick for broth. 
In addition, they also use other types of mackerels, like Spanish mackerel, and go for sardines or skipjack tuna (ikan tongkol). After the whole fish is boiled to make the broth, the meat is flaked from the bones and incorporated into the broth or used as a part of the topping.
Laksa Noodles
A broad, rice noodle variety known as laksa noodles is most commonly used in traditional Malaysian Assam laksa. But there are also variants with regular rice noodles, vermicelli, egg noodles, yellow noodles, and wheat noodles.
Toppings
The toppings used in this dish could depend on the variant. But still, there is a set of common ingredients often featured as toppings in a traditional Assam laksa. And they are:
Sweet shrimp paste
Calamansi (a type of tangerine native to Asia)
Cucumber
Pineapple
Red chilies
Onions
Bunga kantan
Is Assam Laksa Vegan?
Traditionally, Assam laksa is made with a fish-based broth, and therefore, it is not vegan-friendly. But nowadays, you can find vegan variants of this soup. So, if you are vegan and want to try this dish, you can go for a simply-made vegan Assam laksa option.
Is Assam Laksa Keto-Friendly?
The noodles used for Assam laksa could contain a considerable amount of carbs. So, if you are tracking a strict ketogenic diet, we suggest having this dish moderately.
Does Assam Laksa Contain MSG?
Artificial flavor enhancers like MSG are not a traditional ingredient in this soup. But the Assam laksa curry paste you buy from the store might contain MSG. In addition, sometimes, restaurants could use this ingredient to boost the broth's flavor. So, inquire from the relevant places before purchasing if you are concerned.
Does Assam Laksa Contain Gluten?
Assam laksa is traditionally a dish without any gluten-related ingredients. But, certain recipes could contain wheat noodles, and the curry paste also might have traces of gluten. So, it is better to check before buying if you are sensitive to gluten or following a gluten-free diet.
A Hearty Bowl Of Assam Laksa Can Be A Real Life-Changing Experience!
It might be clear to you that Assam laksa is not an ordinary soup we regularly enjoy if you did not miss a single word in our article. Its familiar and exotic Southeast Asian ingredients, like the curry paste, fish, laksa noodles, Asam keping, Bunga Kantan, etc., make this dish extraordinary and incredibly flavorful!
Related Posts