Ground or minced beef has always been a family favorite that could be the base of many flavorful dishes. From chili to burgers and meatballs, beef is an absolute staple on the dinner table of many homes. Thus, we are delighted to share an epic homemade ground beef seasoning mix recipe from this episode.
Whenever you don't have time to run to the store, you can easily put everything together with the spices that are already in your pantry. So, let's get into mixing right away!
How To Make Ground Beef Seasoning? (Step-By-Step Guide)
In this recipe, pungent and aromatic spices get together to give you the divine taste of lean meat in every bite you enjoy. It is so much better than any store-bought option, and you have the feasibility to take control over any ingredient that goes in.
Preparation time- 05 minutes | Cooking time- 00 minutes | Additional time- 05 minutes
Step 01
Get ready with the required ingredients and equipment.
Spices and herbs needed:
If you are interested in discovering the best seasoning options for ground beef, click on this link and refer to this article.
Other ingredients:
Half a teaspoon of salt
Half a teaspoon of brown sugar
Required equipment:
A mixing bowl
A wooden spoon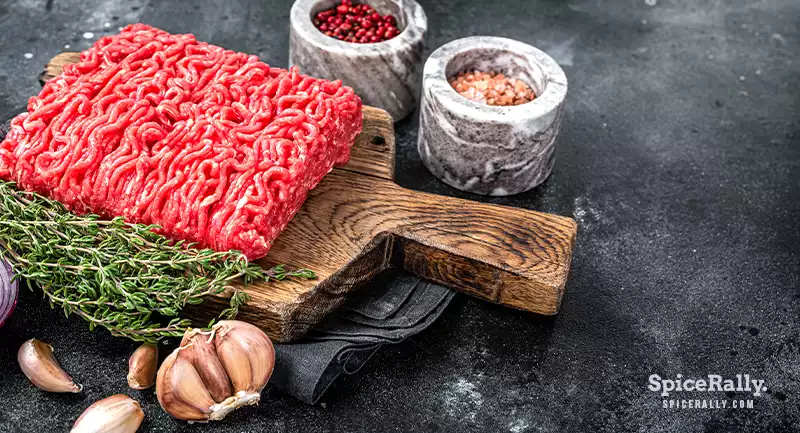 Step 02
Put all the ingredients into the mixing bowl and whisk everything together until well combined.
Step 03
Use to season your meat immediately or store in an airtight glass jar/container until you use it.
Tasty Notes…
Change the quantities of the ingredients depending on your taste preferences.
You can also use spices like ground coriander and ground ginger for extra flavor.
Any leftovers could be stored in a tight-fitting spice shaker or a bottle/container and stored with other spices in your pantry.
Related Topics