Hailing from Southern France, Herbes de Provence is a simple yet flavor-packed blend of herbs that will complement many dishes. So, here's a simple Herbes de Provence recipe for you.
You don't need any special ingredient to make this blend of herbs; it comes together effortlessly in under ten minutes. It is healthy, delicious and becomes the perfect complementary flavoring for many meat, fish, and vegetable dishes. So, let's get into mixing!
How To Make Herbes De Provence- Step-By-Step Guide
Together with the primary and key ingredients, we have included a few other additional herbs in our recipe to make it even better. You can use this Herbes de Provence blend to add a dynamic taste to your soups, grilled meat, roasted potatoes, and even flavor broths.
Preparation time- 05 minutes | Cooking time- 00 minutes | Additional time- 05 minutes | Yield- 15 tablespoons (about 01 cup)
Step 01
Get prepared with the necessary ingredients and grab the required equipment.
Herbs and spices needed:
01 tablespoons of fennel seeds
02 tablespoons of dried rosemary
02 tablespoons of dried thyme
02 tablespoons of dried basil
02 tablespoons of dried savory
01 tablespoon of dried oregano
01 tablespoon of dried tarragon
01 tablespoon of dried lavender flowers
01 tablespoon of dried chervil
01 tablespoon of dried dill
01 tablespoon of dried marjoram
Required equipment:
A mixing bowl
Wooden spoon
A tightly fitting spice jar/ mason jar/ container
How does Herbes de Provence add soul to our dishes, and what ingredients make it so special? So, if you need to discover some interesting facts about this blend, click on this link and refer to our detailed post.
Step 02
Add all the ingredients to the mixing bowl and whisk everything together using the wooden spoon until well combined.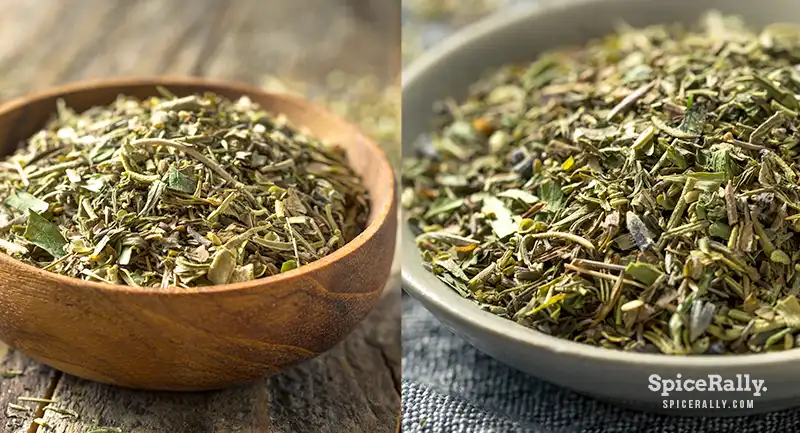 Step 03
Use your prepared Herbes de Provence immediately with your dishes, or store it in a glass air-tight spice jar/ container to be used later.
Tasty Notes By SpiceRally…
Even though we have used several additional herbs here, please note that you can skip anything from fennel seeds, tarragon, chervil, lavender flowers, dill, and marjoram, depending on your preference. But savory, rosemary, oregano, thyme, and basil are a must in the recipe,
If you don't like whole fennel seeds in your recipe, you can coarsely grind them using your coffee grinder, food processor, or blender. But do not pulverize them into a fine powder.
Make sure to use a dry spoon each time you scoop the blend out from the container.
This will last flavorful for up to six months when stored in a cool, dry, dark place.
Try to use new herbs as much as possible which are not closer to their expiry dates.
If you need more pungency, you can also add a teaspoon of garlic and onion granules.
Related Topics