If you love Mexican or Tex-Mex dishes, we bet that fajita seasoning obviously lies in a special place in your spice rack. So, let's look up more ins and outs about this flavorful blend.
Fajita seasoning is a Mexican/ Tex-Mex blend of dry, ground spices and herbs, which typically includes:
It usually contains salt, and some recipes might also include sugar. Store-bought options often include additional ingredients, artificial flavors, and preservatives. This seasoning blend is mainly used to marinate the fajita meat and vegetables. But it is also used in other Mexican/ Tex-Mex-inspired dishes.
So, read further to discover what makes this seasoning blend so flavorful and why Mexicans have embraced it so lovingly!
What Is Fajita Seasoning?
As the name suggests, fajita seasoning is the blend of spices and herbs used to flavor or marinate the meat and vegetables prepared for the Mexican dish- fajita. It is a simple yet flavor-loaded seasoning blend that adds a profundity to anything that calls for it.
The origin of fajita seasoning is not specific, but it is important to look back at the roots of the main dish. As mentioned, fajita is a Mexican dish that dates back to the olden days and is known to be a dish that was originally made from skirt steak to feed cowboys.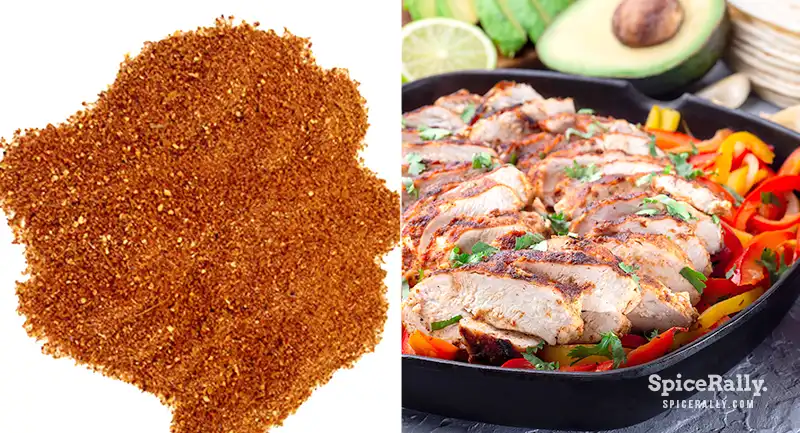 The modern version of fajitas began in 1969 in a Texan restaurant located in the Rio Grande Valley. And now, the fajitas are just made with anything from steak to chicken, seafood, tofu, and vegetables; fajita seasoning is used as the key flavoring to season those ingredients.
Fajita seasoning is widely available in the store, and you can easily find it in the spice aisle of the supermarket, grocery stores, or on online shopping sites in different brands. Or else, you can also make it at home with fresh ingredients you already have in your pantry.
What Spices Are In Fajita Seasoning?
Spices are the primary ingredients of this blend. Several pungent and flavorful spices combine to bring out the authentic flavor dimension of fajita seasoning.
01- Chili Powder
The chili powder we typically use in Western cuisine is a blend of spices which often include ground red chili pepper, ground cumin, garlic powder, etc. Therefore, this is an ingredient that gives our topic leader a lovely touch of spiciness and the right amount of heat. It is flavorful yet not very complex in flavor.
02- Paprika
Paprika is the ultimate element that gives the fajita seasoning blend its beautiful color. Mostly, regular paprika features in the mix, while hot or smoked paprika are also used in some versions. This spice adds a depth of flavor to our topic leader, pairing with the bulk of the other ingredients.
03- Ground Cumin
Cumin always gets a special place in most Mexican spice/seasoning blends as one of the traditional spices in Mexican cooking. The earthy, nutty, warm flavor and slightly sweet hints of ground cumin add the true definition to fajita seasoning.
Even though you could find a wide range of fajita seasoning options at the store, nothing could beat the goodness of a homemade version. So, click on this link and check out our 05 minutes fajita seasoning recipe that comes together with fresh ingredients!
04- Garlic Powder
Garlic powder gives a lovely pungency spreading its powerful, intense garlicky notes through the blend. It pairs well with onion powder, chili powder, oregano, cumin, etc., complementing any savory dish that calls for our topic leader.
05- Onion Powder
Onion powder gives a unique, sharp umami note to fajita seasoning, making a perfect team with garlic powder. It works better as garlic powder, collectively complementing various foods.
06- Cayenne Pepper
Cayenne pepper often goes in sparingly due to its heat. But, a dash will never let you down with the zesty kick it would give this seasoning blend. This spice provides color and elevates the spiciness of our topic leader while pairing well with all the other ingredients used.
Herbs In Fajita Seasoning?
Dried oregano is apparently the mostly-used herb in a majority of the fajita seasoning options. This herb is highly aromatic with slightly bitter and flavor notes composed of earthy, minty notes. 
And it pairs well with other ingredients in the mix, like cumin, paprika, chili powder, etc., complementing meat and vegetables.
In addition to the common inclusion of dried oregano, some recipes occasionally have other herbs, such as dried cilantro and dried parsley.
Other Ingredients In Fajita Seasoning?
Besides the spices and herbs mentioned on top, most recipes include salt. In some versions, you could also find white or brown sugar. In addition, store-bought options contain additional ingredients such as:
Corn starch
Rice flour
Citric acid
Lime juice powder/ lime oil
Yeast extracts
Gluten extracts
Monosodium glutamate (MSG)
Anti-caking agents
Other color additives, flavors, and preservatives
What Does Fajita Seasoning Taste Like?
Despite the fact that fajita seasoning usually comes together with a few basic ingredients, it has a complex flavor profile. This blend is warm, rich, hearty, and spicy, with a lovely heat that is not so overpowering. Sometimes, you might also savor a slight tangy-sweetness due to the souring agents used.
Uses Of Fajita Seasoning In Cooking
The flavor-packed taste notes of fajita seasons literally go beyond the typical addition to fajitas. In fact, you can use this blend with rice dishes, grilled meat, fish, shrimp, and vegetables, to toss with fries or even to spice up bean dishes.
What Is The Difference Between Fajita Seasoning And Taco Seasoning?
Fajita seasoning and taco seasoning go hand in hand in most Mexican and Tex-Mex dishes, and we could hardly recognize any difference between the two. In essence, the ingredients used in these two blends are very similar, but as a rule of thumb, both are not at all the same.
In fact, taco seasoning contains more ground cumin, chili powder, and sometimes even crushed red pepper flakes. Therefore, taco seasoning could be slightly more spicy than fajita seasoning. 
But fajita seasoning, on the other hand, contains less spicy ingredients and may also have souring agents, which we don't usually savor in taco seasoning.
If you are interested in learning about the difference between these two blends in detail, we would love to share the information through our instructive article right here!
Is Fajita Seasoning Gluten-Free?
While most homemade and pre-made fajita seasoning options come together with dried herbs and spices as their key ingredients, there could be exceptions that include gluten-related components. So, if you are concerned, the best thing would be to check the list of ingredients before purchasing.
Is Fajita Seasoning Vegan-Friendly?
We can say that most homemade fajita seasoning recipes do not use anything besides natural spices, herbs, and flavorings. But sometimes, you may find certain non-vegan ingredients like dairy byproducts in pre-made options. So, read the label and ensure before buying.
Does Fajita seasoning Contain MSG?
Homemade fajita seasoning versions are most likely free from any artificial additives like MSG. But you may find MSG in store-bought options.
Final Words About Fajita Seasoning…
Among the Mexican/ Tex-Mex blends, fajita seasoning is always special thanks to its distinctive and vivid flavor profile. Its ingredients, like chili powder, ground cumin, paprika, garlic powder, oregano, etc., essentially elevate the taste of your fajitas while giving a unique flavor dimension to many other dishes as well.
Related Topics