Sometimes we can run out of even the most essential spices and blends in our kitchen, so we need to count on alternatives. Thus, let's get you covered with the best biryani masala powder substitutes to bring a similar flavor.
Replacements that work better in place of biryani masala powder include the following:
Let's move on to the rest of this post to learn in detail how these substitutes can help when the original blend is not around.
The Best 07 Biryani Masala Powder Substitutes
Biryani masala powder is a common spice blend used across India as the main flavoring for their delicious rice dish-biryani. This is an incredibly aromatic blend with a complex flavor profile which usually contains around 10-15 spices and herbs.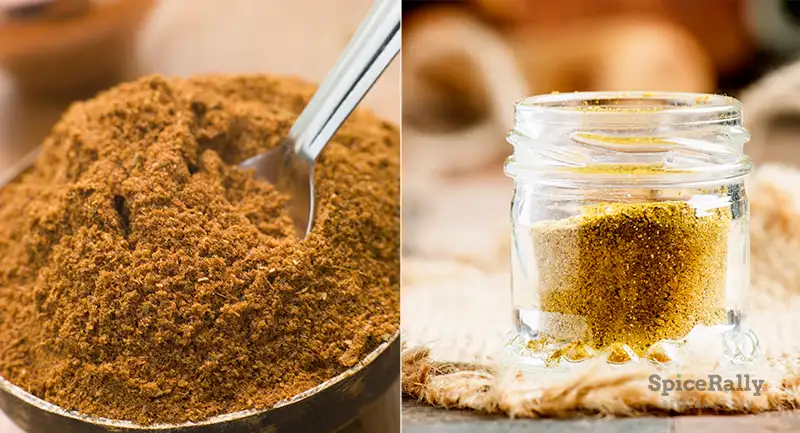 Biryani masala powder can vary depending on the production, household, and region. However, most variants include exotic spices like Marathi Moggu and black stone flowers along with common ingredients such as:
Star anise

Indian bay leaves

Coriander

Cumin

Cinnamon

Cloves

Fennel seeds

Nutmeg

Mace

Caraway seeds

Black and green cardamom

Kashmiri red chiles

Turmeric
The combination of these ingredients can be exotic, so some find it hard to get alternatives with a similar flavor profile. But luckily, there are a few options that can be used in place of this blend. 
Most of them might not be the perfect choice for substituting with the main dish- biryani. But still, you can count on them with the versatility to get a comparable effect.
01- Homemade Biryani Masala Powder
If you are looking for the quintessential ingredient to switch with the flavor and effect of the biryani masala powder you buy from the store, a DIY blend is your best bet. A freshly homemade batch of this spice blend can be incredibly and unexpectedly better than the ones you bring from the shop. 
Here, you have control over the ingredients you use and the chance to enjoy the taste of pure spices and herbs without any fillers or additives. A homemade biryani masala powder has the same advantages as a shop-bought option and can be included in any type of biryani. 
So, if you are looking for a place to get started, we have shared an authentic, simple biryani masala powder you can easily make on your own. Click here to get the recipe!
02- Garam Masala
Garam Masala is the next best option in place of biryani masala. This spice blend is ubiquitous and can be easily found in many places, even outside India. Garam Masala is also a complex blend with many variations. And this typically shares many similar ingredients with our topic leader, such as:
Coriander seeds

Cinnamon

Black pepper

Green cardamom

Black cardamom

Cloves

Cumin

Nutmeg

Mace

Bay leaves

Kashmiri red chiles

Fennel seeds

Caraway seeds

Star Anise
However, Garam Masala could contain many other ingredients besides these main elements. Therefore, it could be heavier in warmth and depth, sometimes spicier than biryani masala. 
Despite these facts, this is the "one" spice blend you can count on wherever you are out of the original mixture. Use this in a 1:1 ratio, or start with a smaller quantity to adjust the amount later.
03- Indian Or Madras Curry Powder
Curry powder is another versatile blend you can rely on if you don't have biryani masala in your spice cabinet. Indian or Madras curry powder shares a set of similar ingredients with our topic leader, such as:
Cumin

Coriander

Black pepper

Red chiles

Turmeric
Some types of Madras curry powder tend to be slightly hotter than biryani masala due to the bulk of red chiles. And it also contains additional ingredients like dry mustard and fenugreek seeds. 
On the contrary, you might find this option less intense and robust since it does not typically contain spices like star anise, black cardamom, Marathi Moggu, and black stone flowers. 
If the curry powder variation you picked does not have star anise and bay leaves, you may want to include them additionally to get a better flavor replication. Indian or Madras curry powder is a better substitute for curries, meat dishes, and pulao. You can adjust the amount according to your preference.
04- Ras el Hanout
Native to the Mediterranean region, Ras el Hanout is another aromatic blend that can be counted as a possible biryani masala substitute. The reason lies within its complexity and spiciness as a spice blend. Ras el Hanout also contains some similar ingredients, comparable to our topic leader. 
Including coriander, cumin, cloves, cumin, and cinnamon helps build a similar effect to biryani masala. At the same time, some Ras el Hanout variations might include cardamom, nutmeg, star anise, mace, etc. We don't recommend this as an excellent substitute if you need to make authentic biryani. 
But still, it can help you with a few adjustments. So, if you are looking forward to working with this alternative, we suggest you start with a small amount. And then, you can adjust the quantities depending on your preference as you build up the taste.
05- Tandoori Masala
Sharing the same culinary roots, tandoori masala is another friend in need whenever you run short of biryani masala. This space blend comes together with very similar ingredients to that of our topic leader, which typically includes:
Cumin

Green cardamom

Black cardamom

Coriander

Cinnamon

Cloves

Kashmiri red chiles

Nutmeg

Mace

Black pepper
You'll get star anise in most variants, while bay leaves are not usually included in tandoori masala. In addition to these ingredients, you'll also find dried garlic, ginger, and sometimes dried fenugreek leaves in this option. 
This spice blend is an excellent pick when you make Tandoori Chicken Biryani. But it doesn't necessarily mean you cannot use it with other types of biryani. But you might want to make a few adjustments in flavor, like adding Indian bay leaves, to get the authentic taste. 
Other than that, this alternative is a great choice to use in place of our topic leader, especially in dishes that call for it as a secondary ingredient. Hence, you can start in a 1:1 ratio or a little less and then develop the taste as you go.
06- Chaat Masala
Chaat masala is an excellent option if you wish to have a flavor twist in the recipes that call out for biryani masala in their original recipes. This might not be the ideal choice when making authentic Hyderabadi Biryani, Awadhi Biryani, or Malabar Biryani. But chaat masala can give a characteristic tweak to Sindhi, Memoni, or Dindigul Biryani. This spice blend shares some similar ingredients with our topic leader, such as:
Cumin

Black pepper

Coriander

Red chiles

Cloves

Caraway seeds

Fennel seeds

Cinnamon
This might not be as spicy as biryani masala powder and contains additional ingredients like dried mango powder and asafoetida. Moreover, some shop-bought options could contain many flavor and color additives, making chaat masala have a sweeter, more tart flavor. 
Therefore, you should be mindful to reach out for a chaat masala variation with more spices. Consequently, it is better to start moderately and then adjust the taste as you build up the taste of the dish you wish to use this ingredient as an alternative.
07- Biryani Seasoning Mix
Biryani masala powder and biryani seasoning mix seem the same thing. But the biryani seasoning mix usually has more additives, preservatives, and seasonings like salt. And we don't typically savor them in an authentic biryani masala powder. 
However, this option generally contains similar spices and herbs, giving it the depth of biryani masala powder. Thus, you can undoubtedly count on this seasoning mix if you are okay with having the additives it usually has. 
You might find biryani seasoning mix under several brand names, and the instructions to use it are generally mentioned on the packaging. So, the last alternative we chose for you is an excellent pick if you wish to have some extra flavor in your classic biryani!
Cooking Makes Easier When You Know The Right Substitute!
Biryani masala powder is one of the most aromatic blends you could typically find in any Indian household. But sometimes you might not be able to get it from the store if you're living outside of India. Or sometimes, you may have run out of it when you badly need to make a pot of biryani. 
In that case, substitutes like homemade biryani masala powder, Garam Masala, curry powder Ras el Hanout, etc., will help you to get a similar taste. So, what is your favorite biryani masala substitute? Keep us posted in the comment section below!
Related Topics