It is no secret that Starbucks is the World's leading coffeehouse chain that serves a range of the best beverages we love. It is indeed a place that introduced many flavored drinks and took the ordinary cup of tea or coffee to a whole new level. And, we see that many of their drinks feature cinnamon.
After visiting many Starbucks outlets, we found that Korintje ground cinnamon (a type of Cassia Cinnamon), popularly known as the Indonesian ground cinnamon, is the variety they mostly use to flavor their cinnamon drinks.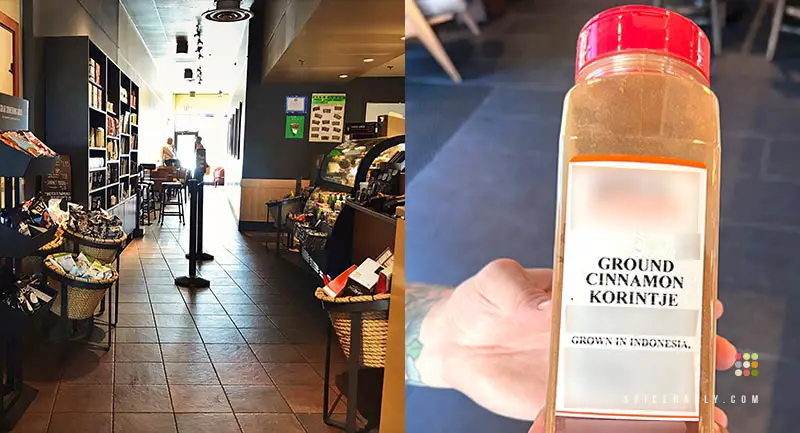 So, let's get into more information about this cinnamon and learn how it adds flavor to your favorite Starbucks drink.
What Cinnamon Powder Does Starbucks Use? 
To bring you accurate information, we conducted broad research by visiting many Starbucks outlets based in the USA. What we found there was that they mostly use Korintje ground cinnamon, also called Indonesian ground cinnamon, as the cinnamon powder in their beverages.
Korintje cinnamon (Cinnamomum burmannii or Cinnamomum burmanni) originates from Indonesia and, accordingly, is also known as Indonesian cinnamon, Padang cassia, or Batavia cassia. 
We have a complete article here if you want to know more details regarding Korintje cinnamon.
This variety is actually a species of cassia and apparently one of the cheapest and the most common cinnamon types that you can find in the USA. About 70% of North America employs Cassia Cinnamon, and Indonesia is the prevalent supplier of Korintje Cinnamon. 
Korintje cinnamon can give a bitter-sweet, smooth, astringent, and woodsy flavor in its ground form. It blends well with brewed espresso, milk, tea, and other ingredients used in Starbucks beverages.
How Does Starbucks Feature Korintje Cinnamon In Their Drinks?
Starbucks uses Korintje cinnamon powder in beverages by infusing them with the drink itself or in their range of toppings that are often accompanied by whipped cream.
You can also see that they have placed cinnamon containers in a reserved place inside their store premises. So, you can pick one of them and sprinkle powdered cinnamon if your drink does not come initially with cinnamon or if you require more flavor. 
In addition, there is a wide range of cinnamon-infused toppings that you can request from the counter once you order with any of your drinks.
If you are interested in discovering the cinnamon-infused beverages at Starbucks, you can just click here and refer to our article. We have a complete list!
Starbucks Cinnamon Powder Nutrition Facts
Korintje cinnamon, as much as other types of cinnamon, is enriched with many health benefits. It is rich in antioxidants and anti-inflammatory, antimicrobial, anticancer, antidiabetes properties, which also helps people with insulin resistance, neurological disorders, high cholesterol levels, and fungal infections.
However, like other types of Cassia cinnamon, Korintje is also pretty high in Coumarin level. So it is always advisable not to over-consume this spice as it could adversely affect your kidneys and lungs.
A teaspoon of ground Korintje cinnamon that weighs about 2.6 g contain:
Energy: 6.42 calories
Vitamin A: 0.39 micrograms
Carbohydrates: 2.1 g
Magnesium: 1.56 mg
Calcium: 26.1 milligrams (mg)
Iron: 0.21 mg
Phosphorus: 1.66 mg
Potassium: 11.2 mg
On A Side Note…
Cinnamon beverages at Starbucks are worth trying at least once in your life! They are flavorful, filling, and Korinje cinnamon powder adds value to their taste with its unique flavoring properties.
Related Topics