Are you someone who orders guacamole in your favorite Mexican restaurant each time you visit them? In fact, you might have thought that they serve the best guac you have ever tasted.
Well, you might be correct, but just try our homemade guacamole recipe once- we say nothing, but we are sure you'll never want to run to that Mexican restaurant just for this dip! So, this SpiceRally episode teaches you how to make guacamole in just a few easy steps.
You only require the most basic ingredients to put this together. But, on the bright side, we will guide you with some tasty tips which you can use to upgrade the quality and taste of your version with whatever you like. On that note, let us take you on this sweet little escapade to get you right on track with the tastiest guac ever!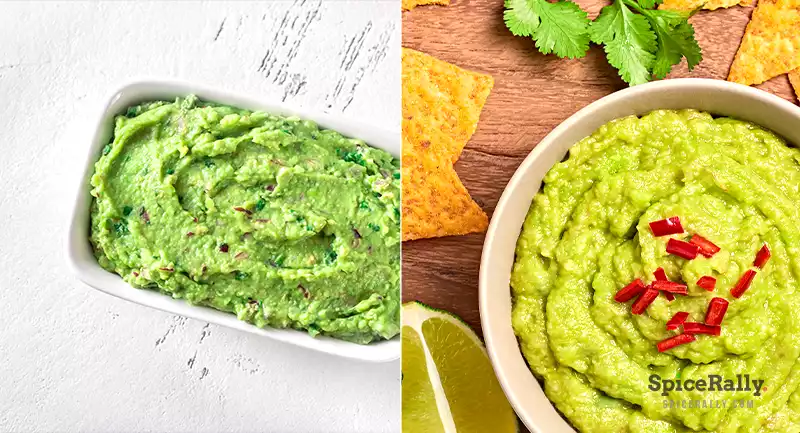 How To Make Guacamole At Home- Step-By-Step Guide
Our ultimate guide to making epic guacamole will keep you full and satisfied throughout the meals and snacks! This is massive in flavor but requires only the essential ingredients and comes together in just a few minutes. This version is so much fresher and tastier than any store-bought option. So, let's get started!
Preparation time- 15 minutes | Cooking time- 00 minutes | Additional time- 05 minutes
Step 01
First, choose your avocado – your avocados should be fresh and ripe. So, when picking avocados at the store, you can say if they are ripe by pressing them. If you intend to make guacamole the same day you buy avocados, make sure to buy avocados that are slightly soft but not mushy.
And, when you pop off the stem, it will be green underneath. The quality of this guacamole can lessen if you do not choose avocados that are not properly ripened.
Step 02
Get ready with the rest of the ingredients and equipment.
Spices and herbs needed:
A pinch of freshly ground black pepper (or to taste)
Two tablespoons of finely chopped fresh cilantro (you can take the leaves and the tender stem parts)
Other ingredients:
Two ripe avocados
Two to four tablespoons of finely chopped red onions
Half of a ripe tomato (chop, remove the core and seeds if needed)
One tablespoon of fresh lime juice
1/4 teaspoon of kosher salt (or to taste)
One to two serrano or jalapeno peppers (finely chopped, membranes and seeds removed)
Tortilla chips to serve
Equipment needed:
A sharp knife
A soup spoon or a fruit scoop
Mixing bowl
A fork or a potato masher
A spoon for mixing
Sheet of cling wrap enough to close the bowl
If you feel that learning to make guacamole is not enough and you need to know something more about this dip, we welcome you to click on this link and refer to our detailed article- you have everything here!
Step 03
Using a sharp knife, slice the avocados in half. Then, with the avocado half on the counter, lunge the knife into the pit and twist the knife to remove it.
Step 04
Now, to scrape the avocado flesh out of the peel, you can use a fruit scoop or a regular soup spoon. Put the scraped avocado into the mixing bowl.
Step 05
Using a fork or a potato masher, coarsely mash the avocados. Leave some chunks to get the proper texture of the guacamole.
Step 06
Add lime juice to the mashed avocados, followed by chopped onions, tomatoes, cilantro, jalapenos, or serrano pepper, and mix everything until well combined. But do not overmix.
Step 07
Finally, season your guacamole with salt and pepper and add more if needed. Give the final fold, and serve right away with tortilla chips. Or else, if you are making it ahead, place the cling wrap on the surface of the prepared guacamole and pop it into the refrigerator. Closing the dip with the plastic wrap will prevent air from getting into contact and browning.
Tasty Tips From SpiceRally…
If lime is not available to you, go ahead and use freshly squeezed lemon juice.
We recommend not skipping cilantro, as it brings an incredible taste to this homemade guacamole recipe.
If you do not like your dip to be so spicy, you can omit the jalapenos or serrano peppers- they are absolutely optional.
You can also use Roma tomatoes or garden fresh tomatoes.
If you feel red onions are sharper in taste, you are free to use yellow or white onions.
Include paprika, cayenne pepper, minced garlic, or a pinch of ground cumin for extra flavor. You can also use grilled corn and bacon bits for added zest!
Make sure not to let air get in contact with your guacamole since air is the enemy of this dip. Always use the cling wrap if you wish to refrigerate, and you can use an air-tight glass bowl to store any leftover guacamole in the fridge. You can keep it fresh for up to three days.
Related Topics