With the end of summer and the inception of fall, we start to sense the climatic shifts, especially in our bodies. So, let's bring you a simple ginger juice recipe that is ideal for this season.
This ginger beverage can be enjoyed any time of the year, yet thanks to its load of health benefits, we could say it works as much as ginger tea for specific seasons. 
So, let's get into juicing!
How To Make Ginger Juice- Step-By-Step Guide
This ginger juice is made from fresh rhizomes. There are a few ways to extract the juice from your rhizomes, and we will discuss them below. This is zesty, minty, tangy, and refreshing enough to be the perfect punch of the day!
Preparation time- 25 minutes | Cooking time- 00 minutes | Additional time- 5 minutes | Servings- 7-8 cups
Step 01
Grab all the required ingredients and get ready with the necessary equipment.
Spices needed:
04 ounces of fresh ginger
A 02-inch cinnamon stick
Other ingredients:
Freshly extracted juice of 02 lemons
15-16 fresh mint leaves
01 cup light brown sugar
07 cups of water (plus 01 cup more if you are using the blender or the food processor to extract the ginger juice)
Equipment needed:
A mortar and a pestle
A box grater/ juicer/ blender/ food processor
Strainer or a cheesecloth
A pot to boil water
Large container
Spoons
Ginger is a superfood that deserves a place in your pantry. Click on this link and refer to our comprehensive article to learn about the amazing properties of this spice.
Step 02
First, you need to wash your ginger rhizome well with clean water and remove any rough edges and blemishes. Then, peel your rhizome using a knife or a spoon. Wash it again and prepare it to extract the juice.
Step 03
As mentioned previously, there are a few methods to extract juice from ginger, and we will be sharing all the possibilities with you.
Using The Juicer

– This is probably the easiest method to extract the juice from ginger if you have a juicer at home. You don't have to worry about the residues since your juicer will be taking care of them all. Roughly chop your ginger into chunks and put it into the juicer, and juice it up. Discard the pulp.

Using The Grater

– A box grater will make things easier, but any grater would work well here. While grating ginger, you should not hurt your fingers or knuckles. So, it is best to use hand gloves if you have them at home. Run your grated ginger through a fine mesh strainer or cheesecloth to strain the juice out.

Using The Blender/ Food Processor

– Roughly cut your ginger rhizome into chunks and put them into the blender jar or the jar of your food processor. Add one cup of water into it and blend your ginger until you get a smooth pulp. Now, using the mesh strainer or cheesecloth, strain the juice and discard the pulp.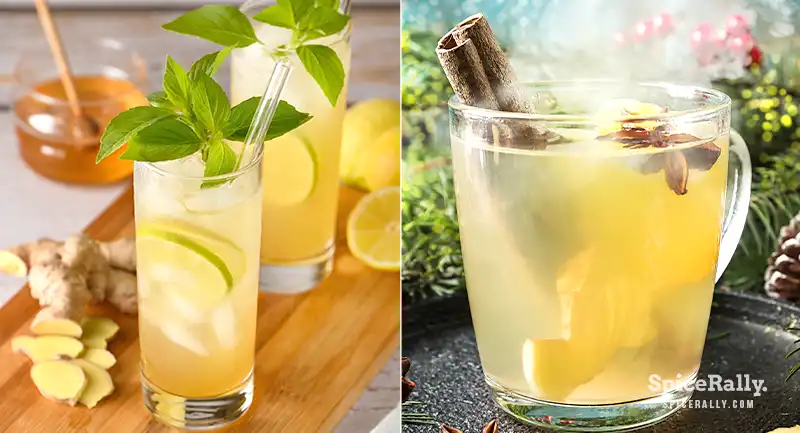 Step 04
Cover the extracted ginger juice and set it aside until ready to use. Meanwhile, put 07 cups of water into a pot along with the cinnamon stick. Bring this water to a boil, remove it from the burner and allow it to turn warm from hot.
Step 05
While the water is cooling down for a while, put the mint leaves into the mortar and pestle and give them a slight grind until the leaves are crushed, and you get the minty aroma from them. Do not over-pound the mint leaves, as they could turn bitter and unappetizing to use.
If in case you missed our recipe for ginger tea, click here and check out this article to get the step-by-step instructions for making the perfect drink.
Step 06
Once the water is warm, remove the cinnamon stick and transfer the water to another large container in which you make your ginger drink. Then, add the extracted ginger juice to it with lemon juice and sugar, and stir really well until the sugar is completely dissolved.
Step 07
You can refrigerate this ginger drink and serve it as cold or warm as desired. Transfer your prepared juice into the serving glasses and garnish them with mint leaves if needed.
Tasty Notes By SpiceRally…
Even though we have used light brown sugar here, you can use alternative sweeteners like honey or white sugar. If you need more sweetness, adjust the amount depending on your preference.
You can drink this warm during the winter, and cooling it would be perfect during summer.
Skip cinnamon if you think the taste would be too overwhelming. But cinnamon essentially doubles the taste and health benefits of this drink.
Related Topics