Vanilla is such a versatile ingredient that covers a broad area of essential uses in human life. So, in this article, we wish to tackle the general uses of vanilla which could be helpful to us in our day-to-day life.
Apart from incorporating vanilla into our dishes, it can also be included in various household chores, beauty, and health-related uses. Vanilla beans, bean paste, extracts, and powder, are primarily used in food, while vanilla essential oil is often used in skincare, hair care, etc.
So, read ahead to learn the incredible uses of vanilla you generally get apart from flavoring and aromatizing your food.
General Uses Of Vanilla
Vanilla is considered one of the most ubiquitous ingredients in the world, renowned for its distinctive aroma and flavor. In fact, there's nothing quite like vanilla, which plays a significant role in most baked goods, desserts and sweets, beverages, and confectionery.
But this remarkable spice is also notable for a few other reasons. Like many other spices, it also has medicinal value and is useful for the skin, hair, and in some household-related hacks. It contains a unique compound known as vanillin, which is responsible for vanilla's characteristic fragrance and flavor.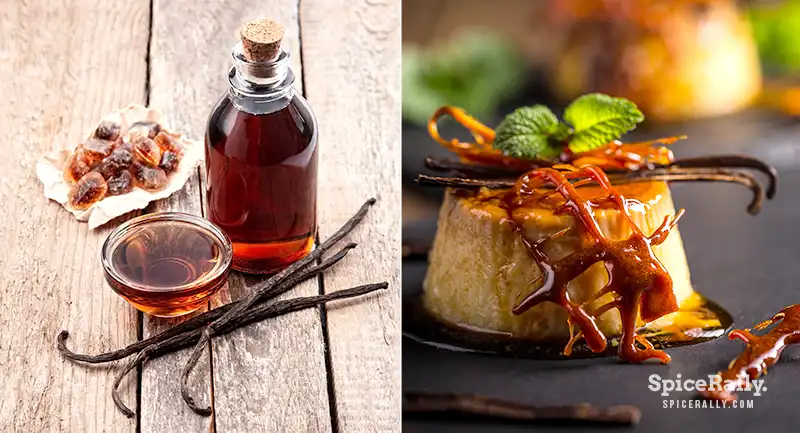 Usage In Homemade Food And Food Industry
When we talk about the general uses of vanilla, we cannot leave out its primary usage in food. In fact, vanilla is considered the most-used food flavoring in the world that pairs and compliments a wide variety of ingredients.
Natural vanilla pods are used as the main form of this spice. From this pod derives the vanilla beans and then vanilla bean paste, pure vanilla extract, imitation vanilla extract, vanilla powder, vanilla salt, and vanilla sugar follows to be used in different applications such as:
Baked goods
Desserts
Confectionery including candies, chocolates, gum and jelly products, etc.
Beverages like tea, coffee, shakes, soft drinks, cocktails, and liqueur.
Certain savory preparations.
Dry mixes
Waffle and pancake mixes
While real vanilla beans, pure vanilla powder, and pure vanilla extract are favored by most home and professional bakers, imitation vanilla is the choice of many involved in the commercial food industry.  
Moreover, people in some black tea-consuming Asian countries like Sri Lanka and India also keep whole, cured vanilla pods inside the containers where they store their dried tea leaf powder. 
This practice allows the powdered black tea to extract the aroma and flavor of the vanilla pods over time so that they get to enjoy a cup of vanilla-infused tea effortlessly! 
So, if you are looking forward to acquiring more knowledge on the usage of vanilla in cooking and baking, click on this link and refer to our comprehensive article.
Beauty-Related Uses
Vanilla is an ingredient that is broadly used in skin care and perfumery. It is known to be one of the most soothing, calming, and therapeutic fragrances in the world. Therefore, this spice is used in cosmetology, skin, and hair-related products such as:
Perfumes
Deodorants
Soaps
Bath salts
Creams
Face packs
Body washes
Lip butter/ lip balms
Lipsticks
Body butter
Shampoos, conditioners, hair masks, etc.
Serums and oils
Exfoliators
Vanilla is often paired with a wide range of skin and hair-care-related ingredients more than in cosmetics to create exotic blends. The components that vanilla often pairs are as follows:
Coconut
Tangerines
Lavender
Cedarwood
Shea butter
Cocoa butter
Honey
Macadamia
Anise
Vanilla essential oil is infused with other oils like rose, rosehip, argan, jojoba, peach kernel, olive oil, etc.
In addition to various vanilla-infused beauty products you could buy from the store, you can also incorporate pure vanilla like beans, extract, pure vanilla powder (without fillers), and vanilla essential oil into your DIY beauty regime. 
Accordingly, you can make your own face scrubs, body scrubs, serums and body/ hair oils, bath salts, hair masks etc., or simply add a drop or two to your regular lotions.
Skin And Hair Benefits From Vanilla
Nourishes skin
Soothes irritated skin
Nourishes the scalp
Promotes healthy, silky hair
Encourages hair growth
Prevents signs of aging
It helps in skin tightening
Treats dark under-eye circles
It can be used to treat acne
Treats dry skin
Here Are Some Enlightening Facts About Vanilla…
Vanilla is the only edible fruit of the Orchid family.
There are over 150 varieties of vanilla, but only two of them are used commercially: Bourbon Vanilla and Tahitian Vanilla.
While the United States ranks as the world's largest vanilla consumer, Europe, and France follow second place.
Vanilla is the world's most labor-intensive agricultural crop since the flowers should be hand-pollinated.
According to the research of the International Ice Cream Association, vanilla is the first choice for a majority of ice cream lovers.
There's only one species of bee named the Melipona Bee in Central America that has the ability to pollinate vanilla.
The flower that makes the vanilla bean only lasts for one day.
Household Uses Of Vanilla
The amazing aroma of vanilla could work wonders in your household hacks apart from cooking, baking, or involving in your beauty-related products. 
On top of everything, our topic leader can be a great natural air freshener or a deodorizer in several different ways. Need to know how- look below!
01- Can Be Used As A Refrigerator/ Wardrobe, Microwave/ Closet Deodorizer
Vanilla essence or pure vanilla extract can be an excellent natural remedy to remove any unpleasant odors in your refrigerator, wardrobe, closet, cupboards, or microwave. All you have to do is moisten cotton balls with vanilla and place them in a few spots inside the places mentioned on top.
Or else you can mix a few drops of vanilla essential oil with water in a spray bottle and use it as the final cleaning step when cleaning your refrigerator or microwave. Since you are using the microwave often and can't be keeping cotton balls inside it, the next best option is to:
Heat water and vanilla extract in the microwave until the mixture starts to boil.
Switch off the microwave, and leave the dilution inside it for another 30 minutes.
Then wipe your microwave with the same solution.
02- As An Excellent Natural Air-Freshener
Those sensitive to strong fragrances and harsh chemical constituents in commercially made air fresheners can find it challenging to keep their homes fresh and aromatic. But, with vanilla in your pantry, this is no longer a dream! 
In fact, vanilla essential oil can be the perfect pick since it comes with numerous benefits apart from its wonderful aroma. It has an incredibly soothing, calming, stress-relieving effect along with antibacterial properties. 
Thus, a natural air freshener made from this ingredient would be a wonderful choice to create a relaxing environment at home.
Mix a few drops of vanilla essential oil (you can also use pure vanilla extract), lavender essential oil, chamomile essential oil, a dash of vodka or rubbing alcohol, and water. Put this solution in a spray bottle, mix well and spray into the places you need.
What vanilla actually is, and why is it so important as a culinary ingredient? If you need answers to all these questions, your answers lie right in this article!
03- Use In Oil Diffusers And Humidifiers
As mentioned previously, vanilla contains excellent antidepressant, stress-relieving, and soothing properties. Thus, if you need to create a tranquil atmosphere in your room, living area, or study area, you can throw a few drops of vanilla essential oil into your humidifier or oil diffuser.
Using vanilla essential oil in this way also helps to calm your mind when you practice mindfulness habits like yoga or meditation. 
In addition, if you have trouble sleeping at night, you can apply a few drops of vanilla essential oil on the underside of your pillow or use a vanilla essential oil-infused oil diffuser, humidifier, or a vanilla-scented candle/ incense stick in your sleeping area.
04- Vanilla Essential Oil-Infused Bath
The vanilla essential oil has the ability to stimulate your senses with its luxurious, invigorating smell. Suppose you had a hectic day both physically and mentally. In that case, the vanilla essential oil is powerful enough to rejuvenate your wearied mind and bring back the energy you lost throughout the day.
So, add a few drops of vanilla essential oil to your bath next time and enjoy its therapeutic effects. These infused baths could also help you to soothe your body's skin, and they will be beneficial in reducing conditions like body acne and muscle pain.
05- As An Insect Repellent
Vanilla works as a great natural topical insect repellent since it is safe to use on your skin without causing any irritations. 
You can mix pure vanilla extract or essential oil with water and apply it to your skin using a cotton ball to ward off bugs and pests. Or else you can transfer this mixture to a spray bottle and spritz it in places in your home where needed.
Other Vanilla-Infused Commercial Preparations
In addition to food, cosmetology, perfumery, and beauty care products, vanilla is also used in the commercial preparation of scented candles, cleansing wipes, incense sticks, and domestic or car air fresheners. Pure or synthetic vanilla is used in these products, mostly mixed with other ingredients and chemicals.
Health-Related Uses Of Vanilla
Like most spices, vanilla also comes with a bunch of health benefits. Therefore, the vanilla essential oil is often used as a topical application for wound healing, to reduce muscle pains, and as an antimicrobial ingredient for certain infections.
Moreover, vanilla is generally used as a flavoring and aromatizing agent for protein shakes, nutritional supplements such as milk powders, health shakes, chewable multivitamins, etc.
Did you know that cloves are another precious spice with multiple non-culinary uses? Click here to discover!
Countless Reasons To Have Vanilla At Home!
Stepping away from the most basic uses like flavoring and adding a fragrance to dishes, vanilla is an ingredient that has so many other benefits. It is a versatile spice that comes in various forms, facilitating our different day-today-needs. 
Whole vanilla beans, bean paste, extracts, powder, etc., make our dishes flavorful. Meanwhile, vanilla essential oil and extracts remarkably add to health, beauty, and household-related products or hacks.
Related Topics