You must have seen small guacamole seasoning packets while walking down the spice aisle of your local supermarket and wondered what it is actually for. Thus, let's share the facts about guacamole seasoning ingredients and their ins and outs.
Guacamole seasoning is typically a dry mixture made of spices, herbs, and other additives that can be directly added to mashed avocados to make guacamole. It usually contains:
Dried jalapeno pepper
Garlic powder/ dried garlic
Onion powder/ dried onion
Dried lemon zest/ lemon juice solids
Dried cilantro
Salt
The recipe of this blend can have slight variations depending on the person or brand. Accordingly, there can be additional ingredients like red pepper flakes, ground cumin, dried red bell pepper, cayenne pepper, etc. So, keep reading to know more about what this seasoning mix really is and what uses you can have with it.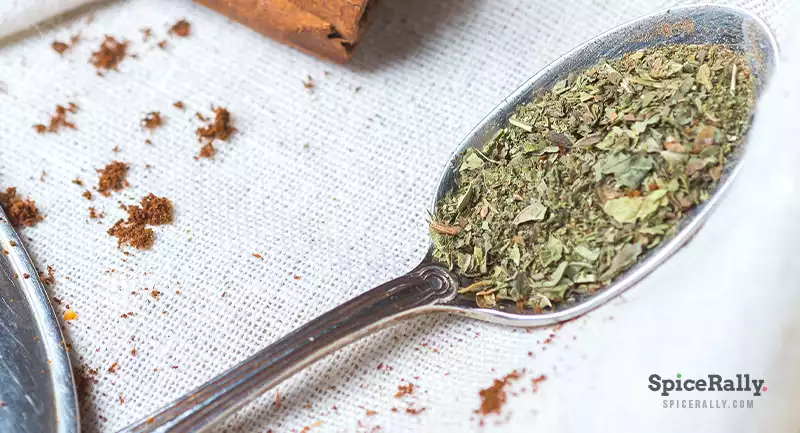 What Is Guacamole Seasoning?
You already know what guacamole is, but if you are new to cooking, the term "guacamole seasoning" might confuse you to some extent. Well, guacamole seasoning is basically a dry seasoning mix like any other seasoning blend.
There is no standard recipe for making this blend. Yet, some essential ingredients seem to appear in most recipes. Depending on the ingredients, guacamole seasoning mix is used to flavor other dishes beyond guac, such as eggs, meat, and vegetables.
You can easily find this mix in packets often in the spice section of the supermarket and grocery stores under many brand names. Besides, you can even purchase this from online shopping sites or easily make it at home.
Most options you buy from the store come with the common tagline "just add avocados," which is pretty much that's all that you have to do. In fact, this is a very versatile, hassle-free way of making guacamole where you simply have to add the appropriate amount from this blend to mashed avocados, mix and serve for a quick guac fix!
You don't actually have to count on premade seasoning packets when you can assemble your own at home. So, click here to get a step-by-step guide to making a flavorful, easy homemade guacamole seasoning mix recipe.
What Spices Are In Guacamole Seasoning?
Guacamole seasoning usually contains dry, powdered spices. As mentioned previously, this blend can have various spices depending on the recipe or brand. But some of them seem to be showing up repeatedly in the majority.
01- Dried Jalapeno Pepper
Dried jalapeno peppers are the lead ingredient that gives this mix a bit of heat and spiciness. Most store-bought options have this ingredient in their products. And also, dried jalapenos are what we call the chipotle pepper.
Moreover, some homemade recipes tend to use cayenne pepper powder instead of dried jalapenos. Cayenne pepper powder also gives a similar heat. However, jalapeno peppers usually get along well with other spices in this blend like garlic powder, red pepper flakes, black pepper, etc.
02- Garlic Powder/ Dried Garlic
Pungent, sharply-flavored garlic powder or dried garlic undoubtedly offers a powerful kick to this seasoning mix. This is among the essential guacamole seasoning ingredients that give this mix its iconic garlicky flavor.
03- Onion Powder/ Dried Onion
Onion powder or dried onion goes side by side with garlic powder lending its bold, robust, and umami flavor notes to this blend. This spice also gets along with the rest of the spices and cilantro.
Herbs In Guacamole Seasoning
Dried cilantro is seemingly the most used herb in this mix. However, dried cilantro is milder and less intense than fresh cilantro. But still, this herb offers a citrusy, peppery, piney, and anise-like undertone getting along with other spices.
Other Guacamole Seasoning Ingredients
Apart from the main spices and the herb discussed on top, almost all recipes include salt and dried lemon zest or lemon juice solids to get the required tartness and saltiness. In addition, the following ingredients also can be found in a majority of the recipes:
Ground cumin
Red pepper flakes
Dried bell pepper
Non-fat dry milk
Modified starches (tapioca/corn)
Maltodextrin
Corn syrup solids
Sour cream 
Citric acid
Other color additives and preservatives
Are you interested in checking out the best guacamole seasoning blends you can buy online? Just tap right on this link and refer to our post to discover our top picks!
Does Guacamole Seasoning Contain MSG?
When going through most homemade recipes and considering leading guacamole seasoning brands, we could not find monosodium glutamate (MSG) used in any of them. Thus, we can conclude that MSG is not an ingredient in this blend. But read the list of ingredients in any store-bought option if you are concerned.
Is Guacamole Seasoning Gluten-Free?
Guacamole is naturally gluten-free; therefore, most seasoning blends do not contain any gluten-related ingredients. But still, some pre-made options might have gluten-related elements for thickening purposes. So, make sure to check with the label before buying.
Is Guacamole Seasoning Vegan-Friendly?
Guacamole seasoning typically does not contain any animal traces. Therefore, this blend can be considered safe to be consumed by any plant-based eater.
Three things that always bring a smile to my face: making guacamole for my friends, getting pedicures with my mom, and exploring an airport I've never been in.

Tyler Oakley
Get Your Guac Ready In Minutes With Guacamole Seasoning!
The guacamole seasoning mix is actually a quick and easy way to prepare homemade guacamole without many ingredients. It usually contains dried jalapeno peppers, cayenne pepper powder, powdered/dried garlic, dried/powdered onion, dried lemon zest, salt, dried cilantro, etc. This mix is readily available in the store, or you can also make it easily at home.
Related Topics