A freshly made salsa could burst our plate with so many flavors to tantalize our senses. So, here we unveil some exciting facts about an all-time favorite- Chipotle fresh tomato salsa and its ingredients.
Fresh tomato salsa, also known as Pico de gallo, is one of the best dips served at the Chipotle food chain. It is made out of fresh ingredients such as:
Tomatoes
Jalapenos
Onions
Cilantro
It is often seasoned with lemon juice, lime juice, and salt. This salsa is served with chips or is used as a topping for tacos and burritos. So, read further to learn more about this delicious dip!
Jump to Recipe
What Is In Chipotle Salsa?
If you are a loyal customer at Chipotle, you must have obviously tried out their salsa menu. It basically comes with around four types of salsas, and our topic leader will be their mild tomato salsa which is a simple, chunky dip.
And we are thankful to Chipotle Mexican Grill Company for unhesitatingly delivering us the original ingredient list they use to make their salsa dishes so that we could enlighten our readers about what they really enjoy at their favorite restaurant!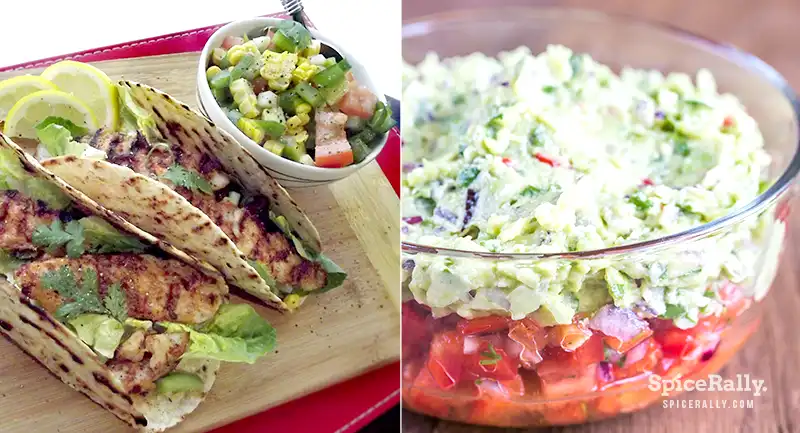 Accordingly, this condiment is typically put together with fresh ingredients such as:
Tomatoes– Fresh, ripe red tomatoes are the main ingredient of this salsa. The bulk of this dish is dominated by tangy, sweet, flavorful red tomatoes to give it a deep, fresh bite.
Jalapenos– Green jalapenos are often used to give this condiment its hot and zesty flavor. The heat of this salsa solely depends on this ingredient.
Onions– Red onions are finely diced and incorporated into this salsa to give it a distinctive umami punch. Onions pair well with the tomatoes, jalapenos, and cilantro in the mix to complement tacos, chips, burritos, etc.
Cilantro– Freshly chopped cilantro is the ultimate herb used in this condiment to fill it with a bright, warm, citrusy flavor. The vibrant green color of this herb adds an appealing nature to this dish.
Lime and lemon juice– Freshly squeezed lime and lemon juice combines to pair with the bold flavors of tomatoes, jalapenos, onions, and cilantro to give a dynamic, contrasting vibe to this Chipotle salsa.
Salt– Last but not least, salt is an essential ingredient in the mix, used more or less to season the salsa ingredients.
Fresh salsa with tortilla chips can literally be an instant mood-booster like a magic portion of food!

SpiceRally
Is Chipotle Salsa Spicy?
There are different types of salsa served at Chipotle, and they might have different levels of spiciness. But the one we focus on from our article- the fresh tomato salsa- is considered mildly spicy.
Is Chipotle Salsa Vegan?
All the types of salsa made at Chipotle are made out of plant-based fresh ingredients, and no animal derivative is used. Therefore, chipotle salsa is a vegan-friendly condiment.
Is Chipotle Salsa Keto-Friendly?
Fresh tomato salsa served at Chipotle only contains about 01g of carbohydrates. Thus, this dip can be considered a keto-friendly dish for keto dieters.
Guacamole is another condiment that most dip-lovers would embrace. Click on this link and refer to our detailed post to learn everything about guacamole and its ingredients.
Is Chipotle Salsa Gluten-Free?
If you are following a gluten-free diet, fresh tomato salsa at Chipotle can be considered a safer option to be included in your diet as it is made with one hundred percent gluten-free ingredients.
Is Chipotle Salsa Dairy-Free?
Fresh tomato salsa at Chipotle is considered a safe condiment for all who go with a dairy-free diet.
Chipotle Salsa Is Healthy, Delicious, And Satisfying!
The fresh tomato salsa that is often served at Chipotle, the famous Mexican food chain, could be one of your favorite items on their menu. So, its ingredients, like tomatoes, jalapenos, onions, cilantro, etc, combine together to make a delectable condiment that could be enjoyed as a side dish with many things! And the best thing is you can also make it easily at home using a few simple ingredients in under 15 minutes!
Related Topics