Creamy, rich, and nutrition-packed avocados can bring so much joy to your table in the form of a condiment. So, in this episode, let us enlighten you with some unknown facts about guacamole vs chunky avocado salsa.
Guacamole and chunky avocado salsa primarily differ in their textures. In fact, avocados are mostly mashed in guacamole, while this fruit is used in chunks (cut pieces) in the chunky avocado salsa. In addition, chunky avocado salsa might have some extra ingredients, and due to the difference in texture, their uses as a condiment basically differ.
So, refer to the details below if you ever failed to understand how these two condiments distinguish from each other.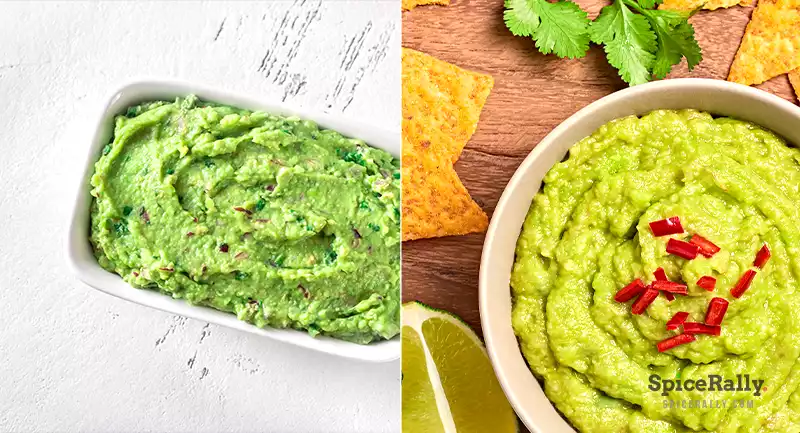 Guacamole vs Chunky Avocado Salsa
Guacamole
Chunky Avocado Salsa
Base ingredient
Avocados
Avocados
Other ingredients
– Tomatoes
– Fresh cilantro
– Onions
– Fresh lime juice
– Salt
– Black pepper
– Jalapeno pepper

Some recipes also contain:

– Ground cumin
– Cayenne pepper
– Garlic
– Paprika
– Serrano pepper
– Bacon
– Olive oil
– Hot sauce
– Corn
– Red pepper flakes
– Tomatoes
– Onions
– Fresh cilantro
– Lime juice
– Jalapeno pepper/ serrano pepper
– Salt

It might also contain:

– Garlic
– Ground cumin
– Ground coriander seeds
– Paprika
– Black pepper
– Cooked shrimp
– Mango
– Pineapple
– Feta cheese
– Red wine vinegar
Flavor profile
It tends to be less spicy than chunky avocado salsa if not, the jalapeno pepper is included. Has an overall nutty taste with hints of tomatoes, onions, garlic, and cilantro.
It can be spicier than guacamole if jalapenos or serrano peppers are added. However, this has a fresher bite with almost similar flavor notes to guacamole.

Mode of usage in cooking
Condiment
Condiment
Uses in cooking
– It can be used as a healthy dip for fresh vegetables
– To top burgers and pizzas
– This could be incorporated with salads and salad dressings.
– To mix and enjoy with pasta and spaghetti.
– As a side condiment with fish cake, fried fish, shrimp cake, or veggie patties.
– Mainly used as a dip for chips and crackers
– It can be a great filling for burritos and tacos.
– It makes a perfect crunch when mixed with refried beans, shredded cabbage, and pickled onions.
– Can be spooned into nachos, chilaquiles or huevos rancheros.
– It could be an excellent topping for black bean soup.
Origin
Mexican cuisine
Mexican cuisine
Mode of production
Store-bought options and homemade recipes exist.
Premade options do not typically exist. But this is mostly made fresh at home or in restaurants.
Availability
– It can be purchased from the store under different brands and quantities.
– Available in most grocery stores, leading supermarkets, and online sellers.
– Chunky avocado salsa can be bought from most Mexican restaurants, but it is not available in stores since it is made and served fresh.
Storage
– If you intend to make it ahead of time, it should be kept in the refrigerator.
– Best stored in a tightly-sealed container without letting air in so that it will stay well for up to three to four days.

If you are interested in knowing how exactly you should store your guacamole and how to keep it fresh for a long time, click on this link and refer to this article.
– If you intend to make it ahead of time, it should be kept in the refrigerator.
– It can be stored in a vacuum-sealed glass container for a maximum of two days.
Guacamole vs Chunky Avocado Salsa – SpiceRally
More Insights Into The Difference Between Guacamole Vs Chunky Avocado Salsa
Having avocados as the base, both of these condiments undoubtedly implement many Mexican-inspired dishes in their own tasty way. As you see, their texture is the most apparent and obviously the most prominent difference they possess.
Chunky avocado salsa includes diced/cut avocados and vegetables. At the same time, guacamole is made mostly with mashed avocados. And guacamole tends to have a smoother, pasty consistency which can even be incorporated as fillings for particular foods. 
Now since you learned the difference between guacamole and chunky avocado salsa, you might be interested in knowing what ingredients make your favorite guac so special. We are ready to share the required information with you from this post right here.
But chunky avocado salsa is coarser with pieces which is best served as a side condiment. Moreover, almost all salsa recipes contain jalapenos, serrano peppers, or a combination of the two. But pepper is only an optional ingredient for guacamole. Thus, chunky avocado salsa could be spicier compared to guacamole.
However, chunky avocado salsa can replicate a very similar taste to guacamole. And it is basically a dish that stands somewhere between guacamole and pico de gallo. Therefore, you can use this avocado salsa as a great dip substitute for guacamole whenever you don't have the original condiment.
Related Topics