Salsa lovers are scattered everywhere, and some visit Chipotle just to enjoy the tasty ones they serve. So, this is all you need to learn about what is in Chipotle roasted-chili corn salsa!
Chipotle roasted-chili corn salsa usually comes together with a few simple ingredients, such as:
White sweet corn
Red onion
Lime juice
Lemon juice
Fresh jalapeno
Roasted poblano
Fresh cilantro
Salt
So, read along to see the characteristic flavors these ingredients provide to this dish and check out the recipe below if you want to try this at home!
Jump to Recipe
What Is In Chipotle Roasted-Chili Corn Salsa?
The Chipotle fan base believes that its roasted-chili corn salsa is one of the most delicious side dishes among Chipotle's classics. This special dish captures the sweet, peppery, savory, and tangy flavors with mild heat in just one bowl!
And we are truly appreciative of Chipotle Mexican Grill since they happily provided us with the original list of ingredients used in their roasted-chili corn salsa when we informed them that we need to educate our readers about what they really enjoy at their outlets.
This salsa is ideal for those who follow a dairy-free or vegan diet since it is only made out of fresh, plant-based ingredients. It has a medley of flavors, so the salsa becomes a great complement with taco and burrito bowls other than enjoying it with chips.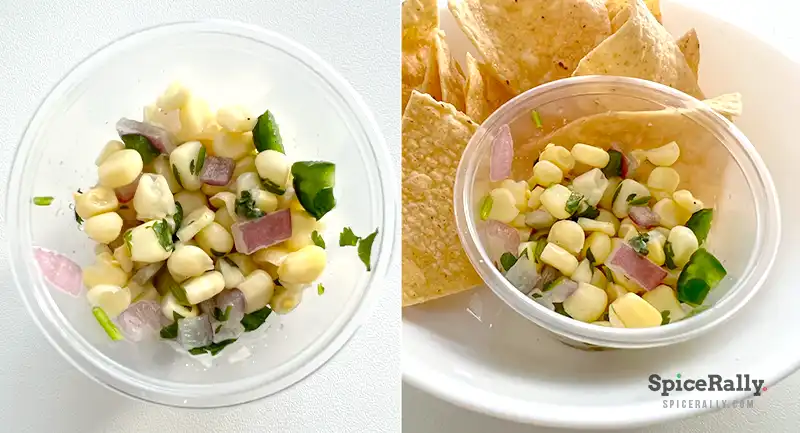 Spices And Herbs In Chipotle Roasted-Chili Corn Salsa
Have you enjoyed the famous burrito bowls during your visits to Chipotle? How about making a similar (even better) burrito bowl at home? We are ready to assist you with an amazing recipe- click on this link and get the step-by-step guide now!
01- Fresh Jalapeno- Fresh green jalapenos are a must in this dish since they give the salsa its characteristic mild hotness. Chipotle usually uses a relatively considerable amount of this spice to back up the other flavors used in this. You will obviously enjoy the bite of fruity-hotness of fresh jalapenos and the mouthfeel effect it makes when incorporated with other ingredients.
02- Roasted Poblano– Even though the proportion is relatively lesser than that of jalapenos, roasted poblano still makes a huge flavor difference in this dish. You will love that flavor contrast since it gives this salsa a rich and subtle smokiness, enhancing the spiciness it usually gets from fresh jalapenos. It also brings out a slight sweetness and concentrates its delectable flavor while pairing with the rest of the ingredients.
03- Fresh Cilantro– Chipotle never misses out on a significant amount of freshly chopped cilantro in their fresh salsas! The pungent and citrusy flavor of this herb adds complexity to this dish while helping out to bring out its vibrancy. It backs up the rich and sweet taste of the corn and pairs well with the onions, citrus juice, and peppers used in this dish.
Other Ingredients In Chipotle Roasted-Chili Corn Salsa
In addition to the spices and herbs mentioned previously, the main ingredient or the base of this salsa is white sweet corn. It gives this dish its iconic taste, which stands out from any other ordinary salsa dishes. Moreover, red onion is used to add tons of fresh and umami punch with a sharp yet appetizing bite.
Lemon and lime juice are both often added to this salsa since the fresh tartness, and the fruity combination of these two citruses provide a distinctive kick. They combine with corn's sweetness and peppers' heat while backing up the salt.
Fresh tomato salsa is another delicious dip served at Chipotle. Click on this link and refer to this article to learn about its ins and outs.
Does Chipotle Roasted-Chili Corn Salsa Contain MSG?
Chipotle usually uses fresh ingredients in most of the items on their menu. So, the roasted-chili corn salsa is also another fresh, MSG-free dish you get to enjoy.
Is Chipotle Roasted-Chili Corn Salsa Vegan-Friendly?
The roasted-chili corn salsa served at Chipotle is a vegan and vegetarian-friendly item on their menu if you follow a particular diet.
Is Chipotle Roasted-Chili Corn Salsa Gluten-Free?
Chipotle's official allergen and special diet disclaimer declares that corn salsa may potentially have traces of gluten from co-mingling with gluten-containing grains in the field.
Is Chipotle Roasted-Chili Corn Salsa Keto-Friendly?
Since corn is high in carbs, Chipotle's roasted-chili corn salsa will not be a favorable option if you follow a keto diet.
You can check out the official Chipotle website if you need more and updated knowledge on special diets and allergen information on the dishes that Chipotle offers.
Wrapping Things Up With The Sweetest Salsa That Chipotle Offers!
Chipotle roasted-chili corn salsa is one of the most popular side dishes served within the store, known for its characteristic taste. The dish typically comes together with white sweet corn, jalapenos, roasted poblano pepper, red onion, fresh cilantro, lime and lemon juice, and salt. It is full of flavor, with a mildly spicy, sweet, smoky, savory bite.
Related Topics
What Is In Chipotle Hot Salsa? (To Put A Little Fire On Your Dishes!)