Tea has a great history and an excellent record of working as a soothing beverage and a quintessential thirst buster. So, here's a list of the best spices for tea that you can use to upgrade your regular cup.
Tea comes in a wide variety and is typically served as a warm or cold drink. Thus, most types of teas can be complemented with the following spices:
Ginger
Cinnamon
Vanilla
Cardamom
Turmeric
Saffron
Cloves
Read along to learn all about how these spices are used and how they are paired with other ingredients.
The Best 07 Spices For Tea
Teas have extended across the globe since the colonial era. And not just the leaves of the Camellia sinensis plant but the culture of having various kinds of teas have also spread along. There are numerous ways to make and consume tea, and spiced tea has become one of the most prevalent and delicious methods.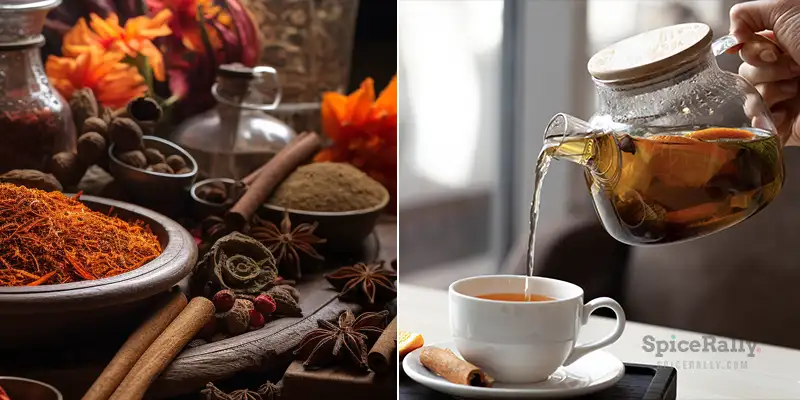 Chai is the most famous type of spiced tea that dates back to over 5000 years in India. The inclusion of spices with the leaves of the Camellia sinensis plant (mostly with black tea) has been deemed to be a healing beverage in Ayurveda. However, the evolution of different teas has recently paved the way for a wide variety of infusions where spices come together with many other ingredients.
Adding spices enhances the base flavor while boosting the medicinal properties of the particular beverage. And most importantly, these spices are paired and mixed with ingredients that complement each other in terms of flavor and health properties. That being said, let's move out to see how these spices improve your cup of tea to a whole new level.
01- Ginger
Ginger is obviously one of the top spices that are known for its ability to be brewed as a healing tea. The citrusy, earthy, sweet, and warmly spicy flavor of this spice makes a refreshing and comforting drink whenever we need to fix our mood or won't feel well.
Fresh ginger is often brewed by itself with a sweetener like honey to make a healthy cup of ginger tea. Or else it is combined with turmeric, cardamom, or cinnamon. While this is the most common way to enjoy ginger in the West and East, Asian countries often incorporate ginger with their black teas and green teas. 
The pungent flavor of ginger perfectly blends with the strength of black or green tea to make a heavenly beverage! This spice can heal our body through its anti-inflammatory properties and keep us healthy through the content of antioxidants. Ginger is also an excellent spice for morning sickness, flu, common cold, etc.
02- Cinnamon
This is the next ubiquitous spice used to spice up a wide variety of teas. While whole and ground cinnamon can be brewed as tea, this spice is also widely incorporated into black ea. The two main types of cinnamon, Ceylon and cassia, are used in tea-making.
But still, the Ceylon cinnamon tends to impart a bold, more authentic, palatable cinnamon flavor than cassia. This spice has a characteristic sweeter overtone with warm, spicy, and earthy hints. It is often paired with complementary ingredients such as ginger, vanilla, cardamom, milk, honey, etc., to enhance the flavor and health properties.
With the subtle taste, cinnamon gives your tea, it also comes with a bunch of health benefits, such as lowering high blood sugar, helping obesity, reducing PMS symptoms, and many more! If you're a black tea lover, you can simply steep a dash of ground cinnamon with black tea along with or without a sweetener, and enjoy it as a warm drink any time of the day to have the benefits mentioned above.
03- Vanilla
Vanilla is often confused as a flavoring, while it is actually a spice, and this can be considered the next universal spice that compliments the taste of many types of teas. However, unlike cinnamon or ginger, vanilla cannot be steeped in water and consumed on its own.
It should be mixed with a base and is primarily used to enhance the flavor and aroma of a particular tea. Milk tea, a simple combination of black tea, milk, and sugar, is usually flavored with vanilla. And in Asian households (mainly in Sri Lanka and India), we often see that vanilla pods are incorporated with black tea powder, allowing its aroma and flavor to be infused with cured black tea leaves.
This spice is also used in iced green tea, matcha, and rooibos tea. Vanilla is pretty much versatile to be paired with any ingredient used in tea, ranging from fruits, other spices, floral infusions, herbs, etc. It gives your cup of tea a luxurious taste and has some health benefits, such as inducing sleep, boosting brain health, improving mood, and reducing sugar intake.
04- Cardamom
This spice has a powerful flavor and an intense aroma with an almost smoky, slightly sweet, minty, menthol-like flavor. Two main cardamom types are widely used in cooking, namely, green cardamom and black cardamom.
While green cardamom is commonly infused into teas since black cardamom is more robust, smokier, and spicier in flavor. The crushed seed pods or powdered seeds are steeped alone or blended with black tea, milk matcha, green tea, or other herbal infusions.
These seeds release their bioactive components into the water, which gives this infusion a high restorative value. By consuming cardamom tea, you'll be able to reap the following health benefits:
Helps digestion

Improves heart health and blood circulation

Treats oral conditions, including bad breath

It works as a detox drink
05- Turmeric
Dried or fresh turmeric is steeped all by itself in water to make turmeric tea, while it is also incorporated with black tea and green tea. This spice is an incredibly wholesome ingredient with an earthy, warm flavor profile and a vibrant color.
The active component in turmeric is curcumin, but it cannot be absorbed by our bodies all by itself. Therefore, turmeric is often paired with black pepper, where its active ingredient, piperine, backs up curcumin, facilitating its ability to be absorbed by the human body.
This spice is also paired with ginger, fennel seeds, cinnamon, honey, and various citruses to improve the taste and health benefits of the tea. Turmeric is rich in antioxidants, anti-cancer immunity boosting, and anti-inflammatory properties, while it also helps to improve your skin.
06- Saffron
Lavish saffron is the world's most expensive spice that incorporates various teas. This spice is used for its various health benefits and vibrant color more than any specific taste upgrade it could give your tea.
This is infused with a base flavoring such as black tea, green tea, matcha, oolong, and herbal infusions to create a refreshing, healthy cup of tea. Saffron boasts a number of medicinal and health advantages, such as:
Reducing depression

Improving skin condition

Healing wounds

Treating urinary tract infections
This wonderful spice is often teamed up with cinnamon, ginger, cardamom, lemon, and honey. Saffron is also included in chai masala in some parts of India. It does not have an overwhelming taste but has a subtle earthy-sweet flavor profile with a hint of bitterness on the tongue that gives way to mild floral and honey notes.
07- Cloves
Clove is an essential spice in Chai. Coming together with an incredible aroma and a robust flavor profile, this spice is another top-notch ingredient that could constantly upgrade your cup of tea.
Whole cloves or powdered cloves can be steeped in water alone and prepared as tea when mixed with a healthy sweetener like honey. But it is much tastier and healthier when this spice is paired with other ingredients like cinnamon, ginger, nutmeg, cardamom, orange, etc.
You'll find many black tea and clove infusions in the market since the astringent, warm, spicy, and subtle sweetness of cloves essentially complements the strong taste of black tea. Drinking clove tea or clove-infused tea can reward you with the following health benefits:
Contains cancer protection properties

Alleviates oral issues

Kills bacteria

Improves liver health
How Do Spices In Tea Pair With Other Ingredients?
Spices are, in fact, such an amazing creation of mother nature that allows you to explore and experiment with their flavors in numerous ways. In consequence, there's actually no rule of thumb that this ingredient should be paired with this particular spice when it comes to tea.
But you should remember that these combinations and infusions might depend on the base flavor you use. For example, if you hope to incorporate a particular spice with black tea, you should make sure that it will not overpower the taste of black tea but will only complement its flavor to make a better version of tea. Likewise, spices team up with other ingredients such as fruits, herbs, flavoring, and other spices.
In essence, ingredients are mixed and matched with spices with regard to their specific flavor profiles.
The combination of spices and herbs is very common, and you can learn more about how herbs harmonize with spices in tea in this article.
Spices Do Wonders In All Kinds Of Teas!
The essential culinary spices you keep in your spice cabinet are undoubtedly faithful companions to tea to enhance its taste and overall quality. While most spices like ginger, cinnamon, turmeric, cardamom, and cloves can be brewed along as tea, other spices like vanilla and saffron are mostly incorporated with a base like black or green tea to give out better results. While you can quench your thirst with a refreshing cup of spiced tea, you can also improve your health in ways you never expected!
Related Topics