Tea is a requisite element of Indian culture, and it is one of the dominant ways they manifest their hospitality. In fact, more than merely a beverage, Indians consider tea as a part of their lifestyle. The Western coast of India is regarded as the most tea-consuming region of the entire nation. Their immense favor for tea is one of the main reasons why they try to experience various recipes with it using their distinctive spices.
Chai is a version of tea that originated in India. In chai, tea leaves are brewed along with multiple spices and herbs to intensify the fragrance and flavor. It includes some main chai tea spices such as:
 And in most Chai types, milk and sweeteners like sugar or honey are added. Apparently, there are many varieties of this tea that are made in India, and they are gradually coming down to every nook and corner of the world. So, if you ever came across a cup of chai and wondered how this beverage got its flavor and thought what spices were used in that, we have answers to all your questions right here. Scroll down to learn everything about chai and its featuring spices used.
What Spices Are In Chai Tea? – Insights To The Irresistible Beverage From India
On the contrary to the most popularly recognized term "Chai Tea", this beverage is actually known as only "Chai". The Hindi term "Chai" itself has the meaning "tea" in it; therefore, if we call it "Chai Tea", that would be "Tea Tea", in English. Accordingly, the correct term would be just "Chai", not "Chai Tea".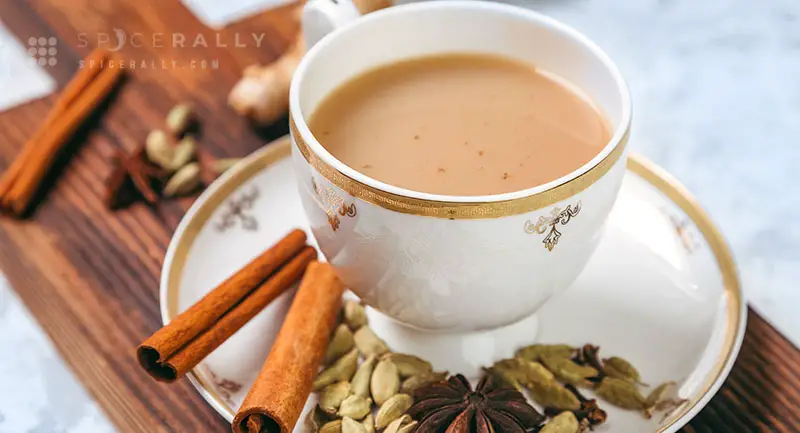 This was introduced to the world by India as a game-changer. We say that this beverage is a game-changer because it really twisted the way that we used to drink tea in the most ordinary way. In fact, chai was able to make a trend all over the world that tea lovers enthusiastically began to search how it is made. In addition to quenching one's thirst, all the varieties of Chai are famous for their health benefits and the warm and cozy sensation it gives when consumed.
This drink actually does not confine to one particular recipe, unlike many other beverages. In fact, Indians are keen-witted enough to customize their own pots of chai without ruining its taste.
There are more than ten different types of Chai made in India. And most of them have spices, including the most classic Masala Chai recipe. They use fresh and pungent spices in their spiced teas. And almost all of their tea stalls, restaurants, and hotels serve Chai as a key item in their menus. So, now let us get some insights into the main spices used to flavor this beverage.
01 – Cardamom
This is the most common spice that you can find in Chai. No matter how much Chai has subjugated into evolution, cardamom is still a flavoring that has not been excluded. The main reason Indians used cardamoms in the first place is the enticing and sweet taste and aroma of this small pod.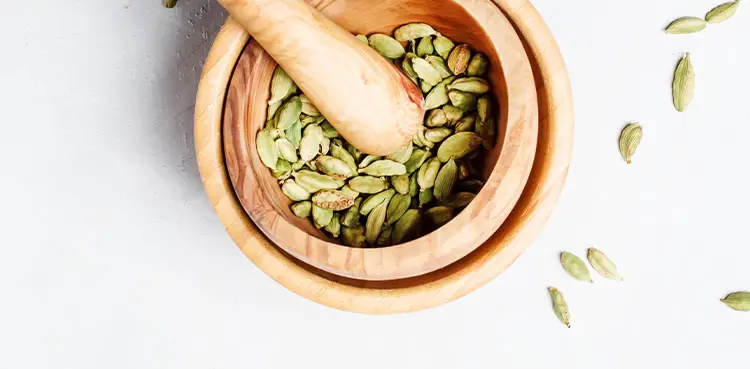 Green cardamom is the most regularly used type for chai. Apart from adding a great flavor and aroma to tea, cardamom is rich in potassium, calcium, and magnesium. And it is a great spice that alleviates urinary tract diseases and enhances blood circulation. Cardamoms are used in these types of chai recipes:
Masala Chai
Cardamom Chai
Kashmiri Kahwa
Bombay Cutting Chai 
Sulaimani Chai 
Gud Ki Chai
Sheer Chai 
02 – Cloves
Cloves with their robust and musky flavor are another staple in chai. And, this spice adds so much zest to the tea when combined with other flavorings like cardamoms, cinnamon, and ginger. Due to the intense flavor that cloves possess, they should be added moderately when adding to chai.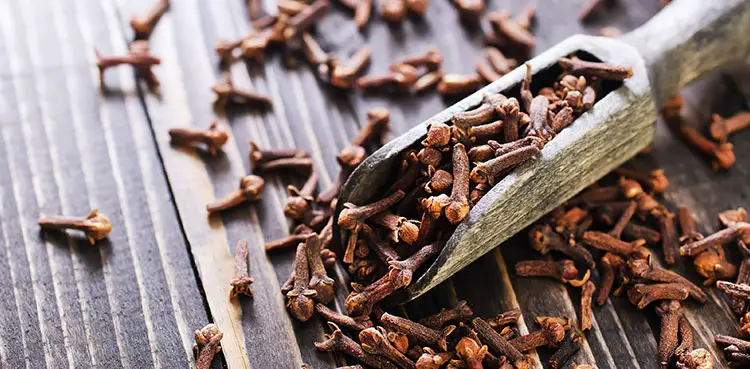 Usually, whole cloves are grounded with other spices, particularly when Masala Chai is made. Moreover, cloves have health attributes like its ability to fight against bacteria and reduce stomach ulcers. Here are the varieties of Chai made by incorporating cloves:
Masala Chai
Kashmiri Kahwa
Sulaimani Chai
03 – Cinnamon
Cinnamon is another ingredient that makes spiced tea extra special. This spice adds the perfect touch of sweetness to chai and balances the flavor of tea leaves, and other spices added. Cinnamon makes a lovely combination with black tea, cardamom, and ginger.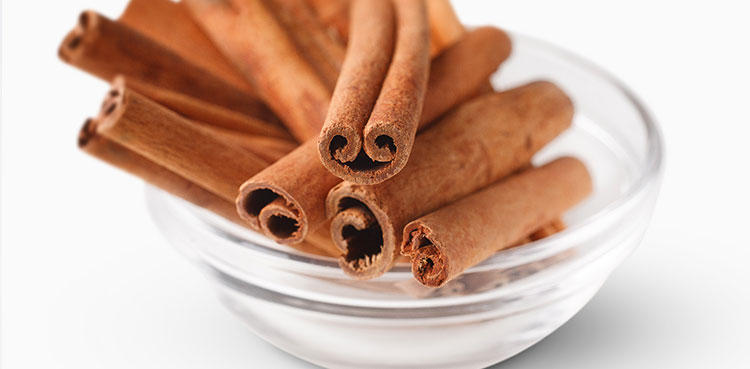 Thus, the ultimate outcome would be an incredibly delectable cup of chai! Indians use both Cassia and Ceylon cinnamon and are generally used as sticks. Consuming cinnamon is known to lower blood sugar and even have potential benefits in promoting weight loss. The chai varieties that use cinnamon are as follows:
Masala Chai
Cardamom Chai
Kashmiri Kahwa 
Sulaimani Chai 
Sheer Chai
If you would like to invest a few minutes in learning about types & categories of spices, we have a fully equipped article here.
04 – Ginger
What is even chai without ginger! Indians literally don't miss ginger in their authentic chai recipes. Not only in India, but ginger tea is also a popular beverage in Sri Lanka. Fresh ginger adds the ideal spicy note to your cup of chai. And, just like we mentioned about the spices on the top half of our list, ginger pairs well with black tea, cardamom, and cinnamon.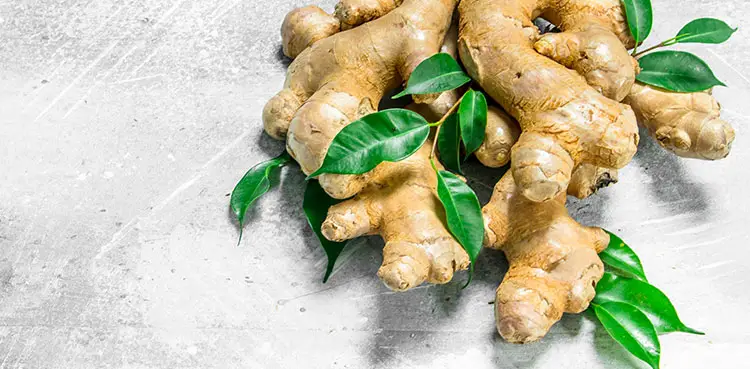 Usually, fresh ginger is peeled and sliced before adding and blending in with other ingredients in the tea. In addition, dry ginger powder is also used in some chai. This spice is very rich in medicinal properties. If listed, it typically relieves morning sickness, can help to treat chronic indigestion, and support weight loss. Chai types made using ginger are:
Masala Chai
Ginger Chai (Adrak)
Bombay Cutting Chai
Tulsi Chai (Basil Tea)
Chili Chai (Adrak Hari Mirch Chai)
05 – Black Pepper
The king of spices, black pepper, which is also a staple in the typical Indian spice rack, is another ingredient that makes chai a significant beverage. Black pepper is a spice that joins flawlessly with black tea and other spices to generate an exceptional chai experience.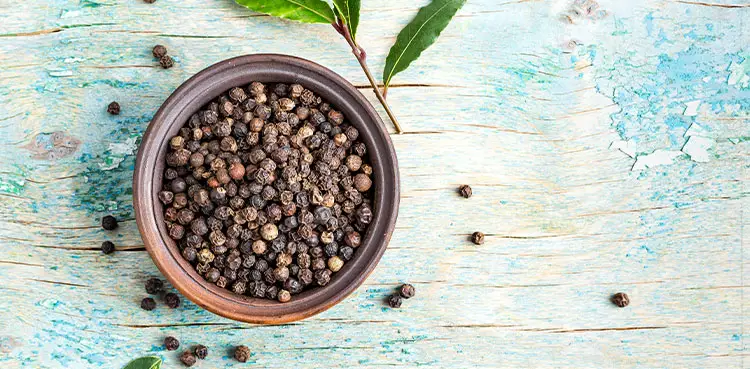 Whole black peppercorns are often employed to be ground with other spices like cardamom, cinnamon, ginger, and fennel. It adds a spicy, woodsy, warm flavor and a pungent aroma to the entire pot of tea. Black pepper is high in anti-inflammatory effects and helps in blood sugar regulation and brain health. Here is a list of chai made with black pepper:
06 – Fennel
This tiny seed is packed with a unique flavor and aroma to give the best touch to chai when included. Generally, the original chai recipes do not contain this ingredient. And however, including fennel to chai has not been an unsuccessful attempt.
This spice gives a subtle note of licorice and anise notes with a mild sweetness. When combined with black tea, cinnamon, cardamom, ginger, and cloves, it gives the tea a great flavor and aroma.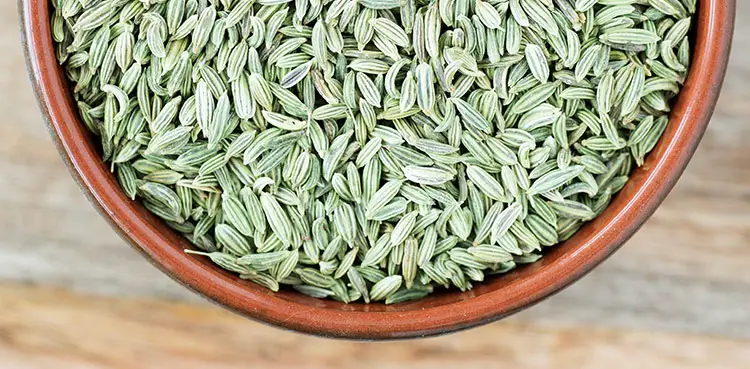 Just like other spices, fennel is also used whole and then blended with other ingredients in most recipes. Besides its great taste and aroma, fennel is abundant in fiber, potassium, folate, and Vitamin C. Plus, it helps to reduce heart diseases and lower harmful cholesterol levels. Fennel chai recipes are as follows:
07 – Nutmeg
Nutmeg is an excellent additive if you need a dynamic and warmer taste in your cup of chai. Like cloves, nutmeg, too, has an intense, astringent flavor that will enhance the taste of other spices added in the chai. However, this spice is not very common in all original chai recipes but can be seen in many that came on board recently.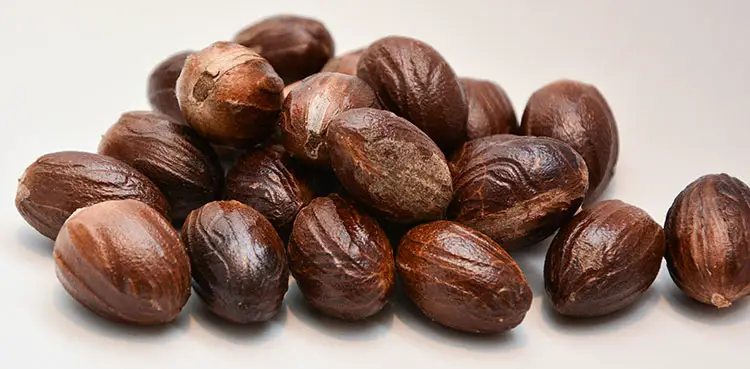 Usually, nutmeg comes with a shell, so you will have to remove the peel and grate the seed using a Microplane. Apart from its multiple culinary uses, nutmeg carries potent anti-inflammatory plant composites that function as antioxidants. And, we can see nutmeg in most Masala Chai recipes.
Sri Lanka uses nutmeg as one of its staple spices. Thus, if you are keen to dig into more information about Ceylon Spices, you are just one click away.
08 – Saffron
Using the most expensive and the only known spice that derives from plant stigma in chai itself is a privilege! When added in chai, the striking crimson-shaded saffron thread creates a deep orange hue. Saffron chai is primarily a beverage prepared for royalties in India during the days of yore. Besides a few exceptions, every chai recipe does not contain this spice and colorant.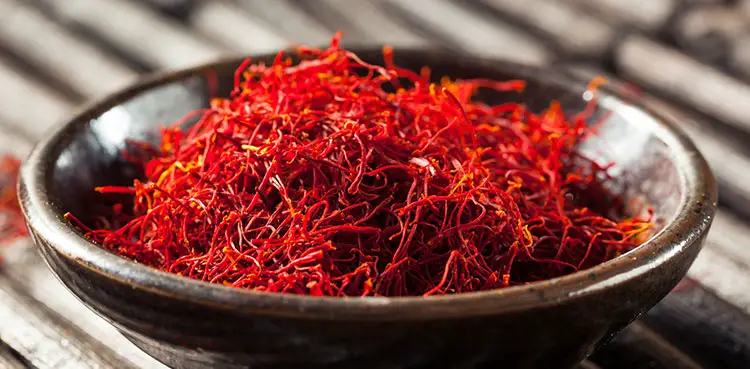 Therefore, we cannot make it a staple in chai, but some recipes do require saffron. 
Genuine saffron emanates a pleasing fragrance, and it tastes somewhat bitter. This spice is known for its many health advantages. Accordingly, it has potential benefits in suppressing appetite and promoting weight loss, functions as an antidepressant, and has anti-cancer properties. Here are some popular types of Chai made infusing saffron:
Kashmiri Kahwa
Sulaimani Chai
Kesar Masala Chai(Saffron Tea) 
Sheer Chai 
While chai uses saffron, have you ever wondered why saffron is so expensive? If you need the answer, click right here to clear your doubts.
09 – Star Anise
Star anise is another spice that can be seen in many traditional chai recipes. This spice adds a hint of licorice flavor to tea and binds well when included with black tea, cardamom, cinnamon, and ginger. However, most Indians replace star anise with fennel, but we must admit that this spice is deeper in flavor and color than fennel.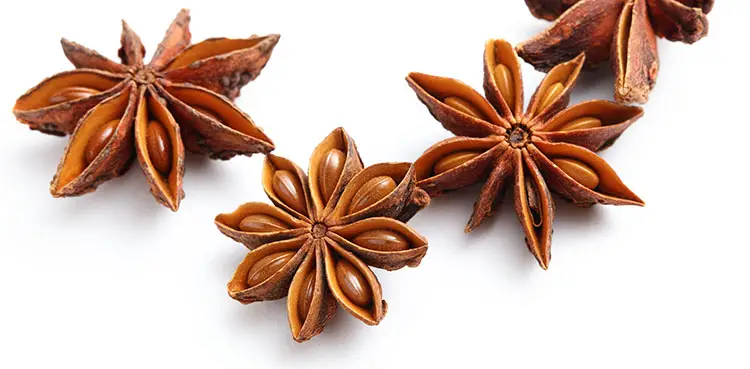 In addition to its fragrance and taste-enhancing qualities, star anise is better consumed for some medicinal properties too. It is used to treat cough and helps to relieve cramps and nausea. Here are some chai recipes made using star anise:
Masala Chai
Tulsi Chai (Basil Tea)
10 – Coriander
Mild and sweet coriander seeds, which also give a citrusy touch, is another great additive in most Indian chai. Just like cardamom, this tiny seed has an excellent aroma that could add life to the entire pot of tea. And coriander seeds blend in well with black tea, cinnamon, cardamom, cloves, and ginger.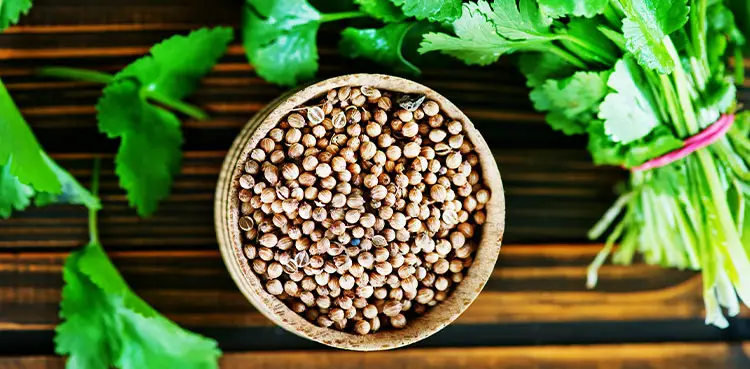 In addition to its subtle taste and fragrance, coriander is known for some significant health benefits. It is known to lower blood sugar, helps to maintain brain health, and ease the common cold and flu. This spice is primarily used in making Masala Chai.
11 – Chilli 
Last but not least, chili truly makes a twist with the traditional cup of tea! Chili chai was created as a result of magical experiments that the Indians did with tea. This is rather a "hot" recipe that goes really well with black tea. Most Indians use green chilies in their recipes. At the same time, some use a touch of red chili powder with other spices and a sweetener. Adrak Hari Mirch Chai is the name of chili tea basically made in India.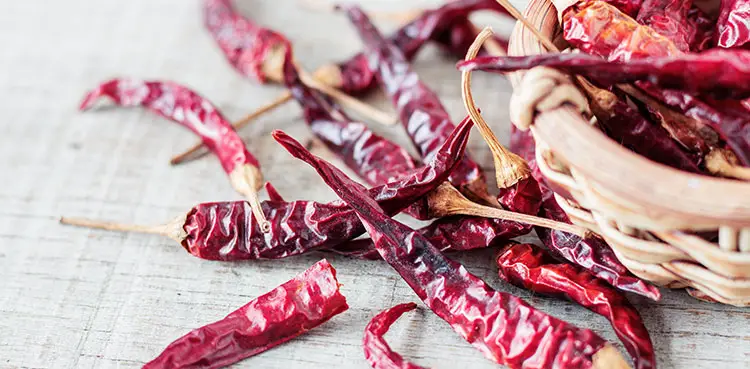 In addition to these spices mentioned on the list above, some recipes include flavorings like poppy seeds, mint, mace, cumin, and allspice. 
While some chai includes red chili and green chili, people all over the world use paprika to flavor their dishes. We have a complete article here with insights about regular paprika and smoked paprika that you might need to learn.
What Are The Types of Chai?
To be honest, the number of chai recipes is uncountable. This is mainly because people tend to customize and come up with their own recipes from time to time. 
However, here we managed to bring you some popular chai types that originated from India. So, this table will provide you with information about varieties of chai and the main ingredients used.
Type of Chai
Main Spices and Ingredients Used
Masala Chai
Black tea, Milk Cardamoms, Cloves,
Ginger, Cinnamon, Nutmeg, Black Pepper
Cardamom Chai
Black tea, Cardamoms,
Cinnamon(optional)
Ginger Chai (Adrak)
Black Tea, Ginger
Kashmiri Kahwa
Green Tea, Saffron, Cinnamon,
Cardamoms, Cloves, Almonds
Bombay Cutting Chai
Black Tea, Cardamom,
Fresh Ginger, Milk
Tulsi Chai (Basil Tea)
Black Tea, Dried Tulsi,
Star Anise Ginger, Milk
Sulaimani Chai
Black tea, Cinnamon, Saffron,
Cardamom, Cloves, Lime Juice
Chili Chai
(Adrak Hari Mirch Chai)
Black Tea, Ginger, Milk, Green Chili
Gud Ki Chai
Black Tea, Ginger, Fennel Seeds,
Cardamom, Jaggery
Kesar Masala Chai (Saffron Tea)
Black Tea, Milk, Saffron
Sheer Chai
Black/Green Tea, Cardamom,
 Baking Soda, Cinnamon,
Black Peppercorns, Poppy Seeds,
Pistachios, Saffron, Almonds
What Gives Chai Tea Its Flavor?
Chai is undoubtedly one of the most flavorful types of beverages that we can find on earth. But, what actually gives them their flavor?
Chai is a combination of many ingredients and is way unconventional than your ordinary cup of tea or coffee. In fact, spices play a significant role in flavoring almost all varieties of chai. When various flavorful, colorful, and aromatic spices are blended with each other and go in with tea leaves and sometimes milk of your choice, that is where the flavor of all chai generates. In most recipes, sugar or honey are added as sweeteners, and some chai recipes come with jaggery as a sweetener.
Does Chai Always Have Cinnamon?
Although this spiced tea is a result of an authentic recipe, we can see that many people come up with their own recipes over time. People even incorporate hard-to-believe spices like red chili powder and green chili with tea! Thus, talking in terms of cinnamon and its connection to chai, we can see that, particularly, almost all traditional Masala Chai recipes do include cinnamon in them. However, we cannot see that all the varieties of chai always have cinnamon in them. But yes, most of the time, they do.
What Is Masala Chai?
Masala Chai, is in fact, the most popular type of chai in India. You will hardly find a house that does not serve Masal Chai to its guests! And, we can say that this kind is one of the initial chai recipes that was introduced to the rest of the world. Plus, Masala Chai can be considered the most rapidly disseminated type over the globe. It is consumed for its amazing punch, and many would consider the health benefits they would get by sipping this spiced tea.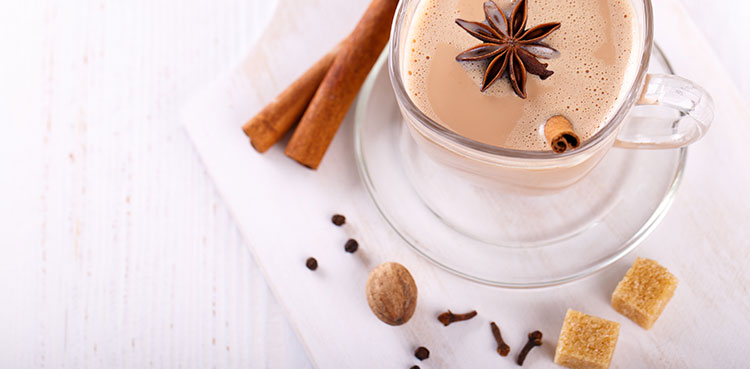 In English, "Masala" means "Spice" and "Chai" means "Tea". Therefore, simply we can understand that it means "Spiced Tea". This is typically a beverage made by brewing black tea with aromatic and flavorful spices, milk, and a sweetener. Traditionally, Masala Chai was made with loose black tea leaves. But now, most people use powdered or granulated black tea.
However, in India, they mainly use three types of black tea- Nilgiri Tea, Assam Tea or Darjeeling Tea. Moreover, the fundamental and staple spices used in the classic masala chai recipe are as follows:
Green cardamoms
Cinnamon
Cloves
In addition to this, other optional spices like fennel seeds, coriander seeds, ginger, nutmeg, black pepper, and star anise are also used. 
When considering the type of milk, they generally use full-fat cow's milk. Still, it can be customized upon one's personal choice. But you should know that it is considered that Masala Chai tastes great with full-fat cow's milk. However, the ratio of milk to water is pretty important since it can change the taste of the entire recipe.
Furthermore, moving to the sweeteners used, the original recipe employs jaggery, but it becomes a matter of choice once again. You can actually use whatever sweetener you like, including sugar and honey. 
Above all, each Indian family could have their own recipes in making Masla Chai and what we shared here is the general information about this beverage. Accordingly, you too can customize the ingredients you wish to include in your cup of chai.
Just like spices do wonders with Masala Chai, they do wonders with Italian seasoning too. If interested, click here for a deeper interpretation.
Brewing The Last Cup Of Chai…
Tea is a beverage that is relished by millions of people around the world, and you, who read this at this moment, may be one among them. Chai is presumably a promotion given to your ordinary cup of tea by including a number of fragrant, pungent, and flavorsome spices.
However, the introduction of chai to the world, which was initiated by India, has become a real palatable change. With about ten different types of Chai, we expect that this number would really increase with time when new recipes are found through experiments since Indians never give up on experimenting with new tea recipes.
So, we hope that our attempt to bring you facts about chai was successful. And now you can either make your own chai at home or identify the chai spices and ingredients used in your cup of spiced tea when you enjoy one next time!