We all love our guac to be fresh, flavorful, and greener. But sometimes, some reasons can make this dip unappetizing while storing and making it ahead. So, let's see how to store guacamole and keep it fresh for a long time.
Guacamole should be transferred to a tight-fitting container and kept in the fridge if needed to be stored for some time. You can pour a thin layer of normal water on top of the guac or lay a sheet of plastic wrap on the surface of the dip to prevent air from getting into contact with it.
Continue reading to learn more tricks and tips to maintain the freshness of your guacamole and enjoy it as tasty as it is.
How To Store And Keep Guacamole Fresh?
If you get your guac exactly on point, the chances are high that you won't leave any bits and pieces of it! In fact, guacamole is best enjoyed and served fresh. But still, there can be instances where you'd be left with some leftovers or need to make it ahead for a party or a family dinner.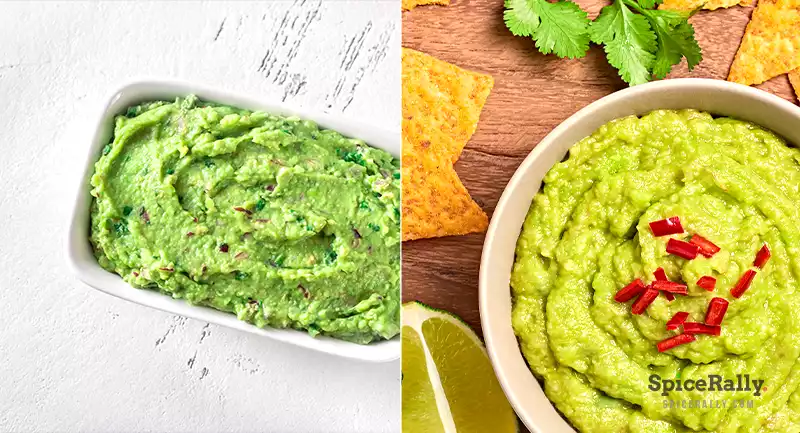 But unfortunately, there's an enemy for guacamole that could attack it, change that beautiful green color, and make it distasteful.
So finally, you will have to throw away your precious dip. Such a waste- we can't let that happen to you! If you've ever been thinking about how to store guacamole in the right way and preserve its freshness, here we have answers for you.
Air Is Guac's Worst Enemy!
You have seen fruits and vegetables like bananas, apples, and potatoes cannot be kept out peeled and cut for a long time. They change color and get a gross brown tint all over the surface. The same thing tends to happen with avocados too.
Avocados contain an enzyme called polyphenol oxidase. This causes the flesh of the avocado to get browned once it is contacted with oxygen (air). 
Browning could happen so fast- even during the time we mash the avocado flesh for guac. Lime or lemon juice is one of the natural ways to stop this effect, which is why we add lime or lemon juice while mashing the flesh of avocados.
How to keep guacamole from turning brown after it is made?
This is actually not rocket science, and you can use a few simple tricks to get over this problem. Some myths are getting along related to this subject, but we will bring you some foolproof tricks to prevent your guacamole from browning after it is made.
What are the ingredients that make guacamole so flavorful? If you need to get enlightened with every little detail about this tasty dip, click on this link and read this post!
01- Pouring A Thin Layer Of Normal Water
Adding lime juice while mashing the avocados will be of some help, but it will not completely prevent the dip from undergoing browning. Therefore, one of the best ways is to pour a thin layer of normal water over the guac.
After the dip is made, transfer it to a sealable container and push it with a spatula or a spoon to level it down. Then take some normal water (not hot, warm, or cool water) and pour it on top of your prepared dip. Close the lid and store it in the fridge.
You might feel this trick is something gross- but it is not! Since this dip is really thick and creamy, it will hold the water on top of it nicely without steeping it into the content.
You can throw away this water slowly, pushing it down the sink from the container when ready to serve your guac. This will not make your dip mushy or bland- all you have to do is to mix the guac again, once you throw away the water and serve it immediately.
If you need instructions on how to choose the avocados for your homemade guacamole and a guide to making the perfect dip, click on this link and get the recipe from here!
02- Covering With A Cling Wrap
This is a pretty effective trick if you intend to have your guacamole within a short time. As explained before, you can level the dip in a tight-fitting container and simply put a sheet of plastic wrap on the surface of the dip.
Make sure you close the entire content. Close the lid and pop it into the fridge until you use it.
03- Guacamole-Storing Containers
If you make guacamole quite often, well-fitting containers are essential. So, investing in such a container will not be a waste. We would like to recommend the Casabella Guac-Lock Container and this Guacamole Keeper Storage Container with Airtight Lid.
These containers are specially created to store guacamole. You can purchase them in different sizes from leading online shopping sites. Pouring water or putting a plastic wrap won't be necessary if you keep your dip in these containers. They essentially press out the air out of the container and prevent the browning of the guacamole.
Sometimes, for an afternoon snack, I'll get some tortilla chips and half an avocado, and I'll just eat that like guacamole.

Kyle MacLachlan
How to keep guacamole fresh overnight?
If you are preparing guacamole ahead, it should definitely be stored in the refrigerator. Accordingly, as mentioned above, you can transfer the prepared guac into an air-tight container, cover it with a thin layer of water or place a sheet of plastic wrap on top of it, close the lid tightly and keep it in the fridge overnight. In this way, your dip will stay fresh in the refrigerator for up to three days.
Did you know fresh, dried, and powdered ginger can be kept well for a long time when stored properly? Click on this link and refer to this article for more details.
So, Never Be Afraid To Make Guacamole Ahead Of Time!
As you see, covering guacamole with a thin layer of water, placing a plastic wrap over the surface of the dip, or storing it in a specific guacamole-storing container can help keep this condiment fresher for a long time and prevent it from browning.
And also, make sure you choose perfectly ripened avocados and fresh ingredients to make your guac so that the quality of the dip enhances with its freshness.
Related Topics
Guacamole vs Avocado Salsa: A Helpful Guide To Two Condiments
This post may contain affiliate links. If you use these links and make a purchase, We may earn a small commission. However, there's no extra cost to you. Also, as an Amazon Associate, we earn from qualifying purchases. Thanks!