Although turmeric is a staple in many homes, we could occasionally run out of this spice. In such instances, it is important to know what to use instead. Thus, here we have tackled the best 11 turmeric substitutes you can easily find.
The alternatives that you could use in place of fresh/dried, powdered, or pasted turmeric include:
So, keep reading to learn how these options will help you to save different dishes whenever you don't have the original spice around.
The Best 11 Turmeric Substitutes
For many reasons, turmeric is probably one of the most versatile spices we find in our kitchen. It adds a depth of flavor to our food with a powerful color and also helps us with its valuable health benefits.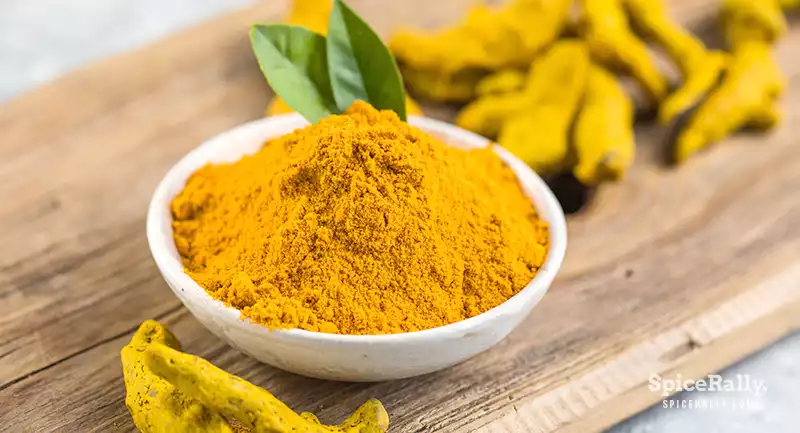 Generally, turmeric can be helpful to us in the kitchen when cooking and baking, and it complements a wide variety of dishes.
There's quite nothing like turmeric, but SpiceRally always tries to come up with answers and solutions to the issues you have in your kitchen. Therefore, refer to our list below and learn which alternative is best to use with which type of dish when you don't have turmeric around.
01- Saffron
If you expect a similarly bold and vibrant color from a substitute, saffron can be your best bet. But saffron can be more expensive than turmeric and quite hard to find. In addition, it also has a more subtle, mild, sweeter, and floral undertone when compared with our topic leader.
However, you can swap saffron threads or powdered saffron in place of turmeric with dishes like risotto, soups, sweets, broths, sauces, curries, and most Indian sweets. You can start with ¼ teaspoon or one large pinch of saffron per one teaspoon of turmeric.
02- Annatto
You can get annatto as whole seeds and as a powder. Both forms could be a potential colorant substitute for turmeric. However, the flavor of this alternative is a bit different from our topic leader since it has a more nutty, peppery taste.
But powdered annatto can work best as an alternative with many rice, meat, sausage dishes, marinades, and baked goods.
Since the color of annatto is way more intense and brighter than turmeric, you will have to use it sparingly. You can use half a teaspoon of annatto powder for one teaspoon of turmeric.
Nevertheless, you can't use whole annatto seeds directly in dishes. If you need to use whole seeds, first, they need to be infused in oil. The oil infusion can be used in dishes but will not complement smoothies or baked goods very well.
03- Safflower
Safflower is similar to saffron but could be much more affordable and easy to find. And, it works as much as saffron would do as a substitute for turmeric. This option gives a very similar deep yellow hue to our subject leader.
However, the flavor is much milder than turmeric. Thus, you will need a little more when replacing it in a particular dish. 
You can use safflower in various vegetable dishes, smoothies, chicken dishes, risotto, casseroles, and marinades. Try replacing about two large pinches of safflower with one teaspoon of turmeric.
Since you learned about the best turmeric substitutes, we bet you don't want to miss out on our comprehensive article on turmeric. Click here to read some interesting facts about this golden spice.
04- Curry Powder
The next best possibility would be using curry powder. Curry powder is a spice blend many homes use and is readily available. Most curry powder versions available in the Western market have turmeric as their key ingredient.
To be more specific, you can also go for Madras Curry Powder which will give a similar yellowish-orange color. However, you should remember that curry powder is a blend of additional spices like cumin, mustard, coriander, ginger, garlic, etc.
Therefore, it will give a more intense, bolder flavor than turmeric. Accordingly, you can start with a small amount in the beginning and then adjust the amount depending on the taste. 
Curry powder can be a tastier addition to most curries, soups, stews, stir-fries, marinades, etc. But, it will not pair with smoothies, juices, desserts, and certain baked goods.
Did you know that curry powder and turmeric have some significant differences even though that curry powder could be used as a substitute for turmeric? Click on this link and refer to this informative post for more information.
05- Dry Ginger Powder
There's actually a higher probability that things would work since turmeric and ginger belong to the same plant family. But, the flavor comparison is a far thought since ginger is pungent, sweeter, and has a slight citrus note. 
Yet you can use dry ginger powder (ground ginger) in some beverages, baked goods, and desserts. Nevertheless, you will not get the expected color from ground ginger. So, if you intend to use this option, you can go for half a teaspoon or less for one teaspoon of turmeric.
In addition to ginger powder, you can also use galangal powder if that's available to you. It has a richer flavor than ginger and is obviously more profound than turmeric. Nevertheless, using it sparingly can make a good swap for soups, curries, and many other recipes.
Indian spices can find a place in any cuisine. It's just a matter of opening your mind and palate to new flavors.

Maneet Chauhan
06-Cumin Powder
Cumin is another versatile spice, and you might already have this inside your spice cabinet. It has a nutty, warm flavor, and its earthiness is very similar to turmeric. 
This option adds a great depth to vegetable dishes, rubs, marinades, curries, soups, stews and could be an excellent addition to many Indian-inspired sweets and desserts.
 Since the taste can be a bit more intense than our topic leader, use less than turmeric, considering what dish you hope to swap.
07- Mace And Smoked Paprika
Mace has a beautiful orange color when ground. And when it is combined with the nuanced, earthy, smokey flavor of smoked paprika, you can get a perfect substitute for turmeric.
To make this alternative, you can take equal parts of smoked paprika and ground mace. For example, taking half a teaspoon of paprika and half a teaspoon of ground mace will be equivalent to one teaspoon of turmeric.
This will be an ideal curry substitute for both flavor and color. Go ahead and try it with other savory dishes. And you can always adjust the amounts depending on your taste preference.
08-Garam Masala 
Garam Masala is typically considered the king of Indian spice blends. This blend has a rich flavor as it comes together with many spices. However, turmeric isn't usually a part of Garam Masala, yet some blends contain turmeric powder.
However, this scold still makes a decent choice thanks to its warm spiciness and deep color. You can use Garam Masala in curries. But it is not a favorable option for sweets, beverages, or baked goods since the flavor is more potent than our topic leader.
Start moderately, usually less than the turmeric you typically use. You can increase or decrease the amount as you build up the flavor, respectively.
09- Yellow Mustard Powder
The yellow mustard powder has a profound flavor with earthy, nutty, robust, and spicy notes. This option is obviously more intense than our subject leader. But still, you can use it with curries and certain vegetable dishes, soups, and stews for flavor and a comparable color.
Yellow mustard powder complements many Indian and Mediterranean dishes if you use it sparingly. Start off with like half a teaspoon of mustard powder for one teaspoon of turmeric. You can adjust the amount later if required.
10- Yellow Food Coloring
If you can't find any of the spices mentioned in our list, you can count on this option. But this will only provide you with color, but it will not give any flavor and health benefits that could be compared to turmeric.
Thus, you can use a drop of yellow food coloring on certain rice dishes, sweetmeats, baked goods, or desserts when you need a quick fix and can't find turmeric around your pantry.
11- Sweet Paprika
Sweet paprika is a readily available ingredient that is very mild in flavor but with a rich color. Hence, this can make a great replacement in most curries and many other dishes that originally called for our topic leader. 
However, the health benefits of sweet paprika are not as effective as turmeric. Therefore, it cannot be recommended to be used in teas, smoothies, or healthy juices. But still, you can use this option in a 1:1 ratio or more, depending on the recipe you intend to substitute.
Wrapping Up With The Best Turmeric Substitutes…
So, as you see, options like saffron, safflower, annatto seeds, and yellow food coloring would help you obtain the color you usually get from turmeric.
And at the same time, substitutes like ground cumin, curry powder, dry ginger powder, etc., will help you save a dish or two with their comparable flavors. However, these alternatives are easily accessible, and most of them are pretty affordable.
Related Topics