Allspice, in fact, is known to be the most confusing spice in the world. Sometimes it is funny when we suddenly get to know that "allspice" is just one single spice thinking that it is about all spices, entire life! However, allspice seasoning is a sort of substitute that you can use to get a flavor that is very similar to the taste of allspice spice.
Allspice seasoning is a very easy spice blend to make only with three simple ingredients. And, they are nutmeg, cloves, and cinnamon. You can simply combine these three spices that are readily available in your spice rack to make a go-to seasoning.
So, this article is your piece of an encyclopedia to learn everything you need to know about allspice seasoning. If you ever run out of allspice in your kitchen, try mixing these three elements together and let it do the magic!
What Is Allspice Seasoning?
Allspice seasoning is actually more like a flavor approximation of the real flavoring- allspice. You may not always have allspice at home, but that does not mean you should make your dish without it. And, that is where the allspice seasoning would come to your rescue.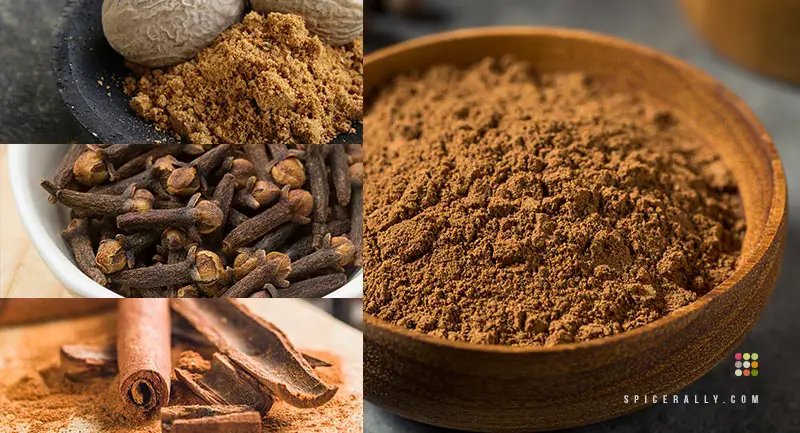 You just need three readily available spices from your spice cabinet to make this. A little more from ground cinnamon and equal parts from ground cloves and nutmeg will do the trick whenever you don't have allspice berry at home.
For example, if you take half a teaspoon of ground cinnamon, you will have to mix 1/4 teaspoons from each ground cloves and nutmeg. Mix everything well together and store in an air-tight container and scoop with a dry spoon whenever you need.
Allspice Seasoning Ingredients
As mentioned in the section above, allspice seasoning is generally made out of three other spices. And, they are as follows.
Ground Cinnamon
This is the pulverized form of the inner bark of the Cinnamomum tree. There are main types of cinnamon in the world- Ceylon cinnamon, Cassia cinnamon, Saigon, and Korintje cinnamon.
This spice has a sweet, woody flavor with a slight citrusy note. Except for the texture, there is not much flavor difference between cinnamon sticks, pieces, and powdered cinnamon. It is used to flavor a number of sweet and savory dishes all over the world, like desserts, meat dishes, soups, and meatball dishes.
Apart from its amazing flavor and aroma, cinnamon is rich in blood sugar lowering properties. It also contains anti-fungal and anti-bacterial effects that help gut health and treat Salmonella bacteria.
If you click right here, we can give you the opportunity to learn everything you need to know about cinnamon.
Ground Nutmeg
Nutmeg is a spice that goes a long way, with just a tiny amount. Nutmeg seed usually comes inside a hard blackish-brown shell. And, both whole nutmeg and ground nutmeg are readily available in the stores.
This spice is a warm spice with nutty elements. And, it is also slightly bitter, earthy, woodsy, and sweet. Just like cinnamon, apart from the texture, the flavor of ground nutmeg does not differ much from the taste of the whole nutmeg.
If you buy whole nutmeg seeds from the store, you will have to grate them using a Microplane before adding them to any recipe. In fact, they are never used as a whole. It is also used in many sweet and savory dishes and goes well with a lot of baked goods and beverages.
Nutmeg pairs well with creamy and cheesy dishes. And often included in many soups, broths, stocks, chai masala mix, mulled wine, and eggnog.
It is also a spice that soothes digestion, promotes oral health, and reduces insomnia.
Ground Cloves
Cloves are an essential part of many spice mixes and seasonings. Ground clove is basically made by pulverizing whole clove pods. They are intensely aromatic and have a subtle sweetness. Cloves are astringent, pungent, and have hints of bitterness.
Moreover, whole cloves and ground cloves- both are readily available. But, many recipes like curries, stews, soups, and beverages call for whole cloves since they are more flavorful and aromatic than ground cloves.
This spice also gives its taste and fragrance contribution to many sweet dishes like gingerbread, stewed apples, jams, and chutneys. They have powerful effects on treating dental health issues and also have the ability to promote liver health and bone health.
So you see that all these three ingredients are warm spices and have the capability of pairing well with each other. Cloves and nutmeg are more powerful in flavor than cinnamon, which is why ground cinnamon is used a bit more than those two spices.
What Is Actually Allspice?
As we stated above, allspice is literally the most confusing spice ever! We don't actually have to explain why when you clearly see that it is not really a mix of several spices but just one single spice.
Allspice is the unripened berry of the Pimenta dioica plant. And it is also called as Jamaica pepper, pimento, pimenta, and myrtle pepper.
Even just a few spices or ethnic condiments that you can keep in your pantry can turn your mundane dishes into a culinary masterpiece.

Marcus Samuelsson
Interestingly, the flavor of this spice is a combination of the taste of several spices. It is said to have notes of cloves, cinnamon, and nutmeg. This is the main reason why allspice seasoning can be used instead of the actual spice.
Allspice berries are harvested when green (unripe) and somewhat fermented. Then they are then sun-dried or machine dried, during which they convert into reddish-brown color. This spice mainly features in Caribbean, Mexican, Swedish, and American cuisines.
Need to discover more about this wonderful spice? Then click here, and we will take you to the best article about allspice that you can find on the internet today!
The Flavor Profile Of Allspice
Allspice naturally has the same warming effect that cinnamon, cloves, and nutmeg possess. And, it is earthy and has notes of cinnamon, cloves, and nutmeg flavors.
How To Use Allspice Seasoning In Cooking?
You could actually use allspice seasoning in almost every dish that allspice call for. But, unlike the whole actual spice itself, allspice seasoning comes as a powder. Therefore, you can expect much versatility from the allspice seasoning.
This can be used in recipes such as:
Jamaican Jerk Seasoning
Pumpkin Pie
Apple Pie
Swedish Meatballs
Jerk Pork Skewers
Allspice Spice Cake
Allspice Cream Cheese Frosting
Spiced Butternut Squash Soup
Chai 
Mole Sauce
Mincemeat
Warm Apple Cider
Allspice Seasoning Substitute
Well, allspice seasoning is a substitute for the actual allspice spice. But, what if you don't have allspice seasoning and allspice both at home? Worry not- you have plenty of other substitutes that you could use instead of them.
Some of them give an approximate flavor, while others would come significantly closer to the taste of allspice seasoning or the spice itself. They are:
Nutmeg
Cloves
Cinnamon
Mace
Pumpkin Pie Spice
Apple Pie Spice
Chai Spice Blend
Allspice seasoning mix is very easy to put together. So, if you need a simple homemade allspice seasoning recipe, click here!
The Seasoned Conclusion…
Allspice seasoning comprises three simple ingredients- cinnamon, cloves, and nutmeg. The flavor of the actual allspice spice possesses all the three flavor notes of these three spices. Therefore, the taste of this seasoning is very similar to that of allspice.
This seasoning can be used with almost every spice that allspice calls for; if not, a particular dish specifically calls for the whole allspice berry.